Provençal Pairings: Wine with Food

Wine and Spice and Everything Nice
by David Scott Allen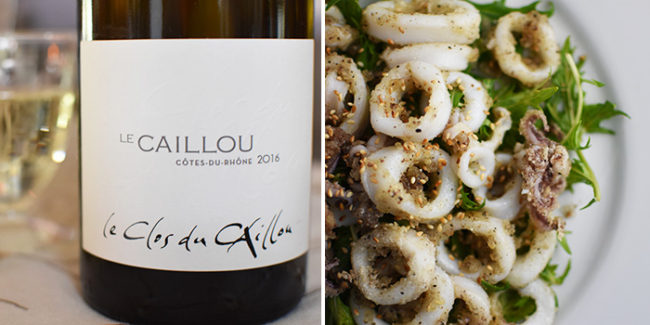 Winery: Le Clos du Caillou
Cuvée: Le Caillou
Appellation: Côtes du Rhône
Type: White
Vintage: 2016
Grape Varieties: 40% Grenache blanc, 30% Clairette rose, 30% Bourboulenc
Alcohol: 13.5%
Average Retail Price: U.S. $25.00
When Susan and Alex were here in December, we went on a bit of a (wine) shopping spree. Shocking, right? One of the wines we bought was a 2015 Le Caillou from Le Clos du Caillou in the Côtes du Rhône appellation. The proprietor of the wine store raved about it so we bought it. We even had plans for it that night for dinner. We opened it with great anticipation and….. it was corked. So sad.
I returned the corked bottle to the store and the owner was extremely sorry/not sorry. Not sorry because, in the interim, the 2016 shipment had arrived! So I got the new vintage but, sadly for Susan and Alex, they had already returned home to New Hampshire and didn't get to taste it.
While thinking of them and missing them, Mark and I decided to open the bottle for New Year's Eve, and served it with our 7 different appetizers which we planned to nibble on throughout the afternoon and into the evening. Yes, we managed to make a bottle last for 7 hours! (We even impressed ourselves!) Of the seven courses the wine only missed on one – the grilled oysters -and, for them, we switched to Prosecco.
The pairing about which I will write is the Salt & Pepper Calamari. It was our final course, and a great pairing for the wine. For the recipe, head to Cocoa & Lavender.
Le Clos de Caillou recommends serving the wine very cold – about 50°F/10°C. It tasted wonderful at that temperature but it was a bit cold for any bouquet to be evident. As it warmed a bit, it was redolent of pear, tarragon, and white flowers.
The mouthfeel was silky and smooth and, on the palate, were flavors of pear, peach, and grapefruit. This wine was absolutely delightful on its own but, paired with the calamari, the pepper really intensified the qualities of the wine, accentuating the fruit flavors and bringing out a very welcome minerality. There is some nice acidity, too, making for a well-balanced pour.
PWZ reader, Keith, called my attention to the fact that the Bourboulenc grape can bring a saltiness to the wine. I didn't notice that for my December pairing (Cool Wine Daddy-O) but it was one of 5 varietals in the wine, and probably a small percentage. Here, it is 30%, and the salinity was somewhat evident but less as salty and more as the mineral feel. Thanks, Keith, for that intel!
This is a nice, special occasion white, and I look forward to my next bottle!