Pinknic Debuts in New York City
The Wine Snoop Report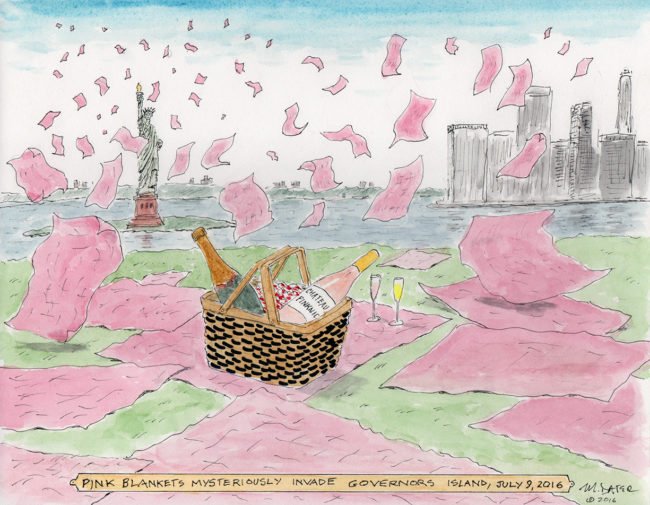 Rosé comes in more colors than just pink, of course, but it is called rosé for a reason—it's usually pink or some variation on that color theme. Imagine a huge festival "dedicated exclusively to rosé wine," and surely "pink" comes to mind, followed closely by words like "pretty, fun, carefree, friendly, inviting, charming, transportive, and quintessentially summer." It is these qualities that Pierrick Bouquet, founder of Pinknic as well as La Nuit en Rosé, hopes will set the tone for the inaugural wine, food, and music event on Governor's Island in New York City on July 9th and 10th.
Billed as "the city's first large-scale picnic and music festival dedicated exclusively to rosé wine," Pinknic promises to be a unique event. Designed to celebrate the experience of drinking rosé in beautiful surroundings reminiscent of summer vacation and relaxed elegance, it sounds like an adventure. Governor's Island's Play Lawn, with a view of the Statue of Liberty and Lower Manhattan, will be dressed in thousands of rosé-colored designer picnic blankets. Pink beverages will be flowing and the (suggested) attire of pink and white will complete the rosy atmosphere.
Côtes de Provence estate Château d'Esclans will provide the only still rosé available for purchase at the event. General admission ticket holders will have the opportunity to purchase Château d'Esclans Whispering Angel rosé 2015 by the bottle or glass. VIP ticketholders, Bouquet told me, will have the opportunity to taste from all four cuvées crafted by Château d'Esclans, including Rock Angel, Les Clans, and the ultra-premium Garrus. Bouquet said that, with the full spectrum of Château d'Esclans rosé available, VIP guests will be able to experience, firsthand, that indeed "rosé can be high-end."
Although Whispering Angel is the entry-level rosé in this line-up, it is a seriously made wine and has come to be the most popular rose in the U.S. It has welcomed many New Yorkers to the world of rosé and has successfully reinforced the chic image of Provence rosé, perhaps nowhere more effectively than in the nearby Hamptons where it is referred to as "Hampton's Gatorade. Paul Chevalier, National Fine Wine Director for Shaw-Ross, Chateau d'Esclans importer, shared with me, "When you want the best [rosé], Provence is the market leader for quality."
Chandon Sparkling Rosé and Moët & Chandon Champagne Rosé will also be available to purchase by the bottle or glass as well as a selection of non-alcoholic beverages. Optional food baskets, "Pinknic baskets," of gourmet food prepared by celebrity Chef Chris Santos are available for pre-purchase as well. Vegetarian and nut-free options will are offered. Items such as popcorn shrimp salad with old bay aioli on a seven grain roll, summer tomato panzanella salad, and chipotle corn & feta salad are among the possibilities.
Performances include DJ sets and appearances by Claptone, Miami Horror, Tube & Berger, Slow Hands, Tortured Soul and more. There will also be a Pinknic Ferris wheel, ice cream shop, cotton candy shop, and a Pinknic Boutique.
All tickets ($45 to $95, including ferry rides) must be purchased in advance through the Pinknic website. Only those 21 and older are allowed. All the details are available online, including the various ticket packages available, pricing, more information about Chef Chris Santos, and a video about the event.
Pinknic
Governors Island Play Lawn
Gresham Road
New York, NY 11231
Saturday, July 9 and Sunday, July 10, 2016
Noon to 5:00 p.m. on both days