DECODING CÔTES DE PROVENCE ROSÉ
by Susan Manfull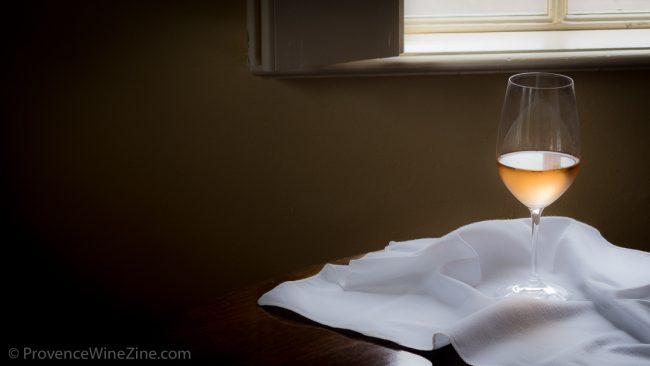 There are still people out there who think that rosé comes from blending red and white wines1 and others who (seriously) think rosé is made from a single grape variety called rosé. This article focuses on the traditionally dry, fresh, fruit-forward, pale-colored rosés that hail from the largest appellation in Provence, endeavoring to shed light on what to expect in a glass of such elixir. More informed readers may prefer to scoot right down to "Four Côtes de Provence Rosés" where a subset of our regular PWZ tasting panel decodes four premiere rosés from that appellation.
It sometimes seems the whole world is drinking rosé right now—the United States is second only to France in the consumption of rosé these days and the United Kingdom, Sweden, Canada, and Hong Kong have all seen significant growth in consumption.2 And yet, many people don't have a clue about what's in their glass, whether it is rosé from Provence or any of the other many countries where it is currently produced.
Worldwide Production of Rosé by Country in 2014
France
30%
Spain
21%
United States
14%
Italy
10%
South Africa
3%
Germany
2%
Portugal
1%
All Other Countries
19%
100%
Source: Organization Internationale de la Vigne et du Vin and Conseil Interprofessionnel des Vins de Provence
What's not in your glass of rosé?
I'm told by reliable sources who regularly pour drinks behind bars that the most people order a glass of rosé like they are ordering a glass of Pinot Noir or Chardonnay. With few exceptions, my rather small, unscientific survey of not-randomly selected bartenders revealed the average customer will say, "I'll have a rosé."
Unless you are in the Loire Valley or Oregon, for example, where single varietal Pinot Noir rosés are de rigueur, your glass is likely to be filled with a rosé wine made from a blend of different grape varieties…and not a one is named "rosé"!
In defense of neophyte wine drinkers, it is not readily apparent that almost all rosés are comprised of the juice from several different grape varieties because the label of the bottle most often simply says "rosé" and, especially in the case of French wines, typically does not include a listing of the grapes that make up the cuvée. In Provence, the label may not even say "rosé," instead, leaving it up to the consumer to discern the color of the wine (and some Provence rosés are so very pale that it is hard to tell, but that is another story. 3
So, what is likely in your glass of rosé?
The simple answer is red grapes, most likely Grenache, although a small percentage of white grapes may be added to the blend as well. (Remember that rosé's color comes from skins of the grapes; the juice of most grapes is almost colorless.) Since France and Spain supply half of the world's rosé and because Grenache is widely grown in the rosé-producing areas of both countries, Grenache is likely to be one of those red grapes. Even in California where dry rosé production has spiked in recent years—after suffering through such a long love affair with sweet White Zinfandel—Grenache is a significant part of the state's rosé production (whether blended or single varietal), with many thanks to the "Rhône Rangers." 4,5,6
France supplies about one-third of the world's rosé. Provence produces most of the rosé in France and, in 2016, 43% of the rosé exported from Provence assuaged the thirst of Americans. Well over one million cases of Provence rosé were imported into the U.S. in 2016. Spain comes in second, with about 21% of worldwide production and the U.S. contributes about 14%, very little of which goes beyond our borders (or even beyond the area in which it is made).
Of the three Grenaches—Noir, Blanc, and Gris—the Noir form is one of the world's most widely planted grapes. Although now in seventh place, at one time, Grenache was the second-most planted variety in the world. It is especially prevalent in southern France as well as in Spain where it is called Garnacha and where it likely originated (although Sardinia vehemently contests this claim with its Cannonau). Grenache grows best in hot, dry, arid regions like Spain and southern France so, not surprisingly, it was prevalent in California's San Joaquin Valley and Mendocino (but, until recently, was the fodder for anything but good, dry rosés).
In southern France, it is the lifeblood of rosés in Tavel, Lirac, and, of course, Provence. With the exception of Bandol and Bellet, two of Provence's nine appellations, one is hard-pressed to find a rosé without a significant amount of Grenache in it. (To refresh your memory about AOP grape varietal restrictions for each of the appellations in Provence and the southern Rhone wine regions, see "Grape Varieties" in Provence WineZine.)
What's in my glass of rosé?
Côtes de Provence Rosé
Recently, two Provence WineZine (PWZ) tasters and I had the sheer pleasure of tasting four excellent rosés from Côtes de Provence6, one after another, first without food and, later, with food. We endeavored to pry ourselves away from the pure enjoyment of these wines to hone in on the elements that comprise each of these wines. I have gone to great lengths to simplify the incredibly complicated array of factors that contribute to the making a good rosé with the hope your curiosity will be piqued to learn more.
Côtes de Provence, the largest of the nine appellations in the Provence Wine Region, is an immensely diverse appellation. I have driven through electrical storms, bright sun, and then dark clouds, all in one hour's time, when tooling around this area. Covering 20,000 noncontiguous hectares, it extends along the Mediterranean Sea from the Massif de l'Esterel southwest to Ciotat Bay, north to the Sainte-Baume foothills, northwest to Mont Sainte-Victoire and northeast to the valleys around the Maures Massif and further north to the Jurassic slopes of the Upper Var. Not surprisingly there are at least four "terroir" designations (aka sub-appellations), each with different climatic conditions and soils (sandy-clay with and without quartz pebbles, sandstone and argillite, gravel, and sandy-clay limestone gravel).
The Appellation d'Origine Protégée (AOP) classification is said to designate the highest quality of wine. Wines produced in a particular AOP (until recently called Appellation d'Origine Contrôlée or AOC) are subject to strict laws governing, for example, the geographical origin of the grapes, minimum alcohol level, the amount of wine produced per hectare, and methods of production, including the varieties and percentages of grapes used in the wine produced in a particular AOP (such as Côtes de Provence). About 50% of French wines fall into this category.
So, because I knew which grapes are allowed into the blend in order to conform to the AOP Côtes de Provence classification for rosé, I knew that two of the following principal grapes have to be used: Cinsault, Grenache, Mourvèdre, Syrah, and Tibouren, and these grapes have to make up at least 50% of the blend. A few other "secondary" grapes can also be included: Cabernet Sauvignon, Carignan, Clairette, Semillon, Ugni Blanc, Rolle/Vermentino. (For more information about the specific proportions in the vineyard and in the blend, see "Grape Varieties" in Provence WineZine.)
Knowing the grape varieties that make up the rosé in one's glass is informative but really just one part of the mosaic of factors that eventually contributes to one's impressions of the wine in his or her glass. Making wine is part science and part art and very complicated. Beginning in the vineyard itself, beyond the grape varieties, factors such as elevation, topography, proximity to bodies of water and, more generally, climate, diurnal temperature, soil, and sunlight play huge roles in determining the wine that is eventually bottled. The grape grower's decisions about how to train and prune the vines, when to harvest, and what viticultural practices to follow (e.g., sustainable, organic, biodynamic) are instrumental in the final product. All of these factors are wrapped up into one French word: Terroir.
How the rosé is made plays an integral role in the final product, of course; the specifics are beyond the scope of this paper but the extent to which the winemaker attends to details such as temperature control from the vineyard to the bottle contributes greatly to the style and quality of the rosé.
Finally, the different grapes that are blended together—a process referred to as assemblage—ultimately determines the flavor profile of the particular cuvée of Côtes de Provence rosé. Tradition and, as mentioned above, AOP restrictions determine the particular varieties that can go into the blend but the winemaker still has a fair amount of flexibility, including also which parcels of a given variety might be used. Why blend? To fine tune characteristics such as complexity and balance and to realize other goals known only to the winemaker and the estate. Blending different grapes allows much more control over the final outcome than a single grape variety is able to do.
About this time, you might be wondering whether you really care what's in my glass or even in your own glass. Isn't rosé all about "unthinking drinking"? For many rosés and for many people, drinking without thinking is the preferred approach, but if you have even the smallest inkling to think about the contents of your glass, pop some corks, as we did a few weeks ago.
Four Côtes de Provence Rosés
Côtes de Provence has about 370 private wineries and around 38 cooperative wineries that, together, produce somewhere around 123 million bottles annually. Almost 90% of these wines are rosé. The rosés that graced my glass are from four of the top wineries in this appellation and are considered "premium" rosés. They are priced between $25 and $34.
Château d'Esclans Rock Angel (2016)
Côtes de Provence
Grenache (85%)
Rolle (15%)
Grenache clearly dominates the Rock Angel cuvée, accounting for 85% of the blend. Depending on the length of skin contact, Grenache can produce very pale rosés, as is the case with Rock Angel, that deliver a lot of red fruit (often with notes of sweetness) which is not so much the case with Rock. This wine has mellow red fruit and hints of citrus on its very aromatic nose both of which come to life on the palate along with a distinct and pleasing minerality. Rock is made of grapes from 20 to 25 year-old vines, grown in limestone and clay soil at mid-elevation on the property, and vinified and aged in stainless steel (50%) and demi-muids (50%) for six months, all of which undoubtedly injects the lovely layers of flavor and silky feel in the mouth. The Rolle (known as Vermentino outside of France) is key to its fresh and fragrant character. A dash of Tibouren was included in past vintages and, noting its fragrant nose as well as detecting a wee bit of garrigue in the 2016 vintage, I have to wonder if it's included here, too, although it is not mentioned.
Château Léoube Secret de Léoube (2016)

Côtes de Provence
Certified Organic
Grenache (40%)
Cinsault (40%)
Cabernet Sauvignon (20%)
Léoube's Secret of Léoube enjoys equal portions of Grenache and Cinsault as well as half as much Cabernet Sauvignon. This exceptionally pleasingly rosé is, not surprisingly, a tad bit dryer and, although still quite pale, has more pink color than the Rock Angel, owing to the 20% Cabernet Sauvignon. The lovely nose with faint notes of salinity reflects the close proximity of the vines to the Mediterranean Sea. The average age of the vines is 35 years, with the Cabernet Sauvignon as old as 50 years, adding to the greater structure than the previous rosé, with layers and layers of savory flavors like fennel, garrigue, and red berry, and a longer finish. Cinsault, native to Provence and often blended with Grenache, may be responsible for this wine's freshness. A very elegant wine.
Château Sainte Marguerite Symphonie (2016)
Côtes de Provence La Londe
Cru Classé, Certified Organic and registered Vegan
Grenache (40%)
Cinsault (40%)
Syrah (20%)
Château Sainte Marguerite Symphonie (2016), like Secret of Léoube, is comprised of 40% Grenache and 40% Cinsault but the remaining 20% is Syrah which moves Symphonie, like the Léoube rosé, toward the savory end of the flavors. This is a full-bodied wine, perhaps owning to the Syrah, but not a particularly complex one. The nose has faint floral notes and the palate, while pleasantly characterized by interesting flavors such as dried fruit and orange peel, was not as engaging as we had expected.
Domaine Saint André de Figuière Première (2016)
Côtes de Provence
Mourvèdre (50%)
Grenache (25%)
Cinsault (25%)
Domaine Saint André de Figuière Première (2016) is Mourvèdre dominant (50% of the blend) along with equal parts of Grenache and Cinsault. This is a rosé of substance due to its significant dose of Mourvèdre, a grape renowned for providing structure and emphasizing the presence of fruit. Its pink color is denser than the earlier rosés, also owing to its Mourvèdre dominance. This grape cozies up nicely with Grenache and Cinsault and this same composition is a common cuvée in the Bandol appellation where the rosés are coveted for their structure, intense fruit, and ageability. This rosé titillates the senses with an array of lovely flavors and immensely pleasing textures. Mourvèdre's hallmark aromas of violets and blackberries are enticing and the luscious mouthfeel is most memorable.
All of the aforementioned rosés are delightful alone but marry superbly well with food, especially the Figuière Première in which the flavors melted perfectly with our grilled chicken and vegetables. The wine's interaction with food is infinitely interesting to me. Patrick Léon, world renowned wine maker who, with his son Bertrand, is currently making the wine for Château d'Esclans told husband Towny and me that he never makes a final decision about the blending of his wines until he has paired them with food.
The ultimate goal of any winemaker is for people to enjoy his or her wine, not to decode it as I have done here. Understanding the elements and how they fit together—a task that is part science, part art, and part ineffable—rests with the winemaker. Our task is to drink it.
"Think of Fred Astaire and Ginger Rogers," someone once told me as he described what he thinks is a good rosé. "As you watch them dance across the stage, you don't think about the individual steps, it just flows and you enjoy." It's the same with good wine. Or an Impressionist painting or a Stravinsky symphony.
Still, for me, part of the fun of drinking wine—including rosé—is understanding the mosaic of that wine. Not always; sometimes I just want to slip into the reverie of the wine. In either case, you will never understand wine by simply reading about it. Pay attention to what's in your glass. As Alexis Lichine, father of Sacha Lichine, owner of Château d'Esclans, famously said, "When it comes to wine, I tell people to throw away the vintage charts and invest in a corkscrew. The best way to learn about wine is the drinking." It's also the most fun way!
Notes :
1 With the exception of making Champagne, blending a little red wine into white wine and calling it rosé is strictly prohibited in France and all other European Union countries. When done elsewhere, the practice is associated with poor quality wines. For a brief description on how rosé made, see this description from Wines of Provence/ Conseil Interprofessionnel des Vins de Provence http://www.vinsdeprovence.com/en/focus-on-rosé/making-rosé-wines
2 In 2014, some countries have reported stagnant consumption (Germany) and decreasing consumption (e.g., Spain, Italy, and Portugal
3 Case in point took place just last night when husband Towny chilled a bottle of Pey Blanc white wine, thinking he was chilling a Pey Blanc rosé! (He wasn't wearing his reading glasses to read the small print.)
4 Sweet rosé remains quite popular in the U.S. (and in the U.K.) and White Zinfandel accounts for the bulk of this style of rosé wine (a.k.a. blush, blanc de noir, vin gris).
5 The dominant rosé varietals are Pinot Noir, Syrah, Sangiovese, Grenache, and Tempranillo although many other grape varieties are used (e.g., Cabernet franc, Cabernet Sauvignon, Mourvèdre, Counoise , Grignolino, Touriga Nacional, Tannat, Grenache Blanc, Carignane, and Roussanne). On the east coast, where Long Island rosés lead the pack of pink wines, even more varieties are found in rosés: Merlot, Chardonnay, Gewürztraminer, and Riesling.
6 The Rhône Rangers, a non-profit group, was founded (officially) in 1997 with 13 wineries to promote American Rhône wines. Today, there are over 100 wineries and vineyards in this organization, mostly in California but also in Washington, Virginia, and Arizona.