Provençal Pairings: Wine with Food
A Well-Traveled Tavel
by David Scott Allen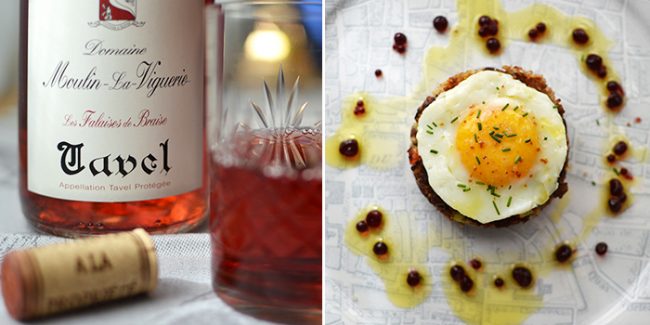 Winery: Domaine Moulin-la-Viguerie
Cuvée: Les Falaises de Braise
Appellation: Tavel
Type: Rosé
Vintage: 2015
Grape Varieties: Rhône blend of Grenache, Syrah, Mourvèdre
Alcohol: 14.5%
Average Retail Price: FR €11.00
It isn't often that I get wines straight off the plane from the vineyard in France. But, this week, that is exactly (well, sort of) what happened. You see, Sandra Gay-Moulines, attaché de communication for the Syndicat Viticole de l'Appellation Tavel, got a couple of bottles direct from the winery, whose owner, Gaël Petit, happens to be president of the Syndicat. Sandra gave them to Susan and Towny, who brought them back to States, and then they shipped them to me. See? Direct from the winery!Knowing that the wine was en route, I did a little more research about pairing Tavel wines. As is often the case, I wanted to make something traditional, and then something unexpected. And it was great to have two bottles to carry out my nefarious plan.
My traditional pairing was based of the intel that duck confit paired well with Tavel. How convenient that I had a couple of confit duck legs in the freezer! You know me well enough to know I wasn't simply going to slap some plain ol' confit on a cracker, right? No, I created a very complicated and, if I do say so myself, incredible dish. Duck confit hash cakes, topped with a sunny side up silkie egg (silkies are tiny chickens that lay tiny eggs), garnished with sour cherry pearls, chives, piment d'Esplette, and black truffle oil from Les Pastras. A simple dish, right? You can find the recipe on Cocoa & Lavender.
The wine went perfectly with my creation; I couldn't have been happier with the pairing. The color, as is traditional with Tavel wines, was a deep, rich pink. A gorgeous jewel tone. The nose was redolent of summer strawberries – one of my favorite things about many rosé wines – yet the aroma on this particular wine was much more intense than average. The first sip made me say, "woo-hoo" out loud, because the flavor on my palate was tart cherry (note: I mentioned above that I made sour cherry pearls as a garnish). At that moment, I knew the pairing would be successful. I could have stood up and gone home…except that I was home. This particular Tavel has a really nice minerality and, in addition to the cherry notes, it has an herbal quality that I loved. The wine complemented my food beautifully.
But, I had more Tavel to drink, and a couple of heads of cauliflower in the fridge – one purple, one white. I decided to put Tavel to the test. How would it hold up to two different cauliflower dishes? As you might expect, it did very well. The first, a brined and whole-roasted version (recipe here) was served with a goat and feta cheese blend. The combo was really nice. The wine went really nicely with the cheese, and well enough with the brined cauliflower. The second test featured a different cheese blend – a gratin of cauliflower, shallot, cheddar, and Parmigiano-Reggiano. This was a much better pairing. Was it the cheeses? The roasting? The brine? The addition of shallots? It's hard to tell because, darn it, I ran out of Tavel and couldn't keep the experiment going. In the end, both of these non-traditional pairings worked, just one slightly better than the other.
This wine is incredibly versatile, which is one of the things I like most about Tavel wines. It pairs well with seafood, fish, chicken, duck, pork, beef, and a variety of cheeses. It holds up to spice, and is flexible enough to handle complex meals like my duck confit hash cake.
I was given these two bottles of wine for my honest opinion.