Musings of a Wine Maven
BARREL TASTING CONTINUES IN FRANCE NOTWITHSTANDING THE ENTENTE CORDIALE
by Jerry Clark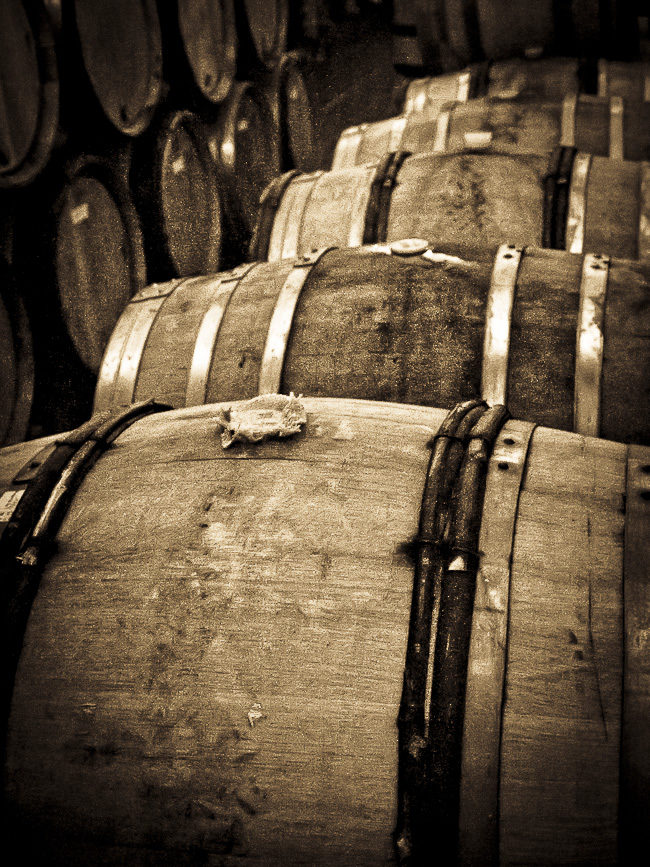 It's funny how one can misconstrue history, imagining the raison d'être of certain events to be one thing, and then being surprised to learn that reality is quite different. Such was the case when I moved to France in 1988.
At that time, I was vaguely aware of some sort of official agreement between the French and the English termed the Entente Cordiale. At the time I did not realize it was originally a alliance pertaining to political and military relations, rather assuming the document was drafted and accepted (in 1904) to signal a new era of conviviality between two nations that shared a 1,000 year history of dislike, bordering occasionally on hatred, toward one another. Let's face it, they certainly had a go at each other in North America during the Seven Years' War.
I had been recruited by an American company that sought to get its products sold in Europe. With the new single market European Union on the horizon, they imagined a "Fortress Europe" solidified trade zone, and wanted in early. Having made business trips throughout Western Europe beginning fifteen years earlier, I highly doubted any economic union would develop quickly given the individual histories of the partners with their neighbors.
I could have begun a new career as a stand up comic just covering the attitudes that emerge—surprisingly quickly—after peeling away a layer or two of the facades each has crafted over time. Let's see, the Dutch and the Germans, the Finns and the Swedes, the Norwegians and the Danes, and on and on. I had seen first hand the daggers unsheathed after a couple of friendly drinks in a bar. Heck, I think I could do thirty minutes of mirth right now, but I digress.
The new company was going to move my family and me to France, and I was ready for such a change. I thought of the Entente Cordiale. To my knowledge, France and England were the only two nations that had such a cordiality agreement; however, I incorrectly assumed it was executed to portray some kind of band of brothers' allegiance. How cool was that – not!
In the six years I lived in France, I traveled extensively for business, very often to the United Kingdom. I quickly came to realize that the cordiality gap was still gigantic between these two great allies. And language alone was not the culprit. There is just too much history, going back well before Joan of Arc and continuing into modern times. Consider the relatively recent antics of François Mitterand's staff when they secretly tested Scotland Yard security by planting bombs outside the French Ambassador's London residence prior to a State visit. That was just 1984!
I could go on, but this is a wine blog, so I will focus on how the lack of affection between these two distinguished nations manifested itself in their wine trade relations. Have you ever wondered why barrel tasting was a critical part of that trade? It began with the Bordelais.
England likely got its earliest taste for French wines following the marriage of Henri Plantagenet and Eleanor of Aquitaine in 1152. As a result of their union, Bordeaux went under English rule for three centuries. Over time the English became the largest export clients both for Bordeaux and Port.
Everyone seemed to be drinking French wine. In 1663, Samuel Pepys even wrote of "Ho Bryan," First Growth Chateau Haut Brion, in his famous diary. In 1666, the Bordelais wine became even more readily available when the vineyard owners, the de Pontac family, opened the Pontac's Head Tavern in the City of London.
Given the size of the trade with France, you would have thought that the major importers in London would be well serviced by the French growers and négociants. Yet concerns of authenticity legitimately existed, as noted in this 1873 advertisement placed in the The Illustrated London News by the London merchant Victoria Wine Company:
Firstly, the Company guarantees that the wines it sells are unadulterated.
Secondly, all long credits are abolished, and cash payments required.
Thirdly, the Company imports its wines, clears them at the docks itself, thus does away with intermediate profits.
Fourthly, the Company uses every appliance for the careful bottling and keeping in condition of the wine it sells.
Fifthly, it delivers free, in London, quantities of not less than a dozen, and
Sixthly, it takes back from the customer any wines or spirits not approved of, returning the money provided the bottles are wrapped.
The great bulk of imported wine came into England in barrels. To ensure authenticity of the wine they purchased, British merchants took precautions. For example, on their annual trips to Bordeaux to taste from barrels at any of the several négociant houses located in the city center, they would return with bottled samples from the chosen barrels so that comparisons could be made once the wine they purchased later arrived in London.
Château bottling in Bordeaux did not begin until 1924 when a 22-year-old Philippe de Rothschild took over the family vineyard, Mouton Rothschild in Pauillac. Determined to take control of their quality offering in the market, he immediately began bottling all his wine at the chateau. Common practice then, among all growers, was to sell each vintage production to a négociant who would receive the wine in barrel and eventually bottle and sell it. If the vintage was thin, certain alterations would be made, such as adding a bit of stronger wine from Algeria, or beet sugar to increase alcohol content (termed chaptalization). An adjunct of château bottling was to print the vintage date and vineyard name on the cork, adding further comfort to consumers. It is thought that the waiter's practice of first showing the cork upon opening the bottle tableside was to provide verification that the wine was authentic. Inserting a phony cork would be far more difficult that label substitution. Squeezing and sniffing the cork, though important, was secondary.
It all came down to trust. The British consumer learned that while he could well be suspicious of what the French were trying to flog, his merchant was all about knowing his product and ensuring reliability of its origins. In my earliest visits to London, I still found English-bottled Bordeaux on the shelves of Berry Bros. and Rudd as well as Hedges & Butler (see labels above).
Today the trust issue is pretty well put to rest—at least on wine—though barrel tasting continues as an early indicator of how the vintage is faring in cask. Robert Parker has often made predictions on quality following barrel tasting.
During each summer visit to Provence, I go to a barrel tasting at the négociant site of Michel Tardieu and his son and winemaker Bastien Tardieu. Though I am not in the wine trade, they graciously welcome me, perhaps confident that I am always on the lookout to find Tardieu-Laurent wine in America to add to my cellar. Their range of more than a dozen wines, all acquired with verbal contracts from Rhône growers, are top examples from the villages they select. This past July, arriving mid-afternoon on a warm day, we limited our tasting to six wines (alas, I don't spit anything out, so six seemed perfect). My tasting notes follow.
Tasting Notes from Tardieu-Laurent Barrel Tasting, Summer 2015
White
Red
2014 Chateauneuf du Pape Blanc

100% Grenache Blanc
soil composition is sandstone
3,000 bottle production
Scored it 6.5/10 (for very agreeable early drinking

2014 Vacqueyras

Principally Grenache
Slightly tannic
As Grenache sensitive to oxidation spends first 12 months in larger barrels, then finished 12 months in smaller barrels.
Vin Biologic
7/10 (given evidence of tannin wine should cellar several years easily.)

2013 Hermitage Blanc

Mix of Marsanne and Rousanne
3,600 bottle production
5/10 (classic full fruit flavor, well balanced. Should keep 5-8 years.)

2013 Gigondas Vielles Vignes

90% Grenache, 5% Syrah, 5% Mourvedre
80-100 year old vines, at 400 meter elevation, just beneath the rocky outcroppings of the Dentilles de Montmirail.
Per Bastien Tardieu this elevation provides more acidity, thus more freshness.
5/10 (wonderful to enjoy at present, but will hold several years).

2013 Chateauneuf du Pape Rouge

Grapes coming from three sites, each with different soil composition.
Still rather tannic.
8/10 (will evolve further in bottle)

2013 Cotes Rôtie

100% Syrah
5/10 (felt like asking for another glass to enjoy on ride home. Lovely now, but clearly a keeper.)
In further discussion with Bastien Tardieu during this visit, he shared his opinion on general quality levels between Northern and Southern Rhône Valley wines from two vintages.
Rhône Valley Wine, Brief Notes from Bastien Tardieu
| | North | South |
| --- | --- | --- |
| 2012 | 3/4 Stars | 4/5 Stars |
| 2013 | 4/5 Stars | 3/4 Stars |
In reflecting on my experience living in France, I still harbor one beef resulting from a shortfall in my expectations of entente cordiale between these two great nations. It surfaced when we enrolled our 6-year-old daughter in an International School in Lyon. All the students had to demonstrate a certain proficiency in a second language after French, from among an offering of four foreign languages. A modicum of instruction was provided in German, Italian, Spanish and English. A special fee was required for those receiving English lessons, but not with the other three foreign languages. There was an accord between France, Germany, Italy and Spain in which the four governments agreed to cover the cost of hiring language teachers for those second languages but, apparently, the UK would not accept this "cordial" arrangement. So, the school in Lyon passed the cost of hiring English instructors on to the parents.
To make matters worse, during the school Christmas party I did not recognize a single carol sung by the English students, and later learned from one teacher that she had been rebuked by the administration for having too much of an American accent. I wrote a broadly satirical teleplay about this experience. But it came back from Monty Python's London office with a rejection slip indicating, in large red letters, "HARD CHEESE!!"