Provençal Pairings: Wine with Food
A Fight to the Finish
by David Scott Allen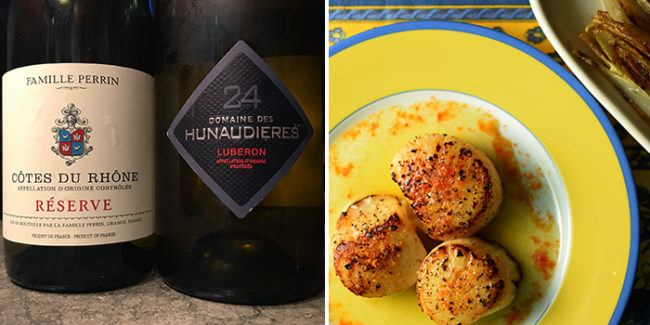 Winery: Famille Perrin
Cuvée: Côtes du Rhône Réserve
Appellation: Côtes du Rhône
Type: White
Vintage: 2016
Grape Varieties: Grenache Blanc 50%, Viognier 20%, Marsanne 15%, Roussanne 15%
Alcohol: 13%
Average Retail Price: United States $12, Europe €6.50
Winery: Domaine des Hunaudières
Appellation: Luberon (Provence)
Type: White
Vintage: 2016
Grape Varieties: Clairette 95%, Bourboulenc 5%
Alcohol: 13%
Average Retail Price: United States $11, Europe €5
Not everything goes as planned. I had, in hand, what I hoped would be a knock-your-socks-off white for this month's wine with food pairing. However, it wasn't meant to be. Sometimes, like people, good wines go bad. It wasn't corked but, wow, it smelled like dank gym shoes and it tasted much worse. It was ruined, most likely, during a long and arduous transit from New Hampshire to Arizona back to New York and again back to Arizona in 100°F (38°C) ambient temperatures, and most assuredly hotter temps in cargo on the tarmac.
Susan had brought it with her as a special treat for us, and – to be sure – for you. Alas, the airlines "forgot" to unload her luggage, thus the multiple round trips to Arizona. We were all quite saddened, but forged on drinking a bottle of the Mas Carlot I wrote about last month. Aren't we the troopers?
So, what to do… Before leaving Arizona, Susan and I looked everywhere for a reasonable white to replace the ruined bottle. She found the Domaine des Hunaudières just before leaving town, and I found the Famille Perrin Côtes du Rhône. The meal had already been made once, so had to be made again to test the pairing. The dish for this pairing: Seared Scallops with Orange Salt and Orange Beurre Blanc with Caramelized Endives. For the recipe, go to Cocoa & Lavender. For the wine pairing, you are in the right place.
I could have easily paired one or the other with the scallops, but decided to taste them both. Why not pit them against one another? I opened both bottles (the Famille Perrin is a screw-top), and we were off.
The bouquets on both were light; the Domaine des Hunaudières was redolent of green apple and citrus, while the Famille Perrin was floral and fresh. Both are very light in color, the palest of straw for the Famille Perrin and light yellow for the Domaine des Hunaudières.
Tasting without food is important, and can let me know a lot about a wine and how I pair it with food. But I have been wrong. (Spoiler alert: I was wrong today.) When I tasted the Domaine des Hunaudières, my first thought was, "Let's just put this back in the fridge and use it another night." It was tart – sour, even – and I thought it would be a bad choice for my rich scallop dish. But where is the science in that? No, I continued the double tasting. The Famille Perrin, on the other hand, was very pleasant, round and silky, and I was pretty much sure I had found a nice pairing.
Indeed, I was on target with the Côtes du Rhône – it was a lovely pairing with the citrusy and salty scallops. By no means the knock-your-socks-off quality I was hoping for, but harmonious and well-balanced. The grape blend is wonderful (similar to the Mas Carlot), bringing a complexity to the wine that I very much appreciated. Notes of honey, pear, and white grapefruit on the palate, with good minerality and salinity.
I also found I was completely wrong about the Luberon wine – it paired equally well with the scallops. The bright acidity was a great foil for the buttery dish. (Honestly, I should have seen that coming!) A lot of tart lemon with green apple, and little or no finish. It did seem to improve at a slightly warmer temperature, but a few sips away from food and I wanted to go back to the Famille Perrin.
In the end, these are both decent table wines. The Côtes du Rhône is a nice summer sipper, and did well with and without food – perfect for l'apéro on a hot summer day. The Domaine des Hunaudières is definitely a wine that needs food, and the right food at that.