Provençal Pairings: Wine with Food
The Salt of the Sea
by David Scott Allen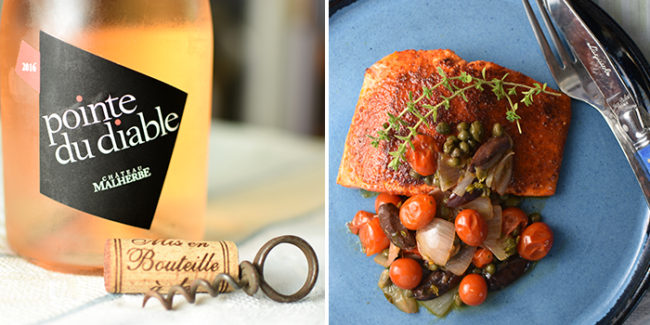 Winery: Château Malherbe
Cuvée: Pointe du Diable
Appellation: Côtes de Provence
Type: Rosé
Vintage: 2016
Grape Varieties: Grenache 50%, Cinsault 50%
Alcohol: 13%
Average Retail Price: United States $20
Today's tasting may be the most unusual I have done. It is a wine that, if blindfolded when tasted, would not have said "rosé" to me, although it wouldn't have said red or white, either. It has none of the traditional red fruits associated with rosé, nor its distinct floral aromas. On the nose, it is briny. On the palate, it is almost fruitless when cold, and when warmer, a bit of melon or pear perhaps. Once might think it was a wine from a completely different region of the world.
Yet, situated on the "Road to the End of the World," Château Malherbe is, indeed, in Provence, though no more than 1,000 feet from the ocean. From every part of vineyard, you can smell the sea. Even in its wines. This would explain the briny nose, for sure, and underscore the importance of terroir, which is my newfound fascination.
This wine – coming from the water's edge – seems to require food from its backyard. Fish and seafood are the obvious choices and, within that realm, something heavier and with some good omega 3 fat! Tuna and swordfish leapt to mind, but so did salmon. I ended up pairing this wine with a seared wild Sockeye salmon with a tomato-shallot ragoût. Because this wine can take some serious spice, I crusted the salmon in a Piment d'Esplette and Paprika rub, with just enough salt to bring out the salinity in the wine, as if it needed help. The recipe is at Cocoa & Lavender, my weekly blog for fine food.
The color of Pointe du Diable is a pale salmon pink, and – as noted before – has a briny nose. It is extremely high in its mineral content and much of that mineral seems to be salt from the sea. It is truly fascinating that this is a rosé, and I would love to discuss it with you if you've tried it. It's like no other I have tasted.
There is some tart citrus to balance the salinity, and this acidity also allows the wine to play well with the tomatoes, olives, and capers. The ragoût I made would work well with all oily fish, but this might also pair nicely with the nibbles at l'Apéro, or a main course salad. Unlike some reviews I have read that said this is good sipped on its own, I disagree. I feel this wine needs food and food that has backbone.
Photo by David Scott Allen