Provençal Pairings: Wine with Food

A Good Stretch
by David Scott Allen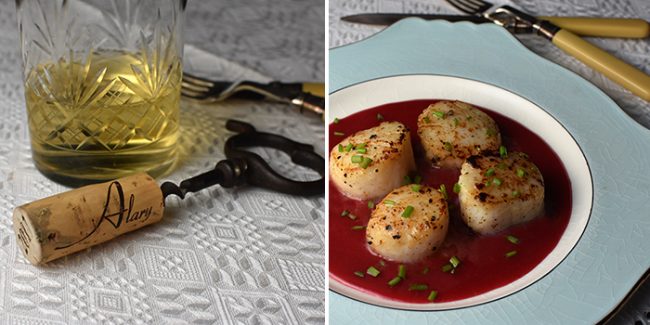 Winery: Domaine Alary
Cuvée: L'Exclus d'Alary Blanc
Appellation: IGP Principauté d'Orange
Type: White
Vintage: 2017
Grape Varieties: 100% Clairette blanche
Alcohol: 14%
Average Retail Price: $26.00
As I have mentioned here before, I like to put wines to the test, finding their limits when pairing with food. Does it go with this? Or that? What could I change in the recipe to make it work? Often it takes two or more bottles of a wine to find its perfect match. The challenge I faced this week was that I had one bottle of the L'Exclus d'Alary (blanc) and, honestly, might never get a second in my life as it is not readily available here in the States. I needed to stretch this bottle as much as possible to see what pairings might – or might not – work.
I planned three meals over two days with which I wanted to try with this wine. The first meal was seared scallops with a blood orange beurre rouge, and the second a Provence-style eggplant and tomato gratin. The next day, after using my VacuVin to seal the wine, I re-opened it (it was still perfect!) and tested it with the third: a James Beard dish of steamed mussels with chorizo and fennel. There was a whole lot going on in that recipe, and I thought it would really put the wine to the test. Now, to the tasting…
The color of the wine is deep lemon-yellow. On the nose I sensed citrus – a touch of grapefruit and lemon. Prior to food, I tasted peach, tangelo, and a bit of resin. It is medium-bodied with a really nice mouthfeel – soft and round. Naturally with each of the three dishes, my palate reacted differently. With the scallops, I tasted roasted pineapple and orange-fleshed melon. With the eggplant and tomato gratin, those flavors shifted to apricot jam and vanilla. Finally, with the mussels, the resin I tasted earlier became more of a pine flavor, and there was the addition of ground ginger and honey. It has a nice long finish putting a smile on my face each time,
To be absolutely honest, I thought for sure that the wine would not pair well with the mussels. The combination of the seafood with sausage, fennel bulb, and fennel seed seemed rather onerous for a wine. I was so pleasantly and completely surprised that the wine tasted wonderful with all three dishes. It's incredibly versatile, as you can see from the three dishes above.
I found it most fascinating that the weight of the wine changed with the dishes. With the scallops, it felt light and summery – clean and uncomplicated. With the other two dishes – which were both olive oil-based – it felt much fuller, velvety, and complex.
I created the Seared Scallops with a Blood Orange Beurre Rouge specifically to pair with this wine – you can find the recipe on Cocoa & Lavender. Blood oranges aren't available year-round so, if you want to make it now, use regular oranges (juice) with a drop of orange blossom water and a tiny bit of honey. That combination will give you a good approximation… minus the stunning color, of course.
I have become a real fan of Clairette Blanche, a grape variety we don't see much in the United States and feel very fortunate to have been given this bottle – a real gem. I stretched it, tested its core, and threw it curve balls (eggplant, sausage, fennel) — it didn't even flinch. It's a really good wine.
Editor's Note: After a lot of internet research to determine the stateside availability of this wine, William "Towny" Manfull placed a telephone call to the estate yesterday morning. He spoke with Denis Alary at Domaine d'Alary. As president of the local winegrowers syndicate, Alary was one of the key figures instrumental in achieving AOP status for Cairanne in 2016. Prior to this elevation in status, wines from Cairanne were labeled Côtes du Rhône Villages. This 2017 L'Exclus d'Alary Blanc, however, is a Vin de Pays because the regulations for Cairanne AOP wines specified by the Institut National des Appellations d'Origine (INAO) do not permit monocepage wines. Because the winery prefers their wines to have AOP status, a small amount of another white grape (e.g., Bourboulenc or Roussanne) is now added to the blend — thus giving the wine AOP Cairanne status — and it was moved to another line produced by the winery: La Jean de Verde. This cuvée now consists of a red wine and this white wine, both of which are (potentially) available in the US. Alary is hopeful that the INAO regulations may someday permit 100% Clairette wines. We are, too, because this wine is exceptionally good. Towny and I purchased this gem at the winery in Cairanne in February 2018 for €9.50. Sadly, it is no longer available in France or elsewhere, but La Jean de Verde Blanc is undoubtedly excellent as well. ~SENM