A Look at Rosé Diversity in a CIVP Masterclass with Elizabeth Gabay MW
by Susan Manfull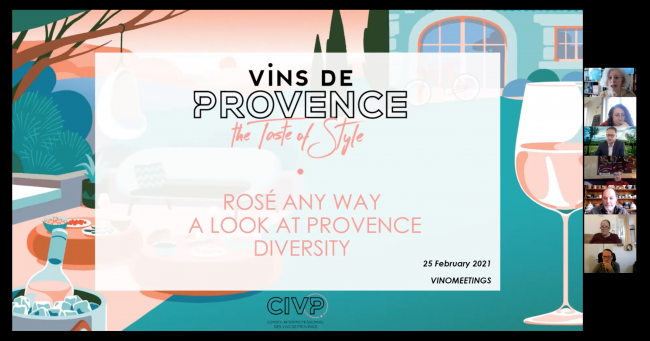 I am not usually out of bed and in front of my computer, Zoom-ing with strangers (mostly) who are drinking rosé before the sun rises, but these days are different. On Thursday, February 25th, the Conseil Interprofessionnel des Vins de Provence (CIVP) held a masterclass on Vins de Provence at 11:00 a.m. in France. Unfortunately, that was 5:00 a.m. on the east coast of the U.S. Fortunately, it was informative and dare I say fun (even without the benefit of tasting those inviting rosés from around the region!).
Elizabeth Gabay MW, international rosé expert and author of Rosé: Understanding the Pink Revolution, led the masterclass entitled, "Rosé Any Way, A Look at Provence Diversity," after a brief introduction by Brice Eymard, Director of CIVP. As CIVP represents three of the nine appellations in Provence, the masterclass focused on those appellations, which, in fact, account for the greatest volume of rosé production in the region.
Gabay pointed out that it is, perhaps, unique in France that three appellations have joined together to form CIVP. They are: Côtes de Provence, the largest appellation in the region, with just over 20,000 hectares (about 49,500 acres) and five "terroir designations;" Coteaux d'Aix-en-Provence with about 4200 hectares (more than 10, 300 acres); and Coteaux Varois en Provence consisting of a little over 2700 hectares (about 6700 acres).
In the past 18 years, according to CIVP figures, the global growth of rosé consumption has been huge: 40% from 2002 to 2018. From 2013 to 2018, the demand for pale rosé has grown from 49% of the world market to 69%. In addition, the demand for dry rosé (0-3.99 grams/liter of sugar) has grown from 16% to 22%. That is, the demand for "Provence Style" grew while demand for darker and sweeter rosés shrunk. (I hasten to add here that darker colors do not mean sweeter rosés and, as Gabay argues, "pale and dry" probably does not capture the diversity of rosés produced in Provence.)
Certainly, CIVP, founded in 2004, has been instrumental in successfully promoting Provence rosé as the gold standard of rosés around the world. So much so that, for better or worse, people now refer to "Provence Style" rosé when they are talking about rosés — from anywhere around the world — that are "pale and dry." My nephew and his wife, both young and very cool, told me last year that they had discovered that they love "Provence Style" rosés (and they weren't necessarily referring to rosés from Provence).
France remains the largest consumer of rosé (34% of worldwide consumption in 2018). Although it is enjoyed throughout the country, at least 30% of that rosé is consumed in Provence, reflecting the storied Provence way of life. The United States ranks a distant second in global consumption at 20%.
France produces 28% of the world's rosé (so it is importing rosé from other countries, my guess being Spain which produces 17% of the world's rosé but drinks only 2% of the world's rosé!). The US produces 19% of the world's rosé, recently edging out Spain.
The global market still has tremendous growth potential. CIVP Director Eymard estimates that the market can potentially grow to 35 million hectoliters in ten years. By comparison, in 2018, worldwide rosé production was 26.4 million hectoliters (roughly 293 million 9L-cases). Eymard reminded attendees that in most countries, rosé consumption makes up just 5% of all wine consumption. Further, in the US, the per capita consumption of rosé is less than 2 liters a year. Consider Russia, Argentina, Spain, and Belgium (each of which accounts for just 2% of the worldwide rosé consumption). South Africa accounts for 3%, and Italy and the UK each account for 4%. Asia is not even listed separately.
France is in a good position to take advantage of this situation. It already produces nearly one-third of the world's rosé, 15% of which hails from Provence. Is Provence in a good position to take advantage of this potential growth? Right now, it is the main supplier of rosé to the US (Whispering Angel, alone, accounts for a huge chunk of the supply), but the three largest appellations — where 90% of wine production is pink — only produce 4.2% of global rosé production. The chief competitor, Languedoc-Roussillon, accounts for 34% of France's rosé production and 11% of global rosé production. (These figures provide only a glimpse into the percentage of rosé produced by each region because AOP and IGP wines are often conflated in available figures.)
Most of Provence's rosé is now exported. The demand for this rosé is evidenced by its robust growth in consumption around the world as well as by recent acquisitions of wineries by investors, celebrities and otherwise. Can Provence produce more rosé without compromising its leadership position? In an effort to enable greater production, the National Institute for Origins and Quality (INAO) has changed some of its regulations. Notably, increasing the appellations' yield from 55 to 60 hectoliters per hectare and allowing a greater surface area of vines (upwards of 2.75% by 2021). But growers must complete with urban growth and much of the land is already covered with protected forests. (Then, there is the nagging problem of the explosive rise in the cost of farmland brought on by the increased demand for winemaking properties and vineyards, both leading to fears of real changes in the landscape of Provence, its wine, and its legendary life style. But, I digress.)
Unsurprisingly, sales of rosé were off in 2020. They were approximately 7% lower, primarily because of restaurant closures due to Covid-19 and, in the case of exports to the US, sales were also affected by tariffs imposed by the Trump administration. However, "off trade" sales in France and the export market (chiefly due to the UK, Germany, and Belgium) were up 2% and 6% respectively.
CIVP Director Eymard expressed optimism for the future. Although acknowledging that 2021 will probably still be difficult due to Covid-19, he sees great potential for market growth around the globe. Understandably.
Eymard confirmed what I had heard that the 2020 harvest was small due to the freeze in March but that it was a very good harvest. It was 4% smaller than the 2019 harvest and was the fourth year of a small harvest. Fortunately, the small harvest was well-timed considering the effects of Covid-19 on the trade market.
Eymard remains hopeful that "in person" events will open soon. At this time, Wine Paris is still scheduled to take place in Paris in June 2021, having been postponed from February 2021. We attended Wine Paris 2020, which was the last major wine conference in 2020 before Covid-19 shut down in-person events.
Spring, summer, and autumn, Eymard points out, are the biggest consumption periods of rosé and that rosé, especially, benefits from socializing and conviviality. (Check out Instagram if you need to to be reminded.) Eymard is optimistic that rosé can still capitalize on this period in 2021.
Gabay led the group through a tasting of 2020 rosés from the three appellations, including three of the terroir designations within Côtes de Provence. I was salivating by the end (and maybe even drooling). I have not laid eyes on many 2020 rosés here in the US (except a few gems producers have been kind enough to send me, without labels and making clear the rosés were not ready for prime time!).
Click on the arrow below to watch a recording of the 25 February 2021 Masterclass on "Rosé Any Way: A Look at Provence Diversity."
According to Gabay, the 2020 vintage appears to have elegance, florality, and freshness. (She stressed that this appears to be the case and cautions that the 2020 rosés are very young, still at the 'en primeur' level.") "Personally, I would leave 2020 for another couple of months, to maybe May when it is going to open out a lot more, and stick with some really gorgeous 2019 rosés," Gabay told the group.
I am heartened to hear confirmation from Gabay that 2019 rosés are still "really gorgeous." She said, "The 2019 vintage was totally, totally different [from 2020]." In contrast to 2020, Gabay described the 2019 vintage as "a bit more intense and a bit more concentrated, and, as such, is aging very, very well."
As I write this article, I am sipping one of those really gorgeous 2019 rosés. Château Margüi, located in the heart of the Var, has been one of my favorite producers since I first visited in 2014. Now owned by Skywalker Vineyards, the wines remain diligently produced (I am told) and exceptional (I can confirm). This Coteaux Varois en Provence is a well-crafted mélange of Grenache, Cinsault, Cabernet Sauvignon, and Rolle. It has exquisite structure, complexity, and mouth feel as well as a perfect balance of crisp acidity, delicate fruit, and alcohol. A seamless flow of lean minerality coupled with notes of red fruit starts with wafting aromas and lasts through the persistent finish. Elegance personified (in a glass, well, you know what I mean).
As the color is extraordinarily pale, and the wine is definitely dry, this rosé exemplifies the conventional gold standard for which Provence is famous. But, let me remind you that there is, indeed, diversity of color and style of Provence rosés worthy of the same title.