Provençal Pairings: Wine with Food

Gruntled with Grenache
by David Scott Allen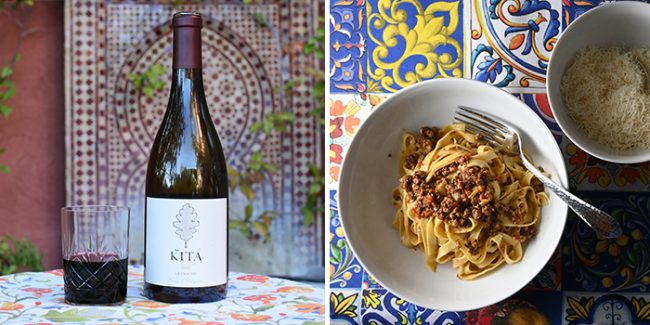 Winery: Kitá
Cuvée: Camp 4 Vineyard
Appellation: Santa Ynez Valley
Type: Red
Vintage: 2017
Grape Varieties: 100% Grenache
Alcohol: 14.5%
Average Retail Price: $43
Pleased. Satisfied. Contented. Those are quotidian words describing one of my favorite not-so-quotidian words: gruntled. And I was fully gruntled with this 2017 Grenache from Kitá Winery in Lompoc, California. Sadly, I am disgruntled to have learned recently that this winery is closing.
They are the makers of the one and only Sauvignon Blanc that I have actually liked. No, not liked — loved! Their Chardonnay is truly excellent. I think Kitá vintner Tara Gomez is brilliant, as are her wines. And this Grenache is no exception. The good news is that I was able to find quite a few bottles of this wine still available online.
We shared this bottle with friends while enjoying a plate of long simmered Ragù alla Bolognese served over homemade tagliatelle. It was a fantastic pairing, and I invite you to check out the recipe on Cocoa & Lavender.
About the Grenache… It is a beautiful, garnet-hued wine with aromas of dark red fruit and caramelized orange zest. On the palate, we all sensed a panoply of fruit flavors: blackberry, black currant, roasted strawberry, and cherry. They were also earthy notes of anise, leather, and cedar. It has a wonderful, velvety mouth feel and is incredibly smooth. It paired perfectly with the meats, tomato and cream in the ragù. When first tasting, we sensed some alcohol on the finish, but after it had breathed for a while, I found it perfectly balanced.
Wines that are 100% Grenache are few and far between — not quite an oenological unicorn, but pretty close. And of those that are 100% Grenache? This is definitely the unicorn.
Editor's Note:
The remaining Kitá wine inventory is available for sale online at 40% off the retail price. However, the single varietal Grenache is no longer available in stock at the winery (but, as mentioned above, it is available from other sources above.) Visit https://kitawines.com/