Provençal Pairings: Wine with Food

When White Is Pink
by David Scott Allen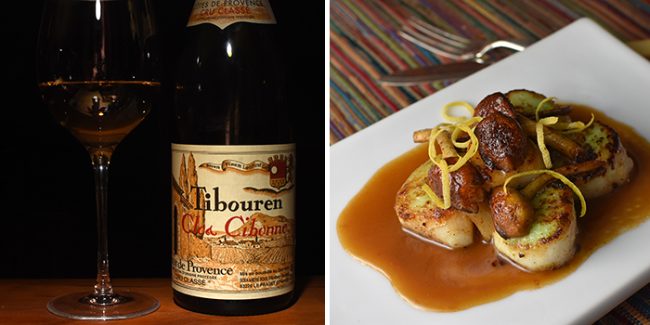 Winery: Clos Cibonne
Cuvée: Tradition
Appellation: Côtes de Provence
Color: Rosé
Vintage: 2019
Grape Varieties: Tibouren 90%, Grenache 10%
Alcohol: 13.5%
Average Retail Price: U.S. $33.00
I was in a local, high-end wine store recently, looking (as I am wont to do) for Provence wines. That day, I was specifically looking for a red wine, though my expectations were low as Provence wines — other than rosé — are not generally stocked here in Tucson. The store manager confirmed that he had nothing red, but he had a really highly-rated Provence white for a great price ($21.00!). I took him at his word, without really looking at the bottle, and bought two. Now, I wish I had bought more.
I set the two bottles aside in my wine rack along with my other white wines, and began thinking of dishes I could create to pair with the wine. One evening we had guests for hors d'œuvres, and I decided to open one of the bottles to get a sense of its qualities to help me with my pairing. Imagine my shock when I poured the first glass and discovered that it was not a white wine, but a rosé.
Backing up, I should have mentioned that the bottle was made of green glass, and a fairly dark green at that. Many white wines are bottled in green so I didn't think twice about it. Rosés, however, are most often bottled in clear glass so the vintner can show off the beautiful color. I don't think I have ever had a rosé from a green glass bottle until that evening.
Naturally, I turned my eyes to the label. Nothing indicated the color of the contents on the front, but on the back, just below "product of France" and above the alcohol by volume were two words: Rosé Wine. I had to laugh, and so did the store manager, when I told him. He had unpacked the wine and made the assumption that, with the green bottle, it was a white wine. (Seriously, he should have known…)
The good news is that it is a terrific rosé. And I ended up creating a beautiful dish to pair with it — Wasabi-Seared Scallops with Tamari Butter. The dark flavors of the tamari butter mixed with some light citrus were perfect with the wine. You can find the recipe on my blog, Cocoa & Lavender.