Provençal Pairings: Wine with Food

Dinner with Friends
by David Scott Allen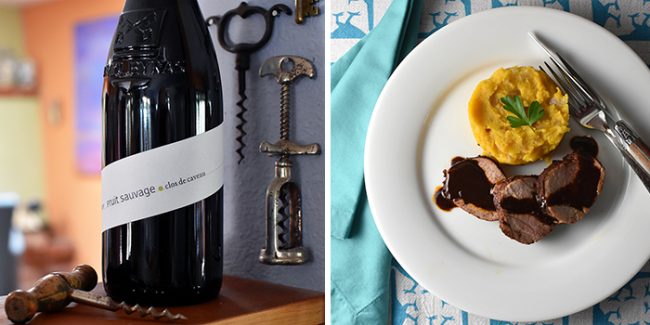 Winery: Le Clos de Caveau
Cuvée: Fruit Sauvage
Appellation: Vacqueyras, Southern Rhône
Type: Red
Vintage: 2017
Grape Varieties: Grenache 60%, Syrah 40%
Alcohol: 14.5%
Average Retail Price: U.S. $44
I know that "zoom fatigue" is a real thing, but if you want to see your close friends who live 3,000 miles away, a Zoom dinner is an absolute joy!
We have really missed seeing Susan and Towny these past couple of years because of COVID, but we talk to them as often as we possibly can. And sometimes the phone just isn't enough… Each of us had a bottle of the Clos de Caveau Vacqueyras "Fruit Sauvage," and we decided to create a meal around it, and share the experience virtually. What a great way to start the New Year! An extra added bonus was that Towny's sister, Lisa, was with them, so we got to see her, too.
When considering a pairing for a wine that is 60% Grenache and 40% Syrah, I know that I want food that has a bit of spice. It really accentuates the flavors in the wine. Coincidentally, I was working on the reboot of a recipe I created back in the mid-90s: Cinnamon Chile Chocolate Pork. Both Susan and I thought it would make a great pairing with the Vacqueyras. You can find the recipe Cocoa & Lavender.
I will start with my spoiler alert: the wine and the food were a really great pairing. Susan felt, "It really rose to the occasion with David's exquisite pork tenderloin prepared with a coating of cinnamon, chile, and chocolate. It's a great pairing!"
The color is a deep garnet with a hint of brown. Both households sensed dark red fruit on the nose, specifically some black currant. On the palate, we tasted black cherry, fig, blackberry, and a hint of leather. Always wanting Susan's two cents, I asked and she added, "Its unfiltered nature contributed to a sense of richness in the mouth. In addition to the lovely black fruit notes mentioned by others, I detected licorice on the nose and the palate." To me, the black currant was most present in the finish. The wine is very well balanced and only mildly tannic.
We all felt it opened up significantly as the evening progressed, and that the cinnamon, chile, and chocolate in the pork really accentuated the dark red fruits and spicy quality of the wine.
The wine is organic and biodynamic, too, and is available at Sherry-Lehmann in NYC and online.
If you are interested in learning more about Le Clos de Caveau, please read this previously published PWZ article: LE CLOS DE CAVEAU: PIONEER IN ORGANIC VITICULTURE IN SOUTHERN RHONE VALLEY