Provençal Pairings: Wine with Food

Nobody's Perfect
by David Scott Allen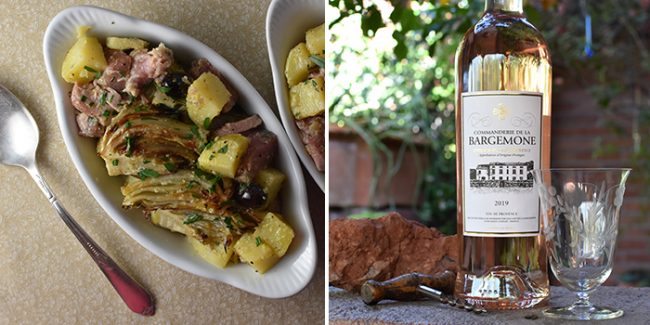 Winery: Commanderie de la Bargemone
Cuvée: Commanderie de la Bargemone
Appellation: Coteaux d'Aix-en-Provence
Type: Rosé
Vintage: 2019
Grape Varieties: 40% Grenache, 25% Cinsault, 20% Syrah, 15% Cabernet Sauvignon
Alcohol: 12.5%
Average Retail Price: US $18.00-22.00
You might think that I like any wine that comes my way. I can see why you might think that, because mostly what you see here in this column are positive reviews and pairings.
But it's not true. For one thing, when creating a pairing, I try to choose carefully so that I have something good to offer you. I certainly have control over the food but, if I'm pairing a wine I've never tasted, all bets are off. So I read. I listen to advice. I try to make informed decisions. Sometimes I make educated guesses. Sometimes I make mistakes. And sometimes, while not perfect, it's just okay.
That is the issue at hand today. I created a (in my not-so-humble opinion) fantastic summer salad recipe for you today: slow-roasted tuna with roasted fennel, potatoes, and olives. The recipe is on Cocoa & Lavender, should you want to recreate it at home.
Wanting to pair the salad with a 2019 rosé, I went to my local grocery store (a rare outing these days) and the only 2019 rosé they had (that I haven't already written about) was the Commanderie de la Bargemone. This particular store is known for its rosé selection, but the 2019s have been slow to appear. I chatted with the wine clerk and she seemed to like the wine well enough. The grape varieties were right, and its provenance worked. Why not?
Why not, indeed. Sometimes, the food is good. Sometimes, the wine is good. And, sometimes, they just don't work together. In this case, the food was good but the wine was just okay—underwhelming. It was very strong on grapefruit, both on the nose and palate. I found it astringent, and too acidic. The only other flavor I detected—when pushing myself—was red currant, which is also highly acidic.
The wine seemed rather one-dimensional to me. Often that can change with food, and I end up pleasantly surprised with a good pairing. But, in this case, there was no happy surprise around the corner. And it had the oddest aftertaste on the finish.
It wasn't bad enough NOT to drink, but I don't think I would purchase it again—at least not this vintage. Let's see what 2020 brings, shall we?
Have you had this vintage? Were your experiences different? I would love to know.