Provençal Pairings: Wine with Food

He Said, She Said
Acquiesce Picpoul and Rosé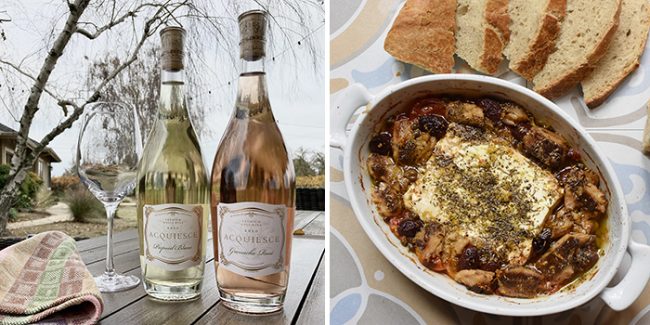 Winery: Acquiesce
Cuvée: Picpoul Blanc
Appellation: Lodi Mokelumne River
Type: White
Vintage: 2020
Grape Varieties: Picpoul Blanc 100%
Alcohol: 12%
Average Retail Price: U.S. $30.00
Winery: Acquiesce
Cuvée: Grenache Rosé
Appellation: Lodi Mokelumne River
Type: Rosé
Vintage: 2020
Alcohol: 13.5%
Grape Varieties: Grenache 93%, Cinsault 7%
Average Retail Price: U.S. $28.00
There are two sides to every story, and today's wine-and-food pairing is no different. Except that it is very different. As I begin the eighth year of writing this column, this month is the first time in which the vintner, the editor for Provence WineZine, and I have all been in the same room for the tasting and pairing. And let it be known that we had a wonderful time!
In early December, Susan and Towny flew from Portsmouth New Hampshire, Mark and I flew from Tucson Arizona and, together, we descended on Sue and Rodney in Lodi California at Acquiesce Winery. It was a whirlwind weekend, and it started Friday night after we had arrived. In my classic way, I took over Sue and Rodney's kitchen and made Provençal Feta and Sardines, and Sue and Susan chose two wines to pair, both from Acquiesce Winery: their 2020 Grenache Rosé and their 2020 Picpoul Blanc. You can find the recipe on Cocoa & Lavender.
Admittedly, I went into the tasting with a bias towards one of the two wines. In creating and testing several versions of the recipe, I had paired it with a Provence rosé, and was extremely happy with the results. Once everyone was there, though, both wines were opened and the fun began.
Susan sat across the table from me. We tasted back-and-forth — pink and white, white and pink — and, at one point, Susan's eyes met mine and we gave one another that knowing look that said, "This is the perfect pairing." Though, in classic comedic fashion, I thought it was the Grenache Rosé and Susan thought it was a Picpoul Blanc.
That's the fun of wine, isn't it? Each one of us has taste buds that react to wines in a very personal way. Honestly, both wines went very well with the appetizer so, as they say, there is no wrong answer. And the right answer is to choose the wine that you like best.
The Picpoul Blanc is a pale, straw-colored wine that, on the nose, gives off a bit of steel or slate. On the palate, it is pleasantly acidic, with notes of citrus (grapefruit and lemon), green apple, and apricot. With the food, it takes on a bit of a floral note – I got honeysuckle. The wine is medium-bodied, well balanced, and has a soft and enticing mouthfeel. It went particularly well with the lemon zest, lavender (in the herbes de Provence), and the sweetness in the roasted tomatoes.
The Grenache Rosé is a beautiful salmon pink color with aromas of strawberry on the nose; it smells perfectly pink. This Provence-style rosé has the classic bright red fruits of strawberry, raspberry, and cherry on the palate, with a hint of banana. Also well-balanced, this wine coats my mouth beautifully and drinks like a summer day. I feel that the wine went particularly well with the richness of the oil-packed sardines and creamy, tangy cheese; it also worked beautifully with the herbed olive oil.
And, congratulations to Sue Tipton for the awards she has been winning this year for her wines! The Picpoul Blanc won:
Best White Wine, Double Gold Medal 2021 — American Wine Society Wine Competition
Best of Class, Double Gold Medal — 2021 Hilton Head Food & Wine Competition
Double Gold Medal — 2021 International Women's Wine Competition.
Double Gold Medal (96 points) — 2021 San Francisco International Wine Competition
Gold Medal — 2021 Orange County Wine Society Competition
The Grenache Rosé won:
Silver Medal — 2021 San Francisco International Wine Competition
Silver Medal — 2021 Orange County Wine Society Competition
No wonder we liked them both so much!