Provence in a Can – Pure Inspiration
by Pamela O'Neill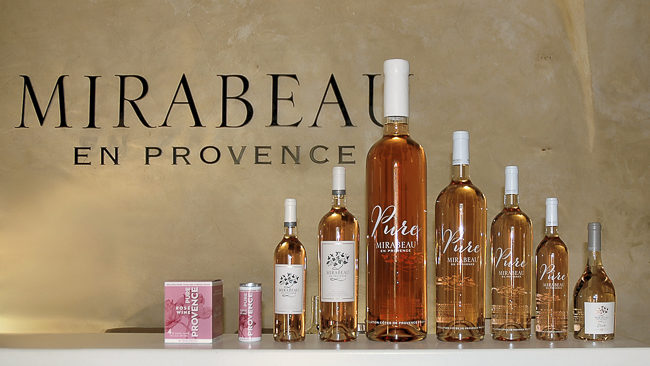 As craft beer brewers have demonstrated, cans are cool. Gone is their "dad's beer" reputation. Cans are environmentally friendly, cheap, provide superb protection, and can go where bottles dare not tread. And, because they offer more surface area than a bottle label, cans provide an artist's pallet for creative branding.
Aluminum cans leave a relatively small carbon footprint as they're lighter than glass and require less space and packaging to transport, and, like glass, can be 100% recycled, indefinitely, without material degradation. Less cumbersome than bottles, cans are actually more likely to be recycled and, with greatly improved methods, the need to mine bauxite – a blight on the landscape and the reputation of aluminum – will continue to lessen dramatically.
But environmental correctness is not the sole factor responsible for the craft beer can craze. It's about the taste. Better at preserving carbonation than bottles, cans also shield the liquid from harmful light and oxygen deterioration. And new water-based polymer lining technology, replacing epoxy-based resins containing BPAs, protects the contents from metallic taste contamination while also protecting the consumer from toxins.
And let's face it, cans were born for the road. Not only lighter to tote and easily stocked in small places, they are welcome in spots where glass is a big no no – beach, poolside, golf course, ball park – and it's a cinch to schlep home the empties.
Is it any wonder that wine has gotten in the game? With alternative packaging, rosé, and Prosecco being the wine market categories that continue to trend, wine-in-can is the dernier cri. According to Nielsen, 2017 sales of canned wine in the U.S. leapfrogged 125% over sales in 2016. Intended for wine that does not benefit from long cellar aging, both wineries and wine lovers are embracing the wisdom of cans.
This movement has not gone unnoticed by Stephen and Jeany Cronk, the savvy owners of Mirabeau en Provence, who, in partnership with Whole Foods Market, are the first Provence winemakers to add cans to their bottled line up. April 5th saw the release of Pure Provence rosé, Mirabeau's AOP Coteaux Varois en Provence cuvée (a blend of 80% Grenache and 20% Cinsault), to shelves throughout the U.S. Although not distributed in Europe at this time, I had the opportunity to meet this little gem at their tasting room here in Cotignac, where I was immediately smitten.
Each stylish pink canette of Pure Provence (designed by Jeany) holds 250 ml or about 81/2 oz., tailor made for Goldilocks – small enough to chill in a jiffy and stay fresh to the last drop, yet a properly generous serving. And a 4-pack of canettes is a deal at $21.99 (Whole Foods) for 1000ml.
My glee for this product is almost unseemly. I am assailed by unfettered visions of all the clambakes, days afloat on pool lounges, sailing parties, campfires, and voyages that I could share with my new BFF. And, even though we all know how to open a bottle without a corkscrew, thanks to Stephen's viral YouTube video, you don't need a corkscrew or a shoe to open a can of Pure Provence.
I only hope that the Cronks have started a trend and more Provence wines jump on this happy bandwagon. Just imagine the ease with which one could load a suitcase full of Provence goodness, while smugly outfoxing stingy airline weight limits and demented baggage handlers. Susan Manfull, are you imagining?
Now, if you'll excuse me, I 'm off to buy a canette-size cozy for a friend.