OFF THE VIA DOMITIA
THE RHÔNE RANGERS RAISE THEIR GLASSES IN HONOR OF SONOMA RESTAURATEUR SONDRA BERNSTEIN
by Susan Manfull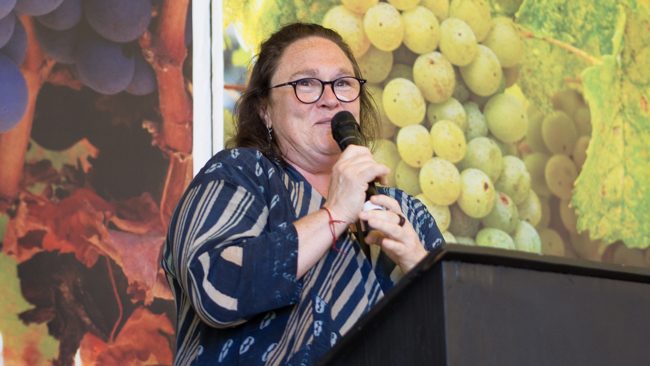 It was the perfect assemblage to honor the woman who created the "Rhône Alone" wine list: an unusually glorious June day in San Francisco; the Golden Gate Club at the Presidio filled with family, friends, and fans of Sondra Bernstein and Rhône-style wines; and about 75 winemakers pouring their wines made in the U.S. from Rhône varieties. What better way could the Rhône Rangers bestow their fifth annual Lifetime Achievement Award on Bernstein who, for over twenty years, has demonstrated her support of Rhône and Rhône-style wines, beginning with devoting the wine list for her first restaurant, "the girl and the fig," to those wines. I felt fortunate to be among the crowd last Saturday, June 10th.
It was "risky," Bernstein herself acknowledged, to focus on a style of wine that excludes California's beloved Chardonnay and Cabernet Sauvignon in favor of grapes like Mourvèdre and Viognier. This was especially true in 1997, when Rhône wines were probably not flying off the shelves—there were not many on the shelves!—but, Bernstein, who seems to have a knack for understanding what will work (in spite of what others say), saw Rhône and Rhône-style wines as "food friendly" and "everyday people wines" that would pair perfectly with her "country food with a French passion." (Likewise, people told her that "the girl and the fig" would never work for the name of a restaurant…erhm.)
The wine list is a veritable who's who in Rhône grape varieties. Bernstein offers a remarkable selection of single varietal wines and, of course, traditional Rhône blends. Not surprisingly, Grenache, Mourvèdre, and Syrah single varietals are on the list, but where have you ever seen three Cinsault wines, four Counoise wines, and five Carignane wines? Under white wines, there are four Picpouls! The by-the-glass menu is impressive as well.
Bernstein, born in Washington, D.C., was raised in Philadelphia. She graduated from Philadelphia College of Art with a BFA (emphasis in photography) and appears to have gone right into the hospitality business as TGI Friday's trainer and Team Leader for restaurant openings and then back to school for culinary and restaurant management at The Restaurant School. Several restaurants later (in Philadelphia and Los Angeles), she visited Sonoma while on a short vacation with a boyfriend and fell in love with the culinary culture of the region; a few months later, she moved to Sonoma and began work at Viansa Winery, eventually becoming Director of Operations. In 1997, Bernstein launched "the girl and the fig," first in Glen Ellen and, three years later, in its current location in the Sonoma Hotel. John Toulze, Northern California native with roots in France, has worked with Bernstein since the restaurant's inception and is currently the Executive Chef and Managing Partner.
The Rhône Rangers, a non-profit group, was founded (officially) in 1997 with 13 wineries to promote American Rhône wines. Today, there are over 100 wineries and vineyards in this organization, mostly in California but also in Washington, Virginia, and Arizona. According to their guidelines, in order for a wine to be considered a Rhône Ranger wine, "the 22 recognized accepted [Rhône] varieties must comprise at least 75% of the blend." (I am confident they mean some portion of the 22 grape varieties.) These grapes may include: Bourboulenc, Camarese, Carignane noir, Cinsault noir, Clairette blanc, Clairette Rose, Counoise noir, Grenache blanc, Grenache gris, Grenache noir, Marsanne, Mourvèdre, Muscardin, Muscat à Petits Grains, Petite Sirah, Picpoul blanc, Picpoul noir, Roussanne, Syrah, Terret noir, Ugni blanc, Vaccarese, and Viognier.
The Rhône Ranger Lifetime Achievement Award is given to a person, typically a winemaker or sommelier, who has made significant contributions to the American Rhône wine movement. Bernstein was the first restaurateur to receive this honor. In addition to fashioning a wine list consisting solely of Rhône and Rhône-style wines, she has supported Rhône Rangers in other ways, too, such as by making her various venues available for Rhône Ranger events. Notably, Bernstein also founded Sonoma Fig Foundation for Funding Imaginable Goals "offering grants to nonprofit organizations which assist in funding for start-up entrepreneurs in food, farming, food media, wine and spirits, restaurants, artisanal food production, or new projects for existing businesses," which, in my eyes, reinforces the relationship more generally of food, wine, and community.
I have not been to "the girl and the fig" (or the fig café or any of the other restaurants she has owned) but I am eager to go. I did have the immense pleasure of meeting Bernstein who I found instantly engaging and immediately liked very much. In a video produced for this event, someone described Bernstein as a person who "makes everyone feel like her best friend." Indeed, she does. I also got to meet her family—nephew, brother, and mom—all of whom exuded heart-felt pride for Sondra and her accomplishments. As we parted ways, Bernstein told me to make sure to let her know when we were coming to her restaurant. I felt like her friend. À votre santé, Sondra!
In addition to honoring Sondra Bernstein, the Rhône Rangers were holding their Annual Celebration of American Rhône wines which kicked off with a gastronomic buffet—described as "casual" but, chez moi, "Boeuf Bourguignon en Crepinette with a Morel Mushroom Glace" is anything but casual. Several levels of "Grand Tastings" were offered. In addition, there was a live auction of large format bottles, exceptional dining opportunities with winemakers or in highly regarded restaurants; a silent auction of interesting wines and wine experiences; a drawing of wrapped (unidentifiable) bottles of wine; and a couple of seminars. (A portion of the funds raised during the live and silent auctions goes toward supporting the Rhône Rangers Scholarship Fund.)
The seminar we attended, "The Pioneers of Rhône Rangers," was akin to secretly listening in on conversations among some of the men who led the vanguard for Rhône grapes well over 20 years ago. Their lively exchanges were filled with portraits of colorful characters, stories rich with detail, and candid debate. Little did these men know, I think it is safe to say, that their casual conversations so many years ago would eventually lead to "a full-fledged movement that has forever changed the American wine landscape and continues to shape its future."
The panel included founding members of the Rhône Rangers—Bill Easton (Terre Rouge), Steve Edmunds (Edmunds St. John), and Ethan Lindquist (Qupé)—as well as the perceptive observations of relative newcomers Patrick Comiskey (author of American Rhône: How Maverick Winemakers Changed the Way American Drink) and Neil Collins (Executive Winemaker and Vineyard Manager at Tablas Creek Vineyard). Subjects ranged from how the stage was set with Alice Waters' Chez Panisse and Kermit Lynch's wine import business to suitcase vines, UC Davis's role in importing clones, Tablas Creek's direct relationship with Château Beaucastel, and the shift toward looking to Europe for food and wine inspiration. It was a great way to appreciate the grape varieties that comprise the wines we had been tasting, most of which came from clones from France that had spent many years in quarantine before finally producing the grapes that made the wine in our glasses.
With as many as 75 wineries, pouring a combined total of over 400 wines, it was impossible to taste as many wines as we would have liked. We were very disappointed to miss some of our most coveted wineries. Well, I guess we'll have to go back and taste some more wine. Zut!