DISCOVER PIERREVERT: VISIT CHATEAU SAINT JEAN LEZ DURANCE
by Susan Manfull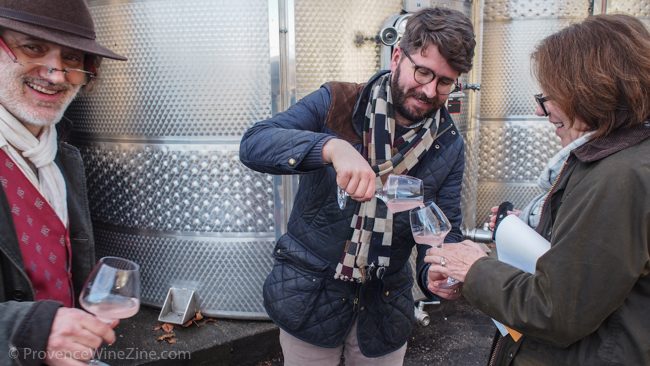 There was a moment when we stood outside Château Saint Jean, sipping a rosé blend of Grenache, Syrah, Cinsault, and Roussanne taken directly from the tank, enjoying its distinctly almond nose while looking across a huge expansive field in the direction of the Durance and the Plateau de Valensole, that I couldn't remember if Pierrevert lie in the Southern Rhône or in Provence. I panicked: I am here to interview cave director and winemaker Jean-Guillaume d'Herbès and I'm suddenly not sure which wine region his winery falls in.
The craggy mountains dotted with almond, olive, and truffle oak trees of the easternmost part of the Luberon where Manosque is located and where we just came from lunch, were Jean Giono's land and are quite different from the heart of the Provence Wine Region; that landscape assuredly colored my thinking. The almond scent emanating from the glass, the distinctive acidity—perfectly balanced with the various fruit flavors that filled my mouth—seemed quite different from most Rosés in Provence, where I thought I was. I felt confused.
Apparently I am not alone and later, consulting some of the most respectable resources on wine, I realized I still would have been left to wonder about this appellation's home. This is what Jancis Robinson writes in her Oxford Companion to Wine: "Pierrevert, zone in the alpine foothills of northern Provence, regarded by the INAO as an eastern satellite of the southern Rhone…." In other wine book, Pierrevert is discussed in the Côtes du Luberon chapter. It is not shown on our 2006 Institut Geographique National (IGN) Map of Vins de Provence.
Before we move on, let me make clear that Pierrevert is in the Provence Wine Region, one of nine appellations that comprise that southern region famous for its pale, dry rosés. Pierrevert is the newest appellation in Provence, having been promoted from VDQS status (granted in 1956) to AOC status in 1998. It is the northernmost appellation in Provence, located in the Alpes-de-Haute-Provence department. It boasts some of the highest vineyards in France (with an average altitude of 450 meters). The climate is characterized by both Mediterranean and Alpine influences with well over 300 days of sunshine. The hot summer weather is mitigated by the cooler nighttime temperatures. The soil is described as "clayey-limestone," meaning some areas are characterized by chalky-limestone and others by a little more clay (though not as clayey as neighboring Luberon soils), all atop gravel. All three colors are produced with red and rosé wines dominating production (at least 85%). The Rhone exerts its influence here, both in grape varieties typically used and in style of wine.
The primary grape varieties permitted to be in this appellation are Grenache and Syrah. The secondary red varieties are Carignan, Cinsault, Mourvèdre, and "an old Provençal grape" (in the words of Jancis Robinson) called Téoulier that may have originated in nearby Manosque. The secondary white grapes are Clairette, Grenache blanc, Marsanne, Picpoul, Roussanne, Ugni blanc, Rolle, and Viognier. Vines cover at least 236 hectares (583 acres) of land in Pierrevert. There are six private wineries, as many as 30 growers, and one cooperative.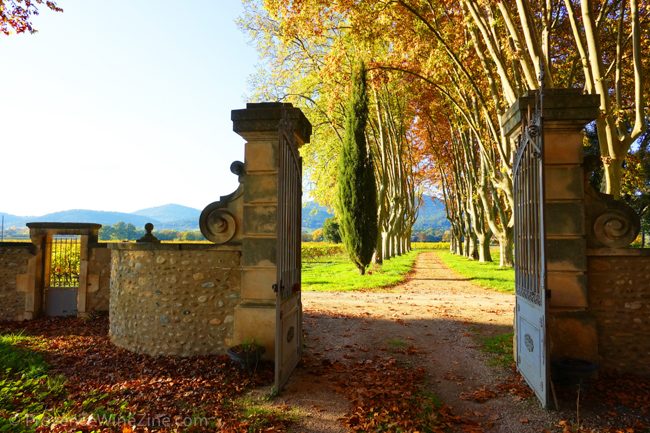 It was on a chilly but typically gorgeous February day when we visited Château Saint Jean. I was with husband and photographer Towny Manfull and friend Pierre Schott (who is also a photographer). Schott, who lives in nearby Manosque, had made arrangements with d'Herbès for our visit, which would include a brief tasting and some conversation about his family's estate. D'Herbès is the son of owner Jean d'Herbès and represents the fifth generation of family members who have overseen the estate's winemaking since 1880 (although the property has been in the family since 1754 when it was operated as a farm). Today there are approximately 33 hectares (82 acres) of vines and the estate is currently in the process of converting to organic farming and vinification (to be fully complete by 2018).
In 2013, d'Herbès and wife Constance d'Herbès left Paris where he worked with a British consumer-goods producer and she worked in fashion in the haute couture design house of John Galliano and moved to Pierrevert. Today, the couple and their children—the number of which has grown to three, as of early May—live in the 16th-century farmhouse on the property. Several hours and nine wines later, we emerged from the tasting room, huge fans of this estate and its portfolio of wine (numbering somewhere around six Rosés, three reds, and one white) and with first-hand observations of just how very local the wine business is in Pierrevert.
There was a steady stream of characters who dropped by the château while we tasted the château's wines and chatted. All seemed to know d'Herbès well—there were lots of animated embraces and bises—and all seemed to be stopping to say "coucou" to their bon ami d'Herbès as much as to purchase wine. One man joined us in our tasting for a couple of wines and others just gave us a friendly nod. Madame d'Herbès popped in with their two young children in tow who were thrilled to see their father and obviously quite comfortable in the tasting room.
For Madame d'Herbès herself, visiting one's father in the cave would not be an unfamiliar experience as she also grew up in the midst of the family wine business. She hails from Courjeonnet in Champagne where her family owns Champagne Ragot Nominé.
Not surprisingly, none of the 2016 wines had been bottled. For the first wine in our tasting, d'Herbès went into his cave and filled a plastic pitcher from a tank. It is the sole white wine in the portfolio, a single-varietal Muscat petit grains which was a delightfully aromatic dry wine with wonderful freshness and minerality. This white cuvée is part of the IGP Alpes de Haute–Provence Les Platanes group (which also includes a red and a rosé wine). My guess is that this wine has, by now, had the time to open up more and I look forward to returning this summer to try it again. The rosé cuvée, which we did not try, is, interestingly, a single-varietal Merlot. ("Les Platanes" refers to the 100-year-old Plane trees that grace the landscape.)
Also within the portfolio of Les Platanes wines is another Rosé—a Vin de France—made from the Muscat petit grains variety, macerated 2 ½ hours and blended with Muscat de Hambourg. We didn't taste this rosé, called Rosé Fruité, but it must be good as it was recently awarded "gold" in the 2017 Concours Général Agricole.
Rosé dominated the next four tastings and, for three of those, we donned our coats and scarves and ventured outside to the tanks that held the various wines until bottling (to begin a few weeks later).
The first, an AOP Pierrevert rosé from the line-up called Les Vannades, is a blend of Grenache, Cinsault, and Rolle and marks a departure from the 2015 blend of Grenache, Cinsault, and Syrah. The second, an AOP Pierrevert rosé from the collection called Pimayon, is a blend of predominantly Syrah (75%) with Grenache (25%), also a departure from the previous year's cépage that included a little Cinsault. These are delightfully simple rosés, perfect for lunch on the terrace. Even though the wine was very cold in both cases, the aromatic nose came through and it was clear the fruit was up to the task of balancing the acidity for which these wines are known. The 2016 Les Vannades rosé recently received "silver" and the 2016 Pimayon rosé recently received "gold" in Le Mondial du Rosé Concours des Oenologues de France.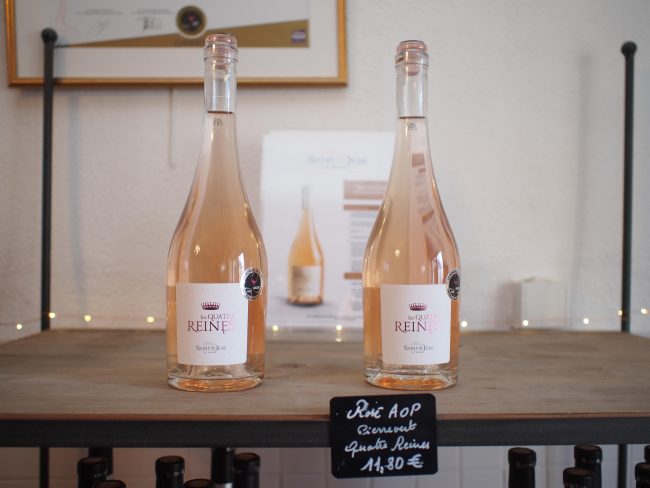 Les Quatre Reines AOP Pierrevert sits at the helm of the rosés from this château. The name is derived from the four daughters of Comte Rémon de Béranger, Count of Provence in the 13th century, who came to reign over four kingdoms in Europe. They are the subject of a recent book, Les Demoiselles de Provence, by Patrick de Carolis about the history of Provence and Europe.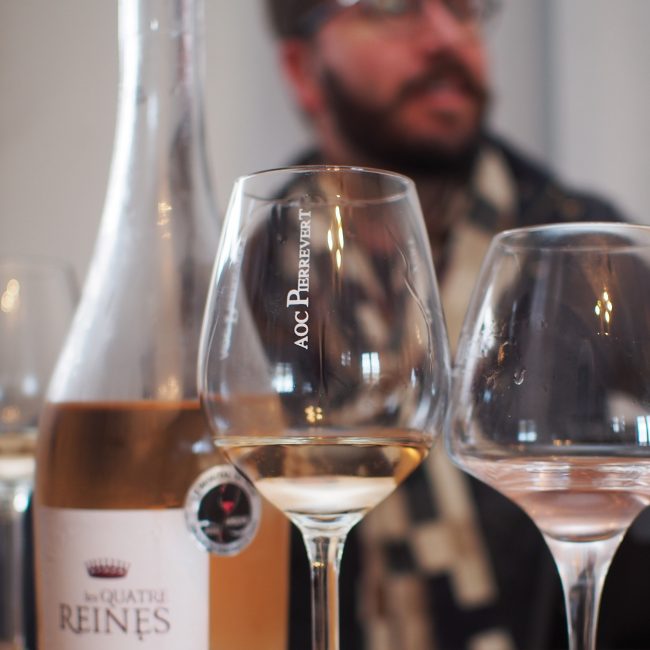 It is understandable why Les Quatre Reines rosé is at the pinnacle of the rosé collection as both the 2016, which we tasted first, and the 2015 were excellent. Interesting, the 2016 blend of two parts Grenache and one part each of Syrah, Cinsault, and Roussanne, is a very pale pink while the 2015 cuvée, which does not include Roussanne (a relatively recent addition to the vineyard) is a much lighter straw color. Each sports a powerful nose, especially the 2015, although I was completely smitten with the fragrant nose of the 2016 vintage, distinctly reminiscent of sweet almonds perhaps owing to the presence of the very aromatic Roussanne. Both rosés are well balanced and present with impressive complexity, suggesting a good partner for food and, according to d'Herbès, has some age-ability.
We took home a bottle of the 2015 Quatre Reines, loved it just as much, and made additional notes about its creamy mouthfeel. It went brilliantly as an apéritif and paired perfectly with our salmon roasted in a salt crust.
The next four tastings were red, from the Pimayon collection. The name Pimayon comes from the Provençal "Pic Majour," which means "highest point" and refers to a 500-meter hill on the property.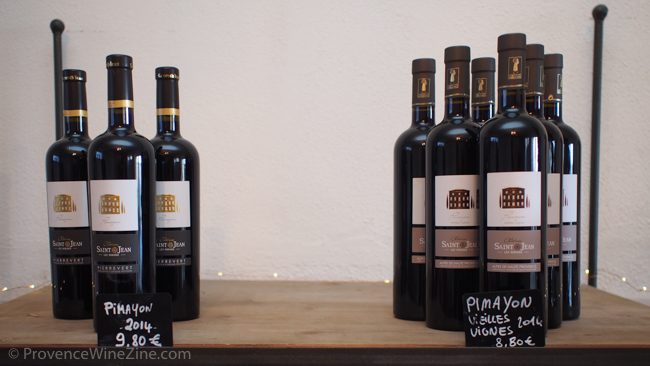 We began with an IGP Alpes de Haute-Provence Pimayon Vielles Vignes (2014) red wine which, d'Herbès told us, is an equal mix of Grenache and Syrah. We all agreed that this wine is much more full-bodied than most wines from the area; my husband aptly described this red wine as a "bold wine with freshness." We really liked it.
One of the highlights of the afternoon was the next wine, an AOP Pierrevert Special Edition Pimayon (2014) red wine made to mark the occasion of d'Herbès' grandfather's birthday. Sixty years ago, the elder d'Herbès planted the parcel, now the oldest on the property, from which most of the fruit—Grenache, Syrah, Carignan, and Cabernet Sauvignon—came to make this very special wine. As it turned out, quite inadvertently, this wine is a vinnaturel or "natural" wine, but d'Herbès cannot call it a natural wine.
"Natural" wines refer to those in which there are no additives with the exception of "a little sulfites" when bottled and minimal intervention in the cellar, d'Herbès explained. Although natural wines have a large and growing following, especially in France, there is no accrediting body. "In France, a winemaker cannot use the word "natural" to describe a wine," d'Herbès told us, adding, "One can describe it as 'without sulfites' but not if it has a drop of sulfites added."
The story behind this Special Edition Pimayon red is that d'Herbès did not have any more additives. "2014 was a very big year," d'Herbès told us. "When the tractor arrived with more grapes, I had no more additives so I made this natural wine."
There was silence in the room as we tasted this wine followed by a chorus of "wows." It is a lovely wine. The quality of the fruits is very well preserved and concentrated. We all agreed that the tannins are silky but a bit too present, suggesting a little aging would aid integration. Schott suggested this wine would pair well with a duck confit served with a plum sauce or even with cassoulet.
I asked d'Herbès if he would produce another batch of vin naturel to which he replied emphatically "no," adding, "It's a little bit dangerous because there's not very much security." That is, things can easily go awry.
I regret not buying a bottle or two but, this visit came rather unexpectedly at the end of our trip and we were out of space in our luggage. (We will be back in September with an emptier suitcase and fingers crossed that there will be some left!)
The next wine was the traditional AOP Pierrevert Pimayon (2014) red wine, a blend of equal parts Grenache and Syrah that was aged in oak, and was so good, it assuaged my disappointment that there would be no vin naturel in the regular portfolio. Schott had a definite preference for this wine as he felt the tannins were more integrated and the wine was generally more balanced. Notably, this was d'Herbès' first fermentation! Schott left with a case.
The final wine came directly from the barrel: the AOP Pierrevert Pimayon red wine cépage of Grenache and Syrah from the 2015 vintage, waiting its turn in the barrel. It was excellent. We will be back for this wine, too!
Animated discussion—and some debate—about possible food pairings with these red wines filled the tasting room (we are in France, after all, where food works its way into nearly every conversation!). We kept coming back to lamb. I really can't wait to see for myself!
Like nearly all parts of Provence, vines have covered the land since antiquity and the locals have been avid fans. The Knights Templar and the Knights Hospitaller of the Order of Saint John of Jerusalem, like monks in other parts of France, were particularly instrumental in keeping winemaking alive in this area from the early 12th century through the early 14th century. Jean Giono (1895 – 1970), highly regarded French author of fiction who set his novels in his native Provence, was a huge fan of Château Saint Jean wines and, as a resident of Manosque, I imagine that, like the patrons we saw at February day, he also would drop by the château frequently.
Today, don't look for this wine too far outside of Pierrevert—the locals buy it all. Currently, vines cover about 33 hectares (82 acres) of the property but the d'Herbès hope to expand the vineyard in the next few years. Until then, you'll just have to visit the château!
Notes:
Pierre Schott liked the wines so much, he created this piece for the Château. Click on the image to see all the pages.