Provençal Pairings: Wine with Food
The Happy Couple
by David Scott Allen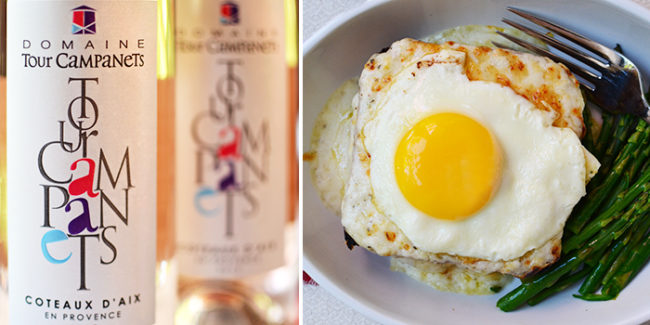 Winery: Domaine Tour Campanets
Cuvée: Tour Campanets
Appellation: Coteaux d'Aix en Provence
Type: Rosé
Vintage: 2015
Grape Varieties: Grenache (40%), Syrah (40%), Cabernet-Sauvignon (10%), Carignan (5%), Cinsault (5%)
Alcohol content: 13.5%
Average Retail Price: U.S. $14.50, France €7.00, Great Britain £12.50
A happy marriage isn't just about how you get along with one another. It's also about how you, as a couple, get along with others, and they with you.
Meet the Croques: Monsieur & Madame. They get along really well – in fact, they are so much alike that people can't remember which is which! Today, I made both a Croque Madame and a Croque Monsieur and tested them with a Tour Campanets Coteaux d'Aix en Provence rosé, just to see what the dynamics would be. As you might have suspected from my happy tone, the party was extremely agreeable and everyone got along fine.
Domaine Tour Campanets, a winery known as Le Clos du Blanc until 1966 when it was renamed, was recently purchased by the Baude family. Emmanuelle Baude, a former lawyer with a passion for wine, has made it her goal to produce high end, organic rosés and, while not famous at this time, I feel her time will come. She received organic certification in 2012, the year she and her family purchased the property. Being a child of the 70s, she feels it is her responsibility to take care of our planet and her part is keeping the soil free of chemicals.
Back to the wine… The color of this rosé is particularly light pink, a color that will do well in the United States and around the globe. The lighter the pink, the more popular the rosé. However, the light color belies its rich flavor and balanced acidity, making this wine perfect for all variety of foods, from grilled fowl and meats, to cheese, to desserts.
I chose to try it out with the Croques, and the pairing was excellent. The acidity of the wine went beautifully with the cheese and béchamel, as well as the sunny-side-up egg sported by Croque Madame. The nose brought ripe peaches to mind, and the first taste was of strawberries. In spite of its fruit-forward palate, one has the impression of a very dry rosé, probably in no small part due to its pleasant acidity. The finish is long and pleasant, ending on a nice tart raspberry note. This wine would pair well with young goat and sheep cheeses, and with cream-based desserts – particularly custards.
I enjoyed this wine a lot, and the price range is quite reasonable. I look forward to making this wine a regular on my rotation. I also loved that it has a purple cork!
The recipes for Croque Madame and Croque Monsieur are on Cocoa & Lavender this week.