Provençal Pairings: Wine with Food
When in Paris…
by David Scott Allen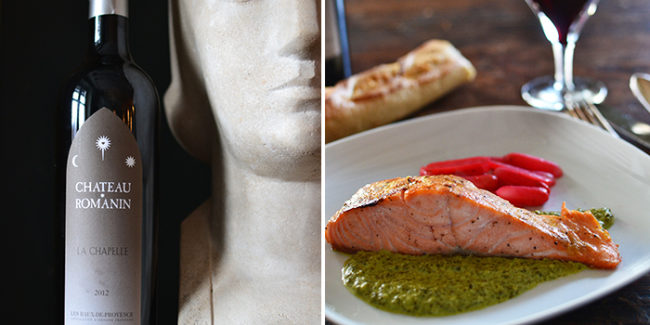 Winery: Château Romanin
Cuvée: La Chapelle
Appellation: Les Baux-de-Provence
Type: Red
Vintage: 2012
Grape Varieties: Cabernet Sauvignon, Mourvèdre, Grenache, Syrah, Cinsault
Alcohol: 13%
Average Retail Price: FR €14.00
Mark and I spent the week of Christmas in Paris. We found a really beautiful one-bedroom flat in our favorite neighborhood – the Marais.
This pairing was a really lucky guess on my part. I had already chosen the menu for the Christmas dinner we would be having and had shopped for the ingredients at the contiguous Marché Beauvau and Marché d'Aligré – markets I highly recommend! The menu: Saumon à la Crème d'Oseille with glazed French breakfast radishes.
I popped into a wine store about 50 paces from our apartment to choose a wine and asked what wines they had from Provence; aside from a nice collection of rosés, they had only four – two red, two white. I chose one of each and was on my way.
I used the white to accompany some succulent Saint Jacques for Christmas Eve, and held onto the red from Les Baux for our Christmas dinner. It was a good choice… lucky, but good.
The wine and château were completely unknown to me, and I had no resources (no wifi, thus no internet) when buying it to make an informed decision. The good news was that, if it was horrible, I still had half a bottle of the white from the night before.
The color is that of deep garnet. The nose was bright, red fruits such as cherry and redcurrant dominated, and there was some nice spice as well – cinnamon and clove. It's not an unctuous wine by any means, but it isn't thin, either. Silky is the best way for me to describe it. The red fruits remain prominent on the tongue, with additional notes of black pepper and anise. I liked it very much, and was glad I made the choice. The finish wasn't long, but very pleasant.
I knew immediately that my concerns about how it would pair with the salmon were unfounded, but I still had a hint of worry about the lemony sorrel cream, to which I (sillily) added extra lemon. In the end, maybe the sauce wasn't the perfect pairing, but it was by no means wrong. In fact, it worked well – the citrus played nicely with the spice and fruit, especially in combination bites with the salmon. For the recipe, please visit Cocoa & Lavender.
Overall, I think very highly of this wine, and would love to know what else Château Romanin has to offer. It would also pair nicely with roasted or grilled meats and poultry.