Provence Wine Council Drops "Provence in the City" and Adds Sopexa
by Susan Manfull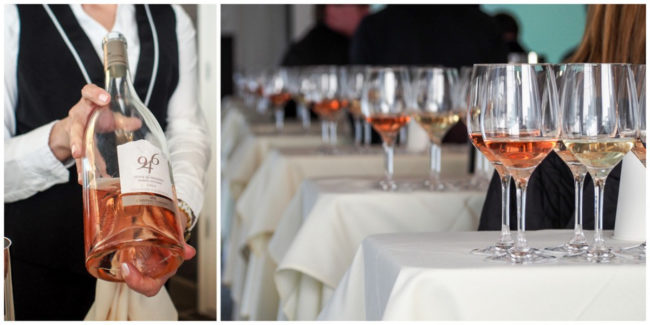 For eight years, usually in early March, rosé producers from sunny Provence have been rolling into American cities, often through thick blankets of snow but with wines in tow, to regale trade and media professionals with their dry, pale-colored elixirs. The Conseil Interprofessionnel des Vins de Provence (CIVP), referred to as the Provence Wine Council in the United States, has sponsored these events as part of their mission to promote the rosés (and a few reds and whites) of the Provence wine region of France.
The first such event took place in New York City in 2009. Los Angeles was added to the itinerary in 2010 and Boston was included in 2011. By 2016, Chicago, San Francisco, and Houston had been added to the list and "Pairing Luncheons and Seminars" were initiated in even more cities, including Aspen, Denver, Nashville, New Orleans, and Phoenix/Scottsdale. More and more red and white wines from Provence also found their way to the tasting tables, alongside the showcased rosés. (Yes, nearly 90% of Provence AOP wines are rosé, but about 7.5% are red and 3.5% are white and they are fabulous.)
As the list of cities that hosted "Provence in the City" (PITC) tasting events grew, so, as we all know, did the popularity of Provence rosé. The growth of Provence rosé exports to countries around the globe increased 204% in volume and 556% in value between 2001 and 2014. In the U.S. alone, the market has increased at double-digit rates for well over a decade; from 2008 to 2016, representing roughly the period of PITC tastings, imports of Provence rosé to the U.S. grew from one to eleven million bottles. In 2015, Provence rosé comprised about 30% of all imported rosé sold in retail outlets in the U.S. (in other words, not counting restaurants). Further evidence of its popularity, although anecdotal, is very persuasive—every wine retailer I have ever interviewed (and there have been many) has, without exception, reported that consumers ask for Provence rosé by name unlike any other region. It has settled into its title as "the world's gold standard for rosé."
With Provence rosé clearly dominating the rosé market in the U.S., I suppose the time was ripe for a new strategy to continue to stoke growth; but it was surprising to learn it would not include PITC tastings and that it would be led by a new agency for communication and marketing as well as trade. The Provence Wine Council has awarded a two-year contract to develop a new program to Sopexa, a French-based International Marketing and Communications Agency that focuses on food, drink, and lifestyle.
Sopexa replaces San Francisco-based Calhoun & Company Communications who, a year ago, replaced New York-based Dilenschneider Group, who held the contract from 2009. I am told the U.S. Consumer/Trade Office for CIVP/Provence Wine Council will be closed. I was unable to reach Valerie LeLong, Director for Marketing & Communication, Export, for comment but Sopexa's new role was confirmed by Romain Diho, Export Area Manager at CIVP.
After learning of these changes, I had the pleasure of speaking with Bertrand Blanchez, Manager for Wines of Provence at Sopexa. Blanchez acknowledged the success of earlier campaigns that contributed to establishing Provence rosé's success in the U.S, but said that Sopexa's approach will highlight different characteristics of Provence rosé. For example, there will be a strategic effort to emphasize the quality aspect of Provence rosé, the "guarantee of a 'Provence rosé' label." To that end, the new agency will underscore the year-round potential of rosé and its importance as a complement to food.
"We want to get rid of the seasonality of Provence rosé," Blanchez said. "We want to [shed] the image that Provence rosé is only good in the summer and extend it to include new moments throughout the year…like Thanksgiving, Christmas, and Valentine's Day." This is not a new theme in rosé marketing but it is one that could benefit from a coordinated approach that includes educating the public and working closely with retailers and sommeliers.
To showcase rosé's important role at the table, Sopexa will participate in and create more wine and food pairing events and they will work with chefs and aspiring chefs in cooking schools across the country to create recipes for foods that marry well with rosé. It seems Sopexa will work to encourage consumers to expand how they see rosé to include its role as a perfect accompaniment to food as well as an inviting beverage by the pool.
Sopexa will implement what I would call a full-court press, including forming partnerships with, as alluded to above, chefs and sommeliers, as well as wine and food writers and other journalists (both print and digital) who cover seemingly unrelated genres like music, art, and style.
Blanchez also said that Sopexa's goals include widening the audience for rosé both geographically and demographically. States such as Colorado, South Carolina, Oregon, Texas, and Tennessee may find more tasting events and a greater selection of Provence rosés on retail shelves. Although Blanchez and I did not discuss "millennials" (aged 21 to 35 years), this group is immensely important in wine marketing and certainly a significant segment of the target audience; about one-third of millennials are wine drinkers and value premium quality.
Finally, Blanchez confirmed that a much greater emphasis will be placed on connecting producers to importers, a need winemakers and estate owners have long expressed to me in interviews. The upshot for rosé fans in the U.S. will be more rosé choices on the shelves of local wine stores and on the wine lists of your favorite restaurants.
I confess I am sad that my long New England winter will not be punctuated by a PITC tasting. I have fond memories of schlepping through snow and unwrapping layers of clothing to taste the latest vintage of as many as 60 rosés, whites, and reds from Provence. To be transported, even for just a few hours, from sub-freezing temperatures to warm and sunny Provence is magical.
If you are planning travel to any of the newly emerging rosé markets such as Singapore, Brisbane, Melbourne, or Ho Chi Minh City, CIVP's Export Area Manager Diho tells me that PITC tasting events will be scheduled for the fall to kick off those young campaigns.