Pétale de Rose from Château La Tour de l'Evêque Garners Gold from Decanter
The Wine Snoop Report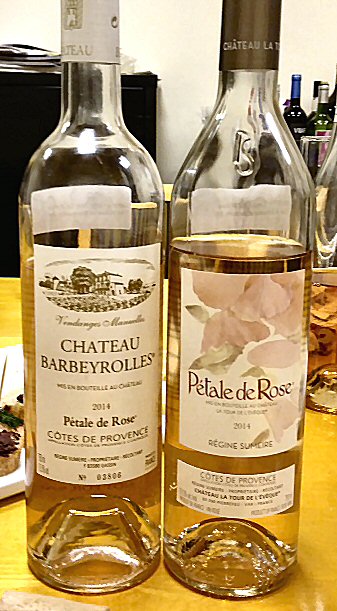 The 2015 Decanter World Wine Awards are in and I just got word from Alain Bonnefoy, of the House of Burgundy, independent fine wines & spirits importer and distributor in New York City, that Château La Tour de l'Evêque Rosé 2014 Cuvée Pétale de Rose took a Gold Medal.
Just two weeks ago, I was in New York at the House of Burgundy office in Manhattan, tasting this lovely rosé along with another rosé, Château Barbeyrolles 2014 Cuvée Pétale de Rose. Both wines are AOP Côtes de Provence and both are produced under the watchful eye of Régine Sumeire, third generation wine maker.
The Pétale de Rose from Château La Tour de l'Evêque, also known as Château La Tour Sainte Anne is located near Pierrefeu, in the Var. It was purchased by the Sumeire family in 1958. Its long and interesting history will be detailed in an upcoming PWZ article.
The wine is composed of an unusually large number of grapes: Cinsault (42%), Grenache (38%), Syrah (9%), Ugni Blanc (4%), Mouvèdre (3%), Sémillon, and Cabernet Sauvignon and Rolle (1% each). Hand-picked, beginning as early as 5:00 a.m., the grapes are then sorted, placed into the press without crushing, and lightly pressed using presses from the Champagne region. The vineyards are certified organic. Only animal fertilizers are used and the soil is treated with sulphur and copper, as it has been for three generations.
The result is an elegant wine—a pale salmon color in my glass—that works nicely as an apéritif although I kept imagining a bowl of bouillabaisse accompanying my glass. I detected a floral nose, hints of melon on the palate, and a pleasing finish.
This rosé, in the eyes—or, rather, the palates of the judges at the Decanter World Wine Awards competition—keeps getting better and better. In 2012, it captured a Bronze Award, followed by two Silver Awards in each of the following years, and Gold in 2015.
Bravo, Régine Sumeire!
— SNM