THE STORY OF RÉGINE SUMEIRE'S "PÉTALE DE ROSE" ROSÉ
by Susan Manfull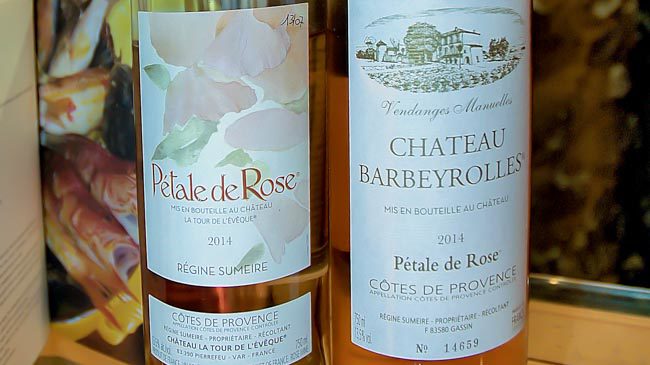 After I read the invitation to a winetasting of "Pétale de Rose" rosé back in spring of 2015, I was confused. The rosé bearing this name appeared to be made at two different domaines:  Château Barbeyrolles and Château Tour de l'Évêque. Muddling the picture even more was that a quick google search revealed that Château Tour de l'Évêque also goes by the name, Château La Tour Sainte-Anne.
Then, I learned that both properties are owned by the highly respected Régine Sumeire, third-generation Côtes de Provence winemaker, whose (extended) family owns at least three other wineries in Provence. The Sumeires were pioneers in the wine business in Provence, developing early on what has been referred to as a "winemaking empire" in the Var département of Provence.
Régine is one of the first female winemakers in Provence and the recipient of many accolades including being selected by her peers to be a Chevalier-ranked member of the Académie du Vin de France.  And, more pertinent, Régine was instrumental in creating "Pétale de Rose," the name she christened her two rosé cuvées that are produced using a specific vinification process—reportedly unique in Provence—that results in a particularly pale "diaphanous" color of rosé.
I was confident Régine's Pétale de Rose rosés would be worth the trip to New York so I made arrangements to meet Alain Bonnefoy, Wine Consultant for House of Burgundy in New York, who had initiated the invitation.  There, I was able to clear up my confusion about the two cuvées with the same trademarked name and the one domaine with two names, and wanting to learn more about the story behind the two rosés, I later visited Matthieu Garcia, Assistant Winemaker, at Château La Tour de l'Évêque in Provence.
A Brief History of Sumeire Family
I already knew a little about the Sumeire family as a result of doing research in preparation for a visit in 2014 to Château Coussin, an estate owned by another branch of the family.  The Sumeires have a long history in this part of Provence, dating back to the 13th century in Trets.  They were in the business of wine as early as the turn of the 19th century. At the turn of the 20th century, Regine's grandfather Gabriel Sumeire (1880 –1968) and his three brothers each received a "wine business" from their father.  Gabriel was given one in Trets but, being an "enterprising and visionary" young man, soon moved to Marseille to begin his own wine négociant business. World War I interrupted his plans, causing him to leave his business in the capable hands of his wife Claire. When he returned, he ventured into winemaking and purchased his first estate in 1922 in the Commune of Peynier, near Trets. In 1933, Font-Freyre, near Pierrefeu was purchased. In 1953, Gabriel bought Château l'Afrique in Cuers, not far from Font-Freye, and, in 1958, he bought Château La Tour de l'Évêque (aka, Château La Tour Sainte Anne) in Pierrefeu, adjacent to Font-Freye.
In 1968, Gabriel died and, in 1977, wife Claire passed away, at which time the properties, by then considerable, were divided among the heirs, primarily their four sons (Elie, Fernand, Raymond, and Roger) and one daughter (Paulette).
"Wine Grower and Food Lover" is a collection of 50 family recipes, published in 2006, and a testament to Regine's twin loves of food and wine. She attributes her culinary skills to her mother Paulette, with whom she was very close and from whom she received great affection and support throughout her life.
Régine's father, Roger Sumiere (1916 – 1997), inherited Château La Tour de l'Évêque and part of the Peynier property, among portions of other properties. He had already been given responsibility for the family estates in 1946 so he knew La Tour well and, in fact, was undoubtedly closely involved in its purchase in 1958. Like his father, he was a highly respected member of the winemaking community in Provence and indeed in France.
Régine, who worked closely with both her father and grandfather, is said to share their congenial temperament as well as their respect for the land and the people who work on it.  She apparently also inherited their dedication and deep passion for winemaking and, in 1977, bought Château Barbeyrolles, in Gassin. Régine also became responsible for vinification at Château La Tour de l'Évêque in 1985.
Two other branches of the Sumeire family are also making wine in Provence. Château Coussin is now operated by siblings Olivier Sumeire and Sophie, fourth-generation Sumeire wine-makers from Elie's branch of the family; it was acquired by the Sumeire family in 1936, as a dowry, when Elie married Nelly Estève, granddaughter of Jean-Baptiste Gautier who had purchased the winery from Monsieur Coussin in 1903. Château l'Afrique, acquired in 1953 by Gabriel, is now overseen by Elie and Nelly's sons Gabriel and Jean-Pierre.  In 1991, Château Maupaque, in Puyloubier, was acquired by siblings Gabriel and Jean-Pierre. La Source Gabriel, a relatively new rosé on the market, is produced by Roger Blanc Sumeire, Régine's first cousin once removed (grandson of her uncle Fernand Sumeire and her godson) from grapes on the estate of Font-Freye, part of one of the first Sumeire purchases (in 1933) and located just in front of Château La Tour de l'Évêque.
Pétale de Rose
Pétale de Rose came to life in 1985 in Château Barbeyrolles.  Like almost every winemaker in Provence, Régine had been making rosé in this estate probably since she purchased it, eight years earlier. Regine's rosé was paler than most, so much so that, in 1981, close friend Elisabeth La Bruyère, who was having lunch at Barbeyrolles, reportedly said, "What a pretty color, it is like rose petals."  Apparently, there was some discussion at that time of incorporating "rose petals" into the name or promotional material to highlight the lovely pale color of Barbeyrolles rosé but the idea didn't gain ground because, in 1981, rose petals had become associated with France's recently elected President François Mitterrand and it was generally agreed that politics was a subject to avoid.
Fast forward to winter of 1985 when Régine visited good friend Jean-Bernard Delmas at Château Haut-Brion in Pessac, outside of the city of Bordeaux, and was introduced to the hydraulic Coq press, traditionally used in Champagne.  According to Régine, in the introduction of Wine Grower and Food Lover, Delmas convinced her to try the press for her white grapes in the 1985 harvest at Barbeyrolles, using whole clusters (not destemmed clusters) of grapes, to great success. Regine decided to use the press for her Grenache grapes and, well, the rest is history.  As she wrote in the aforementioned book:  "The must that came out of the press had a diaphanous colour.  I tasted it [and] its length could be felt immediately on the palate, the difference was immediately noticeable." She decided to make a separate cuvée and to name it "Pétale de Rose." In 1990, La Tour received its first Coq press and the first Rose de Pétale rosé was produced there the same year.
"Regine was the first winemaker to make pale rosé in Provence," Garcia told me when I visited La Tour in the summer of 2015.  Well over two decades before Provence's pale dry rosé would become the world's gold standard and the rosé revolution would fill glasses around the globe, Régine Sumeire was producing rosés that were pale (and dry).  Unlike many producers today who, arguably chase the coveted pale color at the expense of flavor and overall quality, "Regine's objective was not to make pale rose," Garcia said. "She was looking for taste." He added that initially "The appellation said her rosé was too light."
Tasting of Pétale de Rose
From the first tasting in spring 2015 in New York, I liked both (2014) wines very much, preferring the cuvée from Château Barbeyrolles more than its sibling, but I hasten to add I would be happy to sit down with either rosé and a plate of smoked salmon canapés, bouillabaisse, spring lamb, spicy Asian food, or even pan-fried foie gras with a honey-Balsamic vinegar sauce.  Like most rosés hailing from Provence, these two rosés are very versatile partners à table. La Tour, in particular, has the structure to complement a heavier meal but, in my tasting a year later, the same 2014 Barbeyrolles, now graced with a faint beautiful lavender honey finish, would be divine with that foie gras mentioned earlier.
Both 2014 cuvées, at the NYC tasting in spring 2015 and later at Château La Tour in Pierrefeu in summer 2015, were pale peach with hints of pink in color with minimal nose but overall elegance and quintessential freshness. I was struck by the minerality of Château Barbeyrolles.  Its creamy mouth seemed pleasantly salty and I could imagine waves of the ocean rolling across my tongue. Hints of butterscotch, too. La Tour de l'Évêque had notes of white flowers on a backdrop red berries on the palate, characteristics that appeal less to me than to other fans of rosé. This vintage of the 2014 La Tour captured two Gold Medals: a 2015 Decanter World Wine Award and a 2015 Concours International de Lyon Award
Château Barbeyrolles is a small vineyard—12 hectares (31 acres) of hilly terrain—located on the Saint-Tropez peninsula in the Maures hills, near the village of Gassin. Being so close to the sea, the microclimate is characterized by humidity and distinct differences between day and night temperatures.   The soil is characterized by shale, dating back as far as the Paleozoic period. The vines are, on average, about 30 years old. I hope to visit this vineyard soon.
Château La Tour de l'Évêque, located 62 kilometers (37 miles) northeast, consists of 65 hectares (160 acres) on the estate and a little over 20 hectares (50 acres) in Hyeres. Driving along the D14 through in a valley in the Massif des Maures, one understands how the vineyard benefits from the winds that blow through and keep the vines dry and prevent disease. The area is beautiful; it seems like a patchwork of vineyards stretching right up to the Maures hills.   The soil is a combination of clay, limestone, schist, and shale. The vines are, on average, about 25 years old. Harvest generally occurs one or two weeks earlier than in Château Barbeyrolles.
In both châteaux, certified organic farming is practiced and some biodynamic principles are followed.  Grapes are hand-picked between 5:00 am and noon and sorted in the vineyard and again in the winery. Great care is taken to keep grapes cool (to maintain freshness) and to prevent premature crushing by the weight of the grapes (leading to oxidation); thus, small boxes of whole-cluster grapes (i.e., not destemmed) are loaded in refrigerated trucks to transport from the vineyard to the winery. The signature difference between Pétale de Rose cuvées and others is that (whole-cluster) grapes are lightly pressed in a hydraulic Coquard press, the type that is typically used in Champagne.  This is a very slow press, taking five to nine hours, depending on the variety of the grape (8,000 kilograms of grapes per press). The must undergoes both alcoholic and malolactic fermentation in temperature-controlled stainless steel, gravity-fed tanks.
Château La Tour rosé (2014), the first of the two vintages I would taste over the next year, was a blend of eight grapes:  Cinsault (42%), Grenache (38%), Syrah (9%), Ugni Blanc (4%), Mourvèdre (3%), Semillon (2%), Cabernet Sauvignon (1%), and Rolle (1%).
Château Barbeyrolles rosé (2014) was a mix of seven grapes, all the same minus Syrah: Grenache (50%), Cinsault (19%), Mourvèdre (16%), Cabernet Sauvignon (14%), and a smattering of Ugni Blanc, Semillon, and Rolle.
In my conversation with Garcia last summer, the assistant winemaker at Château La Tour de l'Évêque, he emphasized that the blend changes with every vintage.  "We are looking for a similar style and the same basic taste and characteristics," adding somewhat hesitantly when he remembered that he was speaking to Americans, "We are not making Coca-Cola."
I recalled this conversation when I met with Bonnefoy and Lillian Lai, Sales and Marketing Director at House of Burgundy, to taste the 2015 vintage of La Tour earlier this year.  The blend was a little different with slightly less Cinsault and Grenache and a bit more Syrah and Rolle. In addition to the nominal changes in the 2015 cepage, there were, of course, other factors influencing the current vintage, such as the effects of heavy winter and spring rains and an extremely hot and dry summer.  Whatever the reasons, the current vintage of La Tour speaks more to me than the 2014. (The 2015 vintage was a huge favorite of David Scott Allen, who paired it with salmon in one meal and lamb in another, and wrote with much enthusiasm about those pairings in his monthly PWZ column, "Provençal Pairing: Wine with Food.")
I have not yet tried the 2015 Barbeyrolles; however, we did open two earlier vintages of Barbeyrolles, the 2013 and 2014, when I was in New York with Bonnefoy and Lai.  "Aging potential" is not generally something one thinks of when buying rosé, but there is growing interest in rosés that can evolve over a few years. They are referred to as vins de garde. Some rosés—typically gastronomic rosés such as the Pétale de Rose wines—can be cellared with remarkable results.
Actually, true confessions, as I write this last paragraph, my husband and I just opened a rosé de garde—a  2013 Barbeyrolles rosé—and have been enjoying it with dates stuffed with cheddar cheese and topped with a dollop of Confit d'Ail (things we had in the cupboard and fridge).  We later paired it with raw oysters, dressed with fresh lemon and ground pepper, and, for dinner,  enjoyed a glass with a simply prepared salmon and salad.  "Interesting," was the first word that came out of Towny's broadly smiling lips. It has a rich, textured body with layers of surprising flavors.  On the nose, there were faint whiffs of very ripe melon.  On the palate, we identified tastes as varied as caramelized orange, pineapple upside-down cake, tarte tatin—but not sweet—and stone-fruit like nectarine. The saltiness and minerality I had described in the 2014 vintage was apparent in this older vintage, too. The finish had very pleasant fleeting notes of sherry. Ooooh, lovely, interesting, and fun all in one glass. As the evening progressed, the wine became more harmonious and it complemented each of our courses very well.
Régine Sumeire was prescient:  She carved out a significant niche—making pale, dry and gastronomic rosés—long before most other winemakers recognized the importance of such an investment. Although she had the benefit of her pioneering grandfather and father and their prescient investments, I wonder what it was like working as a female winemaker in the early years of a business as dominated by men as wine as historically been.  Her remarkable achievements suggest she was just doing what came naturally.  I look forward to learning more about her red and white wines. I am glad I accepted the invitation to learn more about her Pétale de Rose rosés.
Notes:
Here are some other articles that you may be interested in…
Provençal Pairings: Wine with Food: Versatility
Provençal Pairings: Wine with Food: It's a Family Affair
Provençal Pairings: Wine with Food: Upgraded to First Class
Following Château Coussins's Rosé From New York
Pétale de Rose from Château La Tour de l'Evêque Garners Gold from Decanter
We tasted some excellent reds and one white wine while visiting Château La Tour de l'Évêque.  Garcia told us that Regine wants to develop her red wine cuveés and that each year, they increase the production of each.  I brought back a few reds that I look forward to opening at the right time.  Watch for tasting notes.
On my most recent trip to Provence, my husband and I were treated to a vertical tasting of rosés de garde at Mas de Cadenet with Matthieu Négrel who, with sister Maud, holds the reins to this 200-plus year family property. If you are intrigued by my description of the 2013 Barbeyrolles rosé, watch for an upcoming story of our tasting of the Mas de Cadenet  rosés dating back to 2002.
Château La Tour de l'Eveque
Château La Tour Saint-Anne
83390 Pierrefeu, France
Tel : 00 33 (0)4 94 28 20 17
regine.sumeire@toureveque.com
Tasting room hours
From Easter to October: Monday to Saturday, from 9 am to 6 pm
From November to Easter: Monday to Friday, from 9 am to 5 pm
Closed on Sundays and the May 1st
GPS
Latitude : 43.227956
Longitude : 6.118038
Latitude : N 43° 13′ 40.642″
Longitude : E 6° 7′ 4.935″


Château Barbeyrolles
83580 Gassin
Presqu'île de St Tropez, France
Tel: +33 (0)4 94 56 33 58
regine@barbeyrolles.com
Tasting room hours
Monday to Friday, from 9 am to 6 pm
From Easter to end of October : Monday to Saturday from 9 am to 7 pm
Closed on Sundays and May 1st
GPS
Latitude : 43.2381701
Longitude : 6.595126599999958
Latitude : N 43° 14′ 17.412″
Longitude : E 6° 35′ 42.455″