Snow Falls in Provence's Southern Rhône Valley
The Wine Snoop Report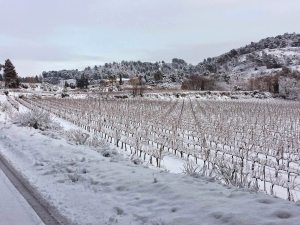 Henri Bungener, proprietor of Le Clos de Caveau in the Vacqueyras appellation of the Rhône Valley wine region, reported that 6 inches of snow fell on his vineyard overnight on Tuesday.
"It's good for the grapes," Bungener said, "The bugs don't like the cold."
"I'm relieved [as] last year we did not hit freezing temperatures…[and] we suffered a lot because of it," referring to the catastrophic losses in olive harvests in both France and Italy.
"The fruit fly got in [the olives] and they fell to the ground way before being eatable," Bungener said, "but we'll be okay now."
It's a beautiful sight and a striking contrast to the sweltering June day when Pamela O'Neill and I visited Le Clos de Caveau this past summer. It was beautiful then, too.
The snow won't last long as the weather forecast calls for temperatures climbing into the mid-40°s (4.5°C) this weekend…though it may still feel cold as it sounds like the Mistral winds are whipping up.
-SNM
Photo by Henri Bungener