Musings of a Wine Maven
HO-HUM, MILLÉSIME BIO EXPO ENDS IN FRANCE
by Jerry Clark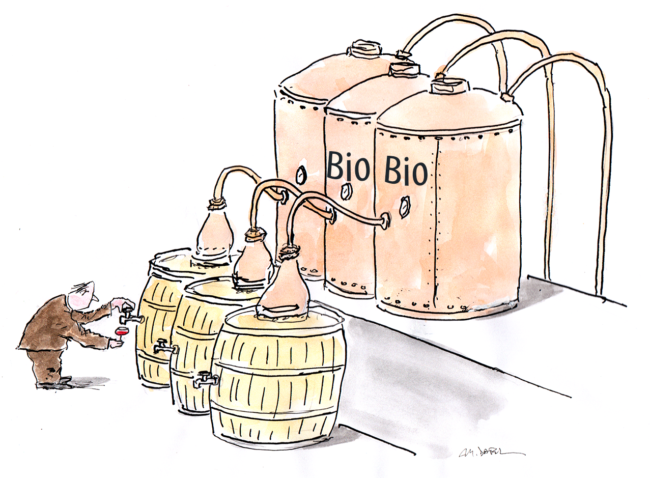 From January 25-27 over 800 wine producers from around the globe had their bio-dynamically influenced wines on display in Montpellier. Learning of it several months ago I gave consideration to taking it in, as the subject appeals, and nothing of this scope has been put together over here. My eyes had been more fully opened to sustainability two years ago while attending a packaging conference on the subject for a consulting client. Listening to the various presenters it became clear that the interest had now gone well past tree huggers and deeper into the general population. I began to believe that product recyclability and improved food product wholesomeness were brothers in arms, and that a movement was afoot that would have significant consequences for the wine industry. Visiting numerous American wine shops in the intervening time brought me to NOT believe, and the decision to pass up Millésime Bio 2016.
Let's just sum up all my visits in 2015 to previously unknown wine sellers trying to assess their interest in the organic/bio movement. I have yet to overhear anything remotely similar to this imagined customer recommendation for something to go with the squab soufflé:
"Ah, I have just the thing. This Vouvray got a silver medal at the 2014 Challenge Millésime Bio in France, and the vineyard just replaced their tractor with two Percheron horses."
Yet as I stared out the window Saturday as a dozen inches of snow descended, I looked at my wife and suggested that by all rights I should be checking out a rental car at Marignane Airport outside Marseilles. Surely the American wine buyer needs to learn a great deal more about bio, and three days in Montpellier could greatly enlighten me. However, looking through my new issue of Wine Spectator (Jan. 31-Feb. 29, 2016) on Monday provided the coda to my remorse, for the moment at least. Early on, page 15 precisely, Assistant Tasting Coordinator Aaron Romano, under the title "What American Wine Drinkers Want," provided a full page summary of the November 2015 survey released by the Sonoma State University Wine Business Institute.
A pie chart indicated that 67% of the sampling of 1,072 wine consumers want to spend under $15 a bottle, and that the two favorite grape varieties noted were Chardonnay for white and Merlot for red. MERLOT!! Impossible! OK, when "Sideways"came out, I saw it five straight Saturday nights, and in five different cities, as much for the Merlot moment as any other. That movie tanked that grape variety, and it has taken years for it to come back. So now I was determined to find out more about this survey before writing it off. Merlot, no way.
Thanks to the World Wide Web, I was able to find what I assume to be a fuller version of the study, entitled "2015 Survey of American Wine Consumer Preferences," by Dr. Liz Thach, MW and Dr. Kathryn Chang. This report is loaded with thought provoking findings, surely of import for consumers and the industry. Leaving the Merlot point aside for calmer reflection–in our household, comments on grape variety preferences can be as intense as sports franchise discussions–I was most taken with Graph 4: Wine Purchase Decision Making by Percentage of Respondents. Wine Spectator only spoke of Price, which led the thirteen different influencers with 72%. Not surprisingly it was followed by Brand, with 67% of the sampling (more than one influencer could be listed by the polling group). At the very bottom was "Biodynamic Wines," with a 3% response rate!
I can hardly believe I almost gave up experiencing the first giant snowfall of 2016 to stand in front of dozens of winemakers in the south of France asking me how much more the American market will pay to serve table wines made the way the monks did 1,000 years ago.
A special thank you to Mike Dater for his wonderful illustrations.  Please visit Mike Dater's website to see more of his work! http://mikedater.com/