Provençal Pairings: Wine with Food
It's a Family Affair
by David Scott Allen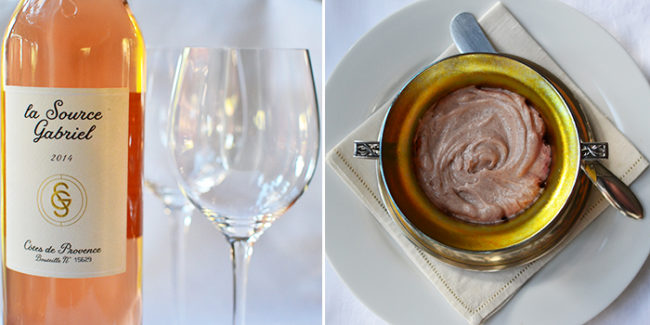 Winery: Domaine Font-Freye /Château La Tour de l'Évêque
Cuvée: La Source Gabriel
Appellation: Côtes de Provence
Type: Rosé
Vintage: 2014
Grape Varieties: Grenache (50%), Cinsault (30%), Syrah (20%)
Alcohol: 13.5%
Average Retail Price: U.S. $16.00, FR €12.50
It isn't often – at least, I don't think it is – that I get to taste a premier vintage from a vineyard. But that is exactly what I did this week. It's a new wine from a debut vineyard, yet created by a family that is a leading producer of some of Provence's best rosés. It is a joint effort by Château la Tour de l'Évêque (Régine Sumeire) and Domaine Font-Freye (Régine's nephew, Roger Blanc Sumeire). La Source Gabriel was named, aptly, for Régine's grandfather/Roger's great grandfather, founder of Château la Tour de l'Évêque, and "la source" refers to the spring on Font-Freye, formerly property of Chateau la Tour de l'Évêque, that the senior Gabriel ingeniously linked to Chateau la Tour de l'Évêque.
Wine making is in this family's blood; you may even remember my review of Château La Tour Sainte Anne (which is an earlier name for Chateau la Tour de l'Évêque). While I might have been apprehensive about a first generation wine from any other new producer, I was actually very excited to try this rosé. All fingers pointed to excellence.
For a pairing, I chose a recipe from Régine's cookbook (in English) entitled Wine Grower and Food Lover, Régine Sumeire… 50 Family Recipes. I thought it would be fun to pair one of her family's wines with one of her recipes. The first recipe that spoke to me was the Parfait of Sweetbreads, a recipe she received from a friend in Québec. I love sweetbreads, and a parfait? Wow! Please check out my updated version of the recipe on Cocoa & Lavender. The flavors in this recipe are simple: sweetbreads, port wine, onion, butter, and a splash of lemon. The end result is very delicate and extremely rich – almost a flavored butter.
We opened the wine, and found the nose to be lightly floral. The first sip was of ripe peaches, honeysuckle, and azalea. Yes, azalea. Not your standard wine-tasting descriptor, right? When I was young, we used to pull the stamens of azaleas through the blossom and out the bottom end to get a small drop of nectar. That is one of the flavors I tasted. After sampling the parfait, our next sip of wine shifted the peach to apricot and the floral notes to honey. The mouth feel was soft and round, and the finish was really quite lovely. "Complexity in simplicity" makes no sense, but that is how we felt sipping La Source Gabriel. We all loved it. If you can find it (New Yorkers can get it at Sherry-Lehmann), do yourself a favor and grab several bottles.
Other pairings include grilled meats and fowl, fish and seafood, and cheeses.