An International Blind Tasting in Lodi California included Rhône Valley and Provence wines
by Susan Manfull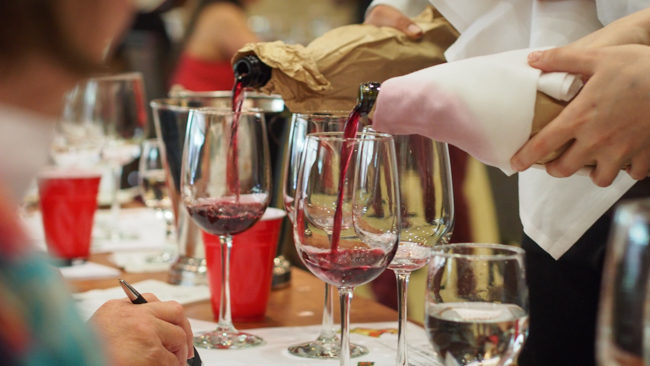 I recently participated in a fascinating international blind tasting in Lodi, California. Four flights of four wines predominantly composed of four different grape varieties were included: Grenache Blanc, Sauvignon Blanc, Tempranillo, and Mourvèdre.
The tasting was not intended to determine the best wine in each flight but, rather, to compare and contrast the wines in order to cast light on the role that, for example, wine-making style and terroir played in the final product. Wines were from New World countries, including the U.S. (Lodi, Napa, and Contra Costa County in California and Southern Oregon) and New Zealand and in Old World countries, including France and Spain. Two wines from the southern Rhône Valley and Provence were part of the Grenache Blanc and Mourvèdre tastings, respectively.
Three panelists presided over the tasting: Jienna Basaldu, who was recently awarded the Court of Master Sommeliers André Tchelistcheff scholarship, won the 2017 San Francisco Luxicon blind tasting competition, and is the Wine Director of Sacramento's Echo & Rig; Chad Joseph, consulting winemaker in Lodi whose impressive clients include Oak Farm Vineyard and Harney Lane Winery; and Jeff Morgan, co-owner of Covenant Winery, former regional Editor of Wine Spectator, and author of over ten books about wine and food. Each panelist, without the benefit of any additional information, provided their tasting notes as well as their thoughts about the provenance of each wine.
It was an illuminating experience.
To read more about the tastings and the observations of those who participated, visit Lodi Winegrape Commission's lodiwine.com where you will find Editor Randy Caparosa's article entitled "16-wine blind tasting: Exactly how do Lodi grown wines compare to the rest of the world's?" Caparosa is also Editor-at-Large and Bottom Line columnist for The SOMM Journal and Contributing Editor for The Tasting Panel Magazine.