Provençal Pairings: Wine with Food

Rough and Ready
by David Scott Allen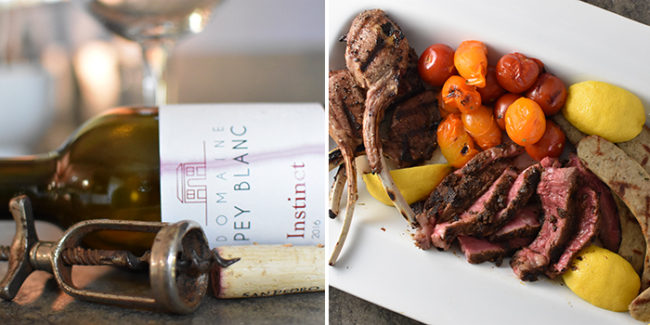 Winery: Domaine Pey Blanc
Cuvée: Instinct
Appellation: Coteaux d'Aix-en-Provence
Type: Red
Vintage: 2016
Grape Varieties: Carignan, Marselan, Grenache noir
Alcohol: 14%
Average Retail Price: France €8
Sometimes you want it rough. You're not in the mood for refined and elegant, or complex and silky. You might be serving a mixed grill, or even just a simple steak. You want a good, solid, edgy wine.
That was the case for this month's wine, Instinct, from Domaine Pey Blanc. I was having a mixed grill – which included a porcini-rubbed steak – and wanted a dark, brooding wine to go with it. For the steak recipe and how I put together a mixed grill, head over to Cocoa & Lavender.
The color of Instinct is a deep, ruby red, and dense enough that it seemed impenetrable to light. This bode well for our meal. Before even serving the steak at the table – meaning that my sniffer wasn't being swayed – I detected porcini mushroom on the nose, and a good dose of grassy manure, as well. This kind of nose can make me nervous, and had me wondering if I chose the wrong wine.
But, no. It was perfect. On the palate, I detected intense, macerated dark berries along with hints of molasses and aged balsamic vinegar, finishing with a light note of wild rose. What a fascinating wine this was, and how well it went with all the components of my mixed grill, especially the porcini-rubbed steak. It was as if the wine were made for this particular dish.
Made by Gabriel Giusiano, the third generation vintner at Pey Blanc, Instinct is a small production wine, with only 1,500 bottles made. You won't find this wine stateside, and it might even be hard to find across the pond. Should you see it, though, it's worth getting a bottle or two, especially considering the price.
If you want to know more about Giusiano and Pey Blanc, Susan just wrote a piece for Provence WineZine called "Gabriel Giusiano, Third Generation Vigneron At Pey Blanc, Followed The Grapes." In her article you learn about all the wines he produces, and the processes he employs in winemaking.
Today's wine, Instinct, is made with minimal intervention, uses only natural yeasts, and has no added sulfur. To me, this method is the reason Instinct seems rough at first sip, then rounds out and mellows nicely as the bottle empties.
As we roll into summer and grilling season is upon us, keep wines like Instinct in mind. You don't need to spend a fortune to find the perfect wine to complement your meal. Instinct pairs well with grilled or roasted meats and poultry.