An International Rosé Day is Launched from Provence
by Susan Manfull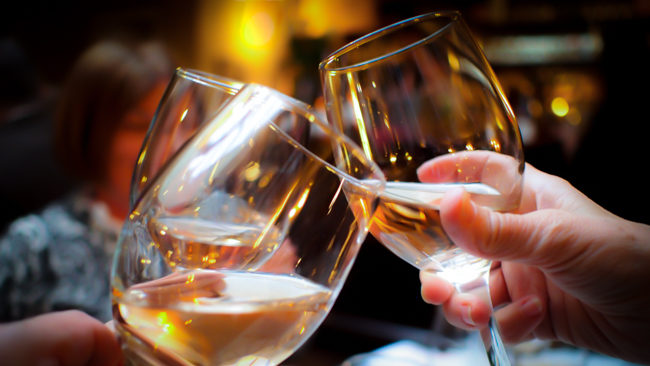 There's yet another reason to celebrate rosé (and, of course, drink it!). The brainchild of Valérie Rousselle, owner of Châteaux Roubine and Sainte Béatrice, Provence now has its own International Rosé Day. Beginning June 22, 2018, every fourth Friday of June will be designated as the day to celebrate pink wine around the world. In November, the Organisation International du Rosé was created to plan this event. Chairperson Rousselle envisions this day as one "to celebrate the pleasure of Provence's Art of Living" which, mais oui, entails drinking rosé. I caught up with Rousselle at Vinexpo New York in March.
Never mind that there are already two days established to honoring rosé—the second Saturday in June as conceived by Bodvár House of Rosés in 2015 and August 14 as put forth by the blog Wine Geeks in 2005—Provence, with its long history of making rosé, has earned a special place among rosés and arguably should have some say about when to lift those glasses. Beyond being recognized as rosé's birthplace some 2600 years ago, Provence rosé is generally agreed to set the gold standard among producers around the globe and most people would agree that Provence rosés have led the vanguard in the worldwide revival of rosé popularity. Mention rosé and most people think of Provence (although it wasn't that long ago that the world turned to Tavel for their rosé!)
Thanks to the explosive growth in popularity of Provence rosé in recent years, many other regions in France—and well beyond—have upped their rosé production and some regions have started making rosé for the first time. Rosé is now produced around the world—it is probably not be surprising to learn that France, Spain, United States, and Italy are the largest producers (in that order) but, perhaps it is surprising, is that Russia is the 13th largest producer, making almost 20% of what France produces. Rosé is consumed on every continent in the world, with France at the top and Uruguay second in per capita consumption.
Rousselle hopes that at 7:00 p.m. (French time), rosé producers and fans around the world will fill their glasses with their favorite rosé and toast to one of the world's most beloved wines. At that time, Saint Tropez's Citadel will alight in pink, thanks to the creative artistry of Thierry Guillot, lighting designer of the Lyon Festival of Lights. In Monaco, with the support of the Albert II of Monaco Foundation, the Prince's Palace, the museums, and the Grimaldi Forum will also turn pink. Fountains will have pink water flowing from them in Grasse. Plans are underway to dress the Eiffel Tower in pink and Rousselle is hopeful that other parts of the world known to imbibe a lot of rosé will also join in the pink celebration.
Revelers are encouraged to post photos of their pink celebrations and to use the hashtag #roséday to share them. I'll be curious how rosé fans in California mark the occasion at 10:00 in the morning, and even more curious how Hawaii will celebrate at 7:00 in the morning!
Rousselle told me that this year's short time frame to organize festivities will necessitate a smaller scale celebration than she envisions for future International Rosé Days. For example, she would love to organize a pink pétanque competition around the world in 2019. But for now, she is hopeful that rosé fans will join together—wherever they are—at 7:00 p.m. (French time) to toast to rosé and to all the things that comprise Provence's famous "Art of Living."
I would love to hear how you will celebrate International Rosé Day. Please drop me a line if you are hosting a celebration open to the public.
Add to Calendar
22-6-2018 19:00
22-6-2018 19:30
Europe/Paris
International Rosé Day
Celebrate International Rosé Day by toasting with others around the world with a glass of rosé at 7:00 p.m. (French time)
Worldwide