Diary of a Master of Wine in Provence
ProWein and Vinisud Conversations: Breaking the Stereotype of "Provence-Style Rosé"
by Elizabeth Gabay MW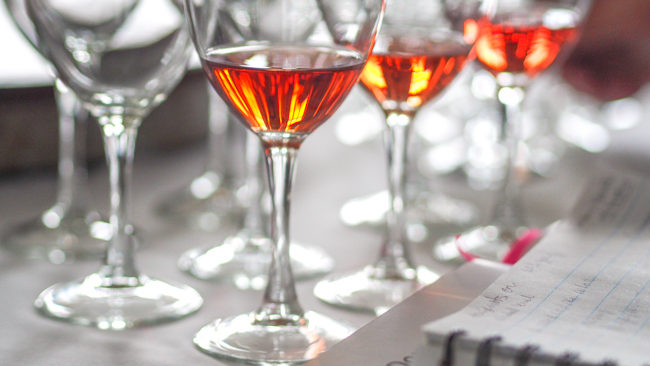 One of the comments I often hear when going around international wine exhibitions is, 'We make our rosé in a Provence or southern French style.' What this means is that the wine has minimal skin contact, making a pale pink, dry wine with delicate fruit character.
This confuses me. Most producers around the world making red and white wine are desperate to create wines which are unique and have varietal or terroir character. But when it comes to rosé, they seem happy to make an anonymous copy led by the consumer for 'brand pink'.
But as wine buffs, we know: There is far more to southern French rosé than pale pink, dry wine. Far more. So here are a few thoughts which emerged at ProWein in Dusseldorf and Vinisud in Montpellier.
There are some varieties which make really lovely rosés but which are often swamped by Grenache and other varieties. I love Grenache—don't get me wrong—but sometimes varieties such as Cinsault and Tibouren need to be given more space,
Cinsault makes lovely rosé. Pretty, floral, fresh, delicate are notes that frequently surface for rosés with a high percentage of this variety although, sadly, it is far too often used just to give a floral lift to the classic Grenache (plus others) blend. Domaine l'Olibet l'Jouselet' (2017) from British importer Boutinot, who is closely involved with the wine-making of the wines on their list, is made with 75% Cinsault and 25% Grenache. Very pretty, delicate, fresh, floral. Domaine de Peras (2016) from Languedoc-Roussillon is 100% Cinsault. Peachy, creamy, floral and very pretty.
It always amazes me that not more is made of Tibouren. It is unique to Provence, but very few producers, other than Clos Cibonne, really emphasise the presence of this variety, or even include its presence on the back label. (I talked to a few producers about this, pointing out Tibouren's uniqueness and sales potential). For historic reasons, Clos Cibonne can exceptionally include the varietal on its main label.
Château Saint Martin l'Eternelle (2017) is 60% Tibouren with Grenache and Carignan comprising the rest of the blend. It has Tibouren's lovely floral character, especially when young and fresh. And take note of that delicate mineral core and freshness (backed by the Carignan) which will give the wine strength and style as it ages.
Aged rosé? Yes. Yet again, the myth that rosé does not age has already been debunked in a number of places (and I love a good old rosé.) It is always interesting to see is how different varieties take on different characters and Tibouren has hidden structure which seems to give it good ageing potential.
Château Galoupet's Tibur (2015) is 95% Tibouren from vineyards close to the sea and has lovely saline minerality as well as fresh acidity and a touch of tannic dryness on finish balanced by weight from lees ageing. It is still tasting fresh and lively, and has several years ahead of it.
Clos Cibonne, just a little further down the coast, is the best-known example of just how good Tibouren is. Their Clos Cibonne Les Vignettes (2016)—vieilles vignes and 25hl/ha—had beautiful creamy fruit with added fruit structure behind the saline character of the wine. Olivier Roux brought out a bottle of Les Vignettes (2000) for me to try. The colour was more salmon orange and less pink, but unsurprising at 17 years old! On the palate it showed amazingly fresh, salty acidity with hints of bitter orange peel and dried fruit. Really beautiful.
The Frèjus dénomination de terroir includes a high proportion of Tibouren, but few growers are prepared to work with such a difficult variety, despite its appealing character. Chateau de Rouët's Frèjus rosé, Hermès, with a high proportion of Tibouren grown on the region's red volcanic soil, has mineral weight and structure when young, with the variety's floral character appearing more with some age.
It is so easy to see Provence from a distance and think of it as one homogenous style. We say 'Provence rosé' as one category. But Tibouren is largely a coastal variety—Château St Martin is one of the furthest from the coast at 32 kilometers—and is not found in rosés from cooler regions.
Totally different in style are the vineyards of northern Coteaux d'Aix. A bit of muttering from producers here that they are part of a large appellation which includes coastal regions and that their style is not recognised as being different. I asked if they thought a dénomination de terroir in Provence was likely, but this seems either very unlikely or long time in the future; maybe IGP Mediterranée, IGP Var or Vin de France label will be increasingly considered.This region with its high altitude—around 400 meters/1300 feet—and northerly location has amazing freshness and acidity, very different to other Provence wines, and one reason why Cabernet Sauvignon does so well here. Château Vignelaure (2017) rosé, made with Grenache (40%), Syrah (30%) and Cabernet Sauvignon (30%) is just so 'un-Provencal'! The high acidity allows winemaker Philippe Bru to put the Cabernet Sauvignon and Syrah through partial malolactic fermentation to harmonise the fruit flavours. Using fruit from the best parcels and old vines, the wine has beautiful concentration and long mineral acidity with luscious ripe peach and red fruit. Having recently tasted twenty-year old versions of this wine, I can guarantee this is another rosé which ages magnificently.
Dénomination de terroir and micro-climates are particularly fascinating in Provence. Why? For two reasons. First, the inexorable growth of large négociants making the huge volumes of standardised rosé to appease an insatiable market for pink wine, usually only have a regional terroir style on a macro scale. Second, and more importantly, because rosés made with attention to the local terroir are so much more varied and interesting. Some of the co-operatives, with greater funds at their disposal, are looking at their wines and vinifying parcels and varieties separately to see potential.
Alain Guichet at Chevalier de St Torpez on the St Tropez peninsula has overhauled the range of rosés on offer and created some really exciting rosés using different parcels, old vines and different varieties. Made in Saint-T and La Bravade are two rosés that are blends from across the peninsula. The percentage of each variety has changed considerably from the previous vintage, with Guichet balancing the vagaries of climate to create a balanced wine. Made in Saint-T (2017) has 79% Grenache, 12% Tibouren 6% Carignan and 3% Cinsault, creating an eminently drinkable rosé with fresh acidity, white peachy fruit and long dry finish. La Bravade (2017) is quite different with an equal blend of Grenache and Syrah from old vines. Mineral, austere, crisp acidity. It is quite an austere wine, necessitating more time to open up. It is a rosé I would be tempted to put in my cellar for later.
The other rosés from Chevalier de St Torpez come from distinct parcels with different soils and exposure to sun and sea. Domaine Cézanne (2017) is Grenache-based (giving fruit) with a good proportion of Cinsault and a small amount of Calitor to give structural backbone. The wine has beautiful intense ripe fruit, making me think of white peaches and cream, backed with fresh acidity. Paul Signac (2017), again Grenache-based with Cinsault and some Mourvèdre for structure, from a different parcel, is completely different. Although the peach Cinsault fruit does come through on the finish, this rose has more black fruit, tighter structure and a hint of mineral, almost hints of liquorice, running through its centre making it a more serious wine. A third rosé, Chateau La Moutte (2017) from the east side of the peninsula on slopes facing the sea. This pale pink rosé is Grenache-based with some Syrah and Cinsault and is full of ripe black fruit, fresh acidity and a hint of orange spice on the finish. With such intensity of fruit, these rosés must surely age well? Alain smiled and brought out a bottle of Ultimatum 2015. Coming from more granite and schist soils, this rosé was ageing beautifully. Rich with lovely complexity and seamless integrated structure of creamy peach fruit and fresh mineral acidity with a hint of orange peel and salinity on the finish.
Finally, a comment on the 2017 vintage. The year 2017 felt like the Apocalypse for many winemakers with heavy frost, hail, heat and drought within the vital six month growing period. Some producers reported losses of up to 80% and others, especially in cooler sites who were only hit by frost, were able to recover from the damage. On the whole, producers with heavy losses prefer not to be named (true for any vineyard region), so I shall say no more here, and hope that 2018, after a snowy, wet winter, will prove to be a bumper year.
Grenache did not ripen too well because of heat and had very small berries. Cinsault did very well. The 2017 rosés I tasted all seemed to have beautiful intensity of fruit, indicating that maybe smaller concentrated yields are worthwhile even for normal vintages. But… quantities are way down. This has led to some price hikes, some of which has been passed onto the consumer and some of which has been absorbed by the producer. Some estates, if they had suitable varieties such as Grenache in their red wines, have diverted fruit from red to rosé—resulting in less red wine.
Many producers are loath to emphasise vintage variation in Provence. Provence rosé is a brand and the thought of the style changing from year to year might confuse the less knowledgeable customer. Personally, as someone who has been trained doing blind wine tastings, vintage variation is what gives extra spice to wine. To pick up on nuances of year, location, variety… even if 'only' a southern French rosé.