Château Léoube Releases Two 2015 Rosés Today
The Wine Snoop Report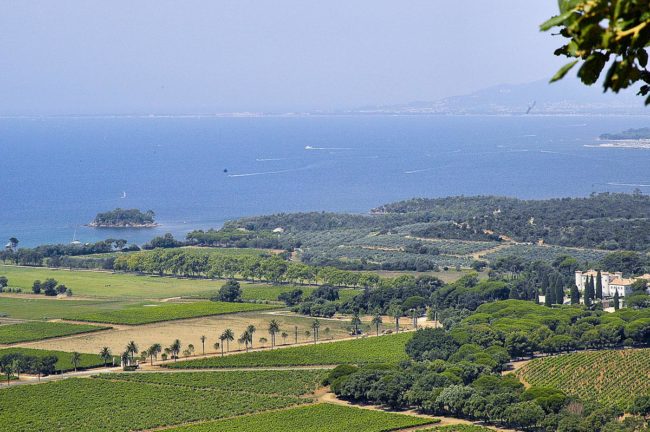 Every year, about now, wine caves across Provence are filled with excitement. The new vintage of rosés is about to be unveiled. At Château Léoube, home of three of my very favorite pink wines, February 15th marks the release of Rosé de Léoube and Secret de Léoube.
La Londe, the prestige "Super Rosé," just in its second vintage with the 2015 harvest, will make its appearance a little later, in mid-March. "Maybe," Jérôme Pernot said.
The Château reports that 2015 was a "dreamy year." With a wet spring, enough humidity remained in the soil for what turned out to be a long, hot summer. (I remember it well.) No major storms in June, July, or August; just intense heat. Fortunately, Château Léoube is blessed with very close proximity to the Mediterranean Sea, from which nocturnal breezes blow in to cool down the vines.
The upshot of last year's weather pattern was a week-early harvest (August 21st) of more concentrated grapes than usual, promising more "developed" flavors in the wines produced in 2015.
As usual at Château Léoube, where the vineyards are organic, vinification is natural, and all practices follow biodynamic principles, the grapes are hand-selected and hand-picked. About 45 men and women—usually locals who are highly-trained and return to work at the Château every year—spent a total of 5500 hours, from sunrise to no later than noon, to harvest 467 tons of grapes. In contrast to previous years, there were no thunderstorms to disrupt the harvest.
Whole clusters of grapes (that is, grapes with their stalks intact) are picked and will be carefully loaded into a bladder press where the juice, primarily released via the weight of the grapes themselves rather than piercing the skins, is collected "free run." Only then is a very gentle press applied to extract the residual juice already in the press. By engaging in the rather uncommon practice of including the stalks in the press, small gaps are created among the grapes, allowing the best juice to more freely flow out, without the need to press harder (running the risk that the skins will be damaged or seeds released, which could lead to, e.g., darker juice, increased tannins, and bitterness).
Rosé de Léoube 2015, like the 2014 vintage I tasted (and loved) last summer, is composed of 40% Grenache, 40% Cinsault, 10% Syrah, and 10% Mourvèdre. The 2015 vintage, according to Pernot, has "more punch" than last year's. Early reports describe this rosé as:
Pale silky salmon color. It is pure, elegant, and refined. Beautiful aromas of peach and wild strawberries on the nose. It is mouth-watering, creamy (thanks to the malolactic fermentation and wild yeast). Exotic and peachy on the palate, it is still dry and well balanced with acidity.
Secret de Léoube 2015, like the 2014 version, is a blend of 30% Grenache, 40% Cinsault, and 20% Cabernet Sauvignon. (I loved the 2014 vintage of this rosé, too.) Pernot said this vintage has a boost of "citrus finish," in comparison last year's vintage. The initial press release describes the 2015 vintage as:
A very bright and shiny red onion skin color. It has a lovely citrus fragrance and red fruits aroma. The palate is bone dry, balanced with a creamy texture (natural yeasts & malolactic fermentation). A rosé to drink like a fine burgundy. Ideal with sea food, grilled fish, Asian dishes and beautiful with new season lamb and veal chop. An all year round wine.
With temperatures here in New England see-sawing around zero degrees Fahrenheit (-18° C) and feeling around -15°F (-26° C), it warms my soul to think about Château Léoube, the sounds of corks popping, and a brand new vintage of two wonderful rosés filling glasses.
The high tomorrow might reach 60°F (15° C) in Bormes-les-Mimosas, where this château has long stood. A stark difference from the 90°F day (about 32° C) on which Pamela O'Neill and I joined Jérôme Pernot for a tour of the 560-hectare (1,384-acre) in his LandRover. Drenched in perspiration, disheveled, and parched from the heat, we savored every moment of that memorable afternoon. So, yes, I will be thinking about Château Léoube today. Tchin–Tchin, Lord and Lady Bamford, Romain Ott, and Jérôme Pernot!
Pernot told me that those of us in the States can expect about 20,000 bottles of Rosé de Léoube and about 4,000 bottles of Secret de Léoube to make their way across the Atlantic. How much La Londe will actually arrive and when remains unclear. Stay tuned.
–SNM