LA NUIT EN ROSÉ TITILLATES THE SENSES
by Susan Manfull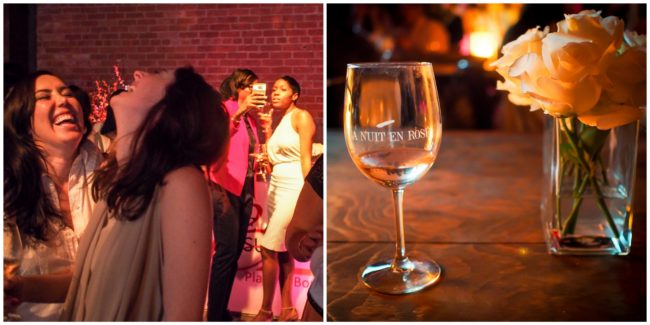 I drove along the snow-covered roads of New England to New York City last Saturday to attend a "Rosé Garden Party." Who thinks of a garden party about rosé—the quintessential summer beverage—in the depths of winter? I do, and apparently about 1100 other folks do, too.
La Nuit en Rosé, the brain-child of wine and spirits marketing entrepreneur Pierrick Bouquet, rolled into New York City last weekend for three such events, two of which were sold out. Already well known for his popular Rosé Cruise along the Hudson River, held for the past two summers, this "winter edition" is new, and part of Bouquet's efforts to reinforce rosé's year-round appeal. Even when temperatures drop below freezing and snow blankets the ground, Bouquet hopes that hashtags #RoséAllYear" and "#RoséAllWinter" will be trending.
As rosé's popularity has grown in the United States, many fans do seem to be drinking it long past Labor Day, the time-honored end of white shoes and pink wine. Premium imported rosé grew 41% on volume and 52% on value in 2014, according to figures from the Conseil Interprofessionnel des Vins de Provence (CIVP). I suspect the 2015 figures (soon to be released) will reveal an even greater increase on both measures. There are more and more good roses—including some outstanding prestige-level roses—filling the shelves of wine stores and being added to wine lists (even under a separate category of "Rosé" rather than being subsumed under Red or White categories on wine lists). And, most important to setting the stage for year-round drinking, these wines are no longer blindly pulled from shelves and redacted from wine lists in September.
"It starts with changing the trade side," Bouquet said. "Wine stores, wine buyers, and sommeliers, restaurants….they need to keep rosé on the shelves and on the wine lists year round."
My diligent observations suggest that these changes are beginning to take place, especially in retail settings. I am always ducking into wine shops and large wine and spirits stores—vexing a few friends now and again—when I am out and about in Portsmouth, New Hampshire as well as in Boston and Manhattan and PWZ contributors in Tucson, Arizona and Mystic, Connecticut frequently report in about their rosé sightings. This winter I have not found the annual dearth of roses on the shelves. Friends and family are still asking about rosé recommendations, even now after temperatures have plummeted to minus-zero Fahrenheit. And, events like La Nuit en Rosé are selling out.
Bouquet markets the "La Nuit en Rosé" events as "experiential wine tasting festivals." I wasn't sure what the "experiential" part meant until my husband and I entered the gussied-up warehouse in Manhattan's Chelsea district, a location that was kept "secret" until just 48 hours before the events. There, the music immediately seeped into our step and the laughter buoyed our expectations that this was going to be fun!
The decor was very festive. Artificial grass turf covered the floor of one large room where long tables were laden with food and, in the adjacent larger room, very long tables dotted with vases of white roses and bottles of plain and sparkling water dominated the center of the gargantuan-sized room with tasting tables around the perimeter. Both rooms were made to feel cozy with the low slung strings of small white lights across the ceilings. The VIP tasting area was in the balcony overlooking the room with the food.
"Pierrick is all about 'experience' and 'welcoming,'" explained Allie Haen, Account Executive with Nike Communications, Inc.. Indeed, the crowd was one of the most diverse I have ever seen at a wine tasting.
Yes, mostly women—82% of ticket purchasers were women but actual attendance was not so lopsided. Although largely a young group—the average ticket buyer was 34-years-old—there was a full range of ages from early 20's to, let's just say older than my husband and me. Most striking was the ethnically and racially diverse composition of the crowd (even for New York).
Most people I spoke with already liked rosé although they said they didn't usually drink it beyond summer. La Nuit en Rosé will undoubtedly help to change that behavior
Many people I spoke with had been on the June Rosé Cruise. Deborah Ayorinde, who went on that cruise, enthused, "I love rosé and if the temperature is warm, I drink it."
"I'm on the fence [about rosé]," Avorinde's friend Britt Blackmon confessed but added that she wanted to learn more about it.
Keri Herzog and John Mongeluzzi of Long Island, who had also been on the Cruise, told me that they "had such a wonderful time," they wanted to come to this event in the winter.
"Up until five years ago, I didn't like rosé," Herzog said, "But, now we drink Whispering Angel all year." She is also a fan of Croteaux Vineyards on the North Fork of Long Island, a winery that only produces rosé.
Alexis Ortiz and about seven other friends were there to help their friend, Sofia Hernandez, celebrate her birthday. Ortiz told me that she likes rosé but felt that her "palate was not well developed." When she said that Chateau d'Esclans' Les Clans rosé was one of her favorites that evening, I assured her that her palate was quite good already.
"I drank rosé all summer but stopped at winter…it was a summer phenomenon," Ortiz said, echoing the sentiments of others I spoke with.
Hernandez, on the other hand, said that she has loved rosé since she lived in Paris about seven years ago and "never realized it was seasonal" until she returned to the States. Her favorite rosés that evening were Les Clans and Barton & Guestier Villa Barton.
Literature promised a selection of over 50 rosés. I am confident that was the case, with the majority hailing from Provence, the region of France that is said to produce the gold standard of rosé. We found our beloved Chateau d'Esclans, serving Whispering Angel and Rock Angel on the main floor, as well as Triennes, Château La Gordonne, and Château de Berne, all of which are estates that Provence WineZine has covered (some, such as Château D'Esclans, multiple times). In the VIP lounge, we found Château d'Esclans' Les Clans and heard that Garrus had made an early appearance as well.
Other rosés from Provence were new to us and fun to meet. Villa Barton Côtes de Provence (2015) was a treat to try as was Domaine de la Castille Côtes de Provence 2015 Rose. The latter rosé, at around $116 a case (about $10 a bottle) was a very nice café rosé—not a rosé I would open to impress a dinner party but certainly one I would open at the pool or be very happy to be served at a café. We need more of these rosés in the States.
At the same table, next to the aforementioned inexpensive Côtes de Provence Rosé, was another rosé, bottled under the label, Domaine de la Castille Rosé IGP Pays du Var, as well as served in a box and in what might best be described as a carton (think milk carton). This IGP Vin de Pays du Var was also very good and very inexpensive. Vin en boite (boxed wine) is already a respectable vehicle for serving wine at casual parties in Provence (at least those I have been to) and I suspect it will find a home beyond France as well, especially if Maison Cubi Wines, the importer and distributor, has any say.
Rosé producers from outside the renowned region of Provence were also serving wine that we quite fancied. From within France, we tasted rosés from the Camargue, Languedoc-Roussillon, Corbières, the Loire Valley, Bordeaux, and the Rhône Valley. From Corsica, we liked Clos Poggiale AOP Corse Rosé, made from 100% Niellucciu (aka, Sangiovese) and from Italy, we tasted a sparkling rosé made by Ferrari (I'm not sure which of the two on the table they poured as it was very crowded at this tasting station). Regrettably, there were no rosés from Spain or the U.S.
The music was very loud, making it almost impossible to have a conversation with those who were pouring the wine. About all we could say was whether we liked each one or not…and that we had to shout into one another's ear. (Having attended my share of rock concerts—think Jimi Hendrix, The Doors, Santana, and other groups that really drowned out any conversation—I am well acquainted with ear-numbing music, but at those concerts, no one was there to talk.)
Bouquet told me that consumers need to be educated about rosé to appreciate it; however, without being about to hear one another, it was hard to learn about the wines and equally as hard to discuss the characteristics of the various rosés we tasted.
That's okay; the goal was to experience the rosés, not describe the nose, taste, and finish of each one. I don't think most people in this crowd were interested in whether one was more fruit-forward, heavy on the dark red fruits, had a creamy mouthfeel, or a long finish.
As Bouquet told me, sharing the feelings of many other rosé fans, this wine is made to be fun. "Rosé is not intimidating…it is easy to understand and approachable," he summed up. "It's about simplicity."
Ironically, the rosés themselves were not the center of attraction at this garden party. Rather they were a vehicle for having fun. They titillated our senses. They transported us from that blustery Saturday evening in New York City to someplace warm and carefree. It was just a few hours, but it was indeed fun.
Acknowledging—and appreciating—that many rosés are now quite complex wines and even made for aging (especially some from Provence), Bouquet, in his business, is drawn to the rosés that are good crowd pleasers. Not terribly complicated. He introduced his guests to some very enjoyable rosés and even some of the best the market has to offer.
The crowd last Saturday night was certainly pleased. Enjoying both the rosé and the food, people I spoke with were effusive about the event and voiced their excitement about attending (again, in many cases) the Rosé Cruise aboard the Hornblower Infinity Yacht in June. It sounds like another experience to titillate the senses—wish I could be there!
Notes:
Fourteen more La Nuit en Rosé experiential wine tasting festivals are scheduled to take place in Miami (early March), Los Angeles (mid-May), New York City (mid-June), and London (last weekend in June). For details and ticket information, please visit www.nuitrose.com.