Provençal Pairings: Wine with Food
Cool Wine, Daddy-O… I'm Hip!
by David Scott Allen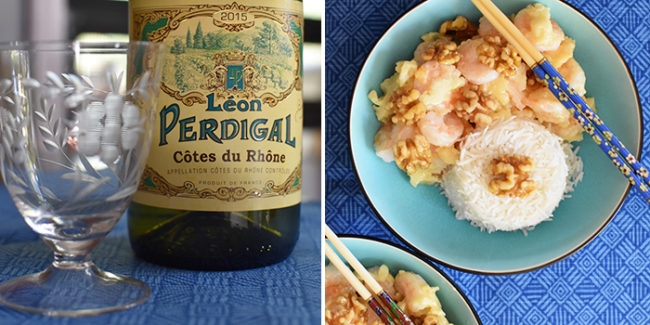 Winery: Léon Perdigal
Cuvée: Côtes du Rhône Blanc
Appellation: Côtes du Rhône
Type: White
Vintage: 2015
Grape Varieties: Bourboulenc, Clairette, Grenache Blanc, Roussanne, and Viognier
Alcohol: 13%
Average Retail Price: France €7, U.S. $17
I found the following on the British blog Golly's Wine Drops: "Léon Perdigal Côtes-du-Rhône Blanc '15 has a full on hipster collection of grapes in it… So cool you've never heard of half of them. It doesn't hold any truck with oak either so the grapes get to do all the talking." It makes me wonder, what would really make a wine "hipster?"
For me, hipster status would start with the label. It would be cool and funky; maybe it would try just a little too hard to be enigmatic. The text might be sideways, or only legible with 3D glasses. The Léon Perdigal is just the opposite – completely traditional in its Art Nouveau font and illustrated label.
Then, we get to the grape(s). If everyone is drinking California Chardonnay or Venetian Pinot Grigio, what would attract the hipster? My guess would be the clean-cut, unoaked French Chard, or the fully bearded Oregon Pinot Gris. To go out on a limb, they might go completely retro and sip a Chablis (but not retro enough to buy it in a gallon jug). Perhaps a flip-top can of bubbly? You know, just to be chill?
The thing about the grape varietals in this white Côtes du Rhône is that they are all about tradition. They have historic root stock. They aren't new. They aren't unheard of. They aren't "now." They may not all be household varieties, but they aren't "hip" by any means.
With the light aromas of jasmine and grapefruit, the wine pours a beautiful, clear, bright yellow. It looks – and is – crisp and refreshing, tasting mostly of green apple with highlights of citrus on the finish. I chose to pair it with a rather sweet Chinese dish – Honey Walnut Shrimp. The recipe, as always, can be found on Cocoa & Lavender.
Prior to tasting the wine, I assumed, from the varietal blend, that it would be a bit more full-bodied. With the bold flavor and sweetness of the honey and walnuts (also some sweetened condensed milk), I was concerned – after my first sip – about a raging mismatch. Happily, it all worked. The acidity in the wine was a great foil for the sweet fried shrimp. In fact, because it was fried, the dish actually needs this lighter style of wine. When describing the pairing to a friend, his first thought was, "Gimme a good beer with that!" And he may be right, although having only had maybe five beers in my life, I wouldn't know.
I like pairing Provence and Rhône wines with Asian food. They might not seem like the most natural partners, but I think you will find that they work well together… Maybe not traditional, maybe not quite hipster, but definitely good.