Provençal Pairings: Wine with Food

And the Oscar Goes to…Fleur de l'Amaurigue
by David Scott Allen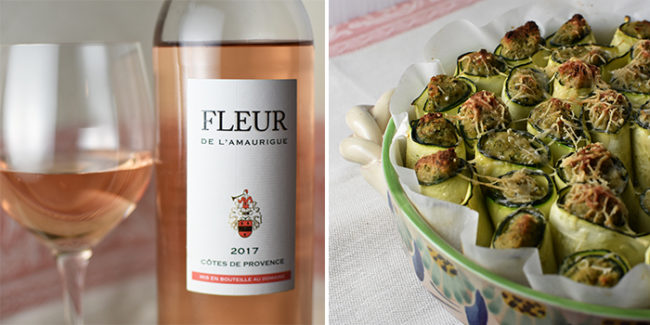 Winery: Domaine de l'Amaurigue
Cuvée: Fleur de l'Amaurigue
Appellation: Côtes de Provence
Type: Rosé
Vintage: 2017
Grape Varieties: 60% Grenache, 40% Cinsault
Alcohol: 13%
Average Retail Price: France €9.00, U.S. $15.00
When you prepare for a wine pairing, and you go into it knowing that the wine has already won a Gold at the Concours Général Paris or, as it is known colloquially, the Oscars of wine, your expectations are naturally high.
I am always happy when my expectations are exceeded. Fleur de l'Amaurigue, from Domaine de l'Amaurigue, is the craft of winemaker Jean-Marie Quef, who grew up at Château Miraval; his father is Patrice Quef, the sound engineer who created Studio Miraval in the 1970s. Susan wrote a wonderful piece about Domaine de l'Amaurigue in December of 2016. Quef works for the de Groot family, owners of Domaine de l'Amaurigue.
Fleur de l'Amaurigue is an exceptional wine, and my only difficulty was deciding what to pair with the 2017 vintage. My first instinct was seared white fish – perhaps sole – with a caper, preserved lemon, and shallot relish. But then I had a wonderful grilled octopus salad at a local restaurant and just knew that was the one. Well, at least until I found out I couldn't get the octopus here in the desert.
Then my e-newsletter from Il Cucchiaio d'Argento popped up in my inbox, and there it was. The recipe. Thin ribbons of zucchini wrapped around a filling of tuna, lemon, anchovy, and capers, all topped with cheese and baked. You can get the recipe — you really should! — at Cocoa & Lavender.
I knew this would be the perfect pairing for l'apéro! I made the zucchini rolls and, while they baked, I popped the cork on the Fleur de l'Amaurigue. The color of the wine is a clear, very pale, salmon pink. The nose is fresh — springlike — with floral notes, pink grapefruit, and strawberry.
On the palate, it has a silky mineral feel, and intense red fruit — strawberry and raspberry — and a hint of green banana. It is well-balanced, well-structured, and had just the right acidity to play well with food. That said, it drinks beautifully on its own. Once you taste it, you will understand why it received a Gold at the Concours Général Paris.
If you can get a bottle, I highly recommend this rosé. I look forward to Quef's future vintages!