Domaine du Paternel is Just One Great Reason to Visit Cassis
by Susan Manfull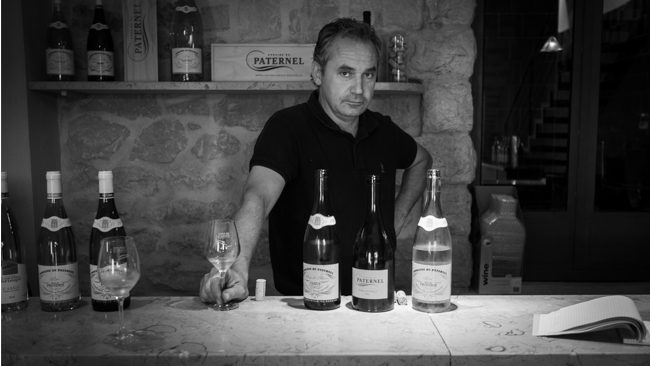 "He who has seen Paris and not Cassis, has seen nothing." — Frédéric Mistral, Provençal Poet and 1904 Nobel Prize Laureate
Mention wine from Provence and one surely conjures up images of rosé. After all, pink wine does account for close to 90% of all wine produced in the region. But, there are pockets of Provence that run counter to its reputation. Cassis, the picturesque port 20 kilometers southeast of Marseille would be one of those pockets. The 200 — plus or minus — hectares that comprise this appellation, one of the first to be recognized back in 1936 when France's appellation system was initially created, is home to some of the finest white wines in the Provence.
The same cast of characters that introduced vines and wine to the rest of what is now called Provence, beginning in 600 BC or thereabouts, were also in Cassis: the Greeks and the Romans. It is generally agreed that the Greeks from the ancient Ionian Greek city of Phocaea, located on the western coast of Asia Minor, were the first to plant vine stock along the bay of Cassis (probably after founding Marseille). The first stock likely included Ugni blanc (which still grows there today). The Romans continued planting vines and expanded the wine business by shipping it beyond the area.
Crème de Cassis, a sweet liqueur made from blackcurrants, is a specialty of Burgundy, not the Provençal village of Cassis!

The earliest documentation of land on which vines were planted in Cassis dates to 1199, according to one source, and to 1381, according to another. In 1530, the Albizzi family, from Florence, is said to have planted vines north of the bay on the slopes of the hills overlooking the coast. Clos d'Albizzi, operated by their descendants, is still making wine today.
From the beginning, Cassis specialized in the production of white wine although it was sweet Muscat wine for which it was first most known. In the late 19th century, phylloxera devastated the vines in Cassis, reducing nearly 500 hectares of vines to around 290 hectares. Winemakers are a determined bunch and, after the phylloxera infestation, they, like others across France and the rest of Europe, worked diligently to plant new vines from grafted American rootstock. The amount of land devoted to vines, however, continued to decrease until about 1980 when vine-covered hectarage finally began to increase. The shift to dry white wine production began with the new plantings, marking the start of the style of wine for which Cassis would become most famous.
Today, about 215 hectares of vines comprise the appellation of Cassis and its greatest foe is not a tiny insect but urban growth lapping at the vines. Fortunately, in 2012, the vineyards were subsumed under the Calanques National Park regulations, making such encroachment very difficult. According the Vins de Cassis website, these vineyards are the only vineyards in France to be completely encompassed by a national park (giving the reader an idea how truly gorgeous this area is).
It is a breathtakingly beautiful scene of various shades of green, turquoise blue, and chalky white colors. Upon approach, pine trees frame the perfectly aligned rows of vines that look as if they gently slope right into the deep blue Mediterranean Sea. In fact, some look as if they might plummet right into the water. The village exudes charm from a distance, and the port, dotted with fishing vessels, tour boats, and a few pleasure boats, is as picturesque as a seaport village as one could possibly imagine. On either side of the port are small sandy beaches, covered with beach towels and sunbathers in the summer months. From the furthest west vantage point, you will see the renowned Calanques, steep limestone cliffs that drop sharply into inlets of sparkly blue water. The backdrop on the east is Cap Canaille with cliffs that are Europe's highest along any sea—the Grande Tête rises 394 meters (about 1300 feet), straight up. Looking down or looking up, the scene is stunning.
Those cliffs as well as the more distant Montagne Sainte-Victoire and Massif de la Sainte-Baume (both to the north) and the Chaine de Saint-Cyr (to the west) offer protection from the harshness of the northerly winds (such as the Mistral). There are beneficial effects of those winds, when not extreme —drying the vines thereby keeping them free from rot — and Cassis vines do reap those benefits. Coupled with the moderating effect of the sea, the vineyards enjoy warm days – about 3000 hours of sunshine a year — and cool nights. The soil is mainly limestone with some clay mixed in. "Poor and stony" is how Rosemary George, author of The Wines of the South of France, described it.
As I reported above, Cassis is an anomaly among the other appellations in Provence: white wine makes up 67% of all AOP Cassis wines. Rosé wine accounts for 30% and red wines 3% of the Cassis AOP.
I mentioned Ugni blanc as one of the first grapes to grace the land, and it is still invited to the white wine party, but Clairette and Marsanne are the principal grape varieties — each vineyard is required to have at least 60% of these two varieties with Marsanne required to be 30% to 80% of the total — joined by the Ugni blanc, Bourboulenc, Sauvignon Blanc, Pascal blanc, and Terret blanc. (Not much of the latter two varieties is included in most blends; only 5% of the total blend may be Terret blanc.) For the rosés and reds, Mourvèdre, Grenache, and Cinsault make up those blends.
Sadly, many folks reading this article have never had a bottle of white wine from Cassis (much less a rosé or a red). There are only 12 wineries in this appellation, producing approximately one million bottles a year (total). Very little wine is exported because production is low and demand from locals and visitors is so high that little is left for the domestic market, much less the international market.
In fact, so little is left that owners and others in the wine business in Cassis have little motivation to talk with wine writers like me or to accept tour groups. I was fortunate that our first choice, Domaine du Paternel — whose wines (in all three colors) I already knew I loved — agreed to both. Last summer, just as harvest was wrapping up, I was able to catch up with Olivier Santini who, with his brother Jean-Christophe and sister Laetitia, oversees the family's Domaine du Paternel.
The Santini siblings are third generation vignerons. Santini told me that his grandfather and great uncle purchased the property around 1943. In 1951, they produced the first vintage. His father began working there around 1960. In 1992, Jean-Christophe, after pursuing a career in electronics, joined the family business. Olivier studied oenology and then came aboard, followed by Laetitia. Today, Jean-Christophe overseas the vineyards; Olivier focuses on the winemaking; and Laetitia oversees administrative matters.
When I met Santini, it was the end of a long harvest day. Those in the wine business know that those days begin as the sun rises and last until the sun sets. For those not fortunate enough to have experienced summer in Provence, you might not know how long those days really are: the sun does not even think about departing until 8:00 p.m., even in September. As we stood behind the cave — everything locked up and even the dog making it clear he was ready to rest his weary bones — Santini's passion for his work in the vines shone through as did a sense of oneness with the breathtaking landscape where he grew up.
"I always liked to work in the vineyards. When I young, I drove the tractor, and worked the harvest," Santini told me.
"Cassis is a theatre open to the sea, and the sea regulates the temperature," Santini explained and added that during periods of drought such as that which characterized 2017, the roots can reach the water table replenished by water from the nearby hills.
"Cassis is an appellation for white wine," Santini confirmed. "We try to have wine that is aromatic with flavors of citrus and a little flower; well-balanced and long in the mouth; complexity; roundness; and enough acidity to age." (They can age five to eight years but typically are enjoyed within two years or so.)
The Paternel vineyard is about 50 hectares in size and produces about 300,000 bottles of wine annually, 70% of which is white, 25% is rosé, and 5% is red. Wines are certified organic (since 2012).
Domaine du Paternel works closely with Bernard and Monique Piche who own about five hectares of vines and produce white and red wines, under another label, Domaine de la Couronne de Charlemagne (also certified organic).
Very recently, the Santini family acquired Domaine Sorin in Saint Cyr sur Mer, about 20 kilometers east of Cassis. It is a 13-hectare vineyard with vines in both Bandol (3 hectares) and Côtes de Provence (10 hectares). I suspect there is a desire to increase production but Santini also affirmed he has a curiosity about what they could do with another terroir.
I asked Santini if he and his brother made any changes from what their father was doing. Santini shook his head "no" and added that they would continue to focus on more precision, aromatics, and finesse in expression.
"My dad is happy because he has two sons in the vineyard," he added.
Tasting Notes
Domaine du Paternel Blanc de Blancs (2016) AOP Cassis is a stellar blend of Marsanne, Clairette, Ugni blanc, and Bourboulenc. The nose is pure sea. There's the trademark minerality, even brininess, that I love, and it lingers through the finish. The acidity and lemony-ness create an immensely appealing freshness. The mouth is round and silky. It bespeaks elegance in each sip. Nice structure and, having just opened a bottle here at home, we will soon be enjoying it with a white fish (type to be determined when I go the fish store across the street) and lemon and capers. Organic. 13% ABV (€15 at the tasting room)
Domaine du Paternel Esprit de Famille blanc (2014) AOP Cassis is a blend of Clairette, Marsanne, Ugni blanc (from 30- to 45-year-old vines), and a little Sauvignon blanc that is fermented and aged in barrels for four to five years. Santini emphasized that the goal was to create roundness in the wine. It was a full bodied, complex white wine that would do well with food such as a rich fish or pork with a cream sauce. My husband loved this wine while I found it a tad bit too oaky for my palate although I would try it again with something other than our scallops with a cream sauce. Organic. 13.5% ABV (€26)
Domaine du Paternel Grande Réserve (2015) rouge AOP Cassis is a very elegant composition of Grenache and Mourvèdre. The nose was dark fruit segueing into black cherry flavor with a little anise and very pleasant tannins. Lots of earthiness. Very drinkable. Medium body with nice structure, complexity, and finish. Organic 13.5% ABV (€18)
Domaine du Paternel (2016) rosé AOP Côtes de Provence is bursting with flavors of the sea and lots of minerality. Comprised of Grenache, Mourvèdre, Cinsault, Syrah, and Rolle was a pleasant rosé but perhaps a little too fruit forward. (€13) I look forward to trying the 2017 from Côtes de Provence and Cassis.
We did not have the pleasure of tasting the Cassis rosé from Domaine du Paternel on this visit— they sold out of it! – but I have very fond memories of it and would highly recommend it.
Visiting Cassis
When you visit Cassis, I suggest stopping at a couple of wineries on the way in to the village. Then, head to one of the garages to park (because it can be challenging to find a place on the street!). Make sure to have at least some coffee and a croissant along the port where you can watch passersby and the fishermen as they come in. We had dinner in Chez Gilbert (upon the recommendation of Patricia Wells) and would certainly go again. I definitely recommend reserving seats in one of the boats that will take you along Les Calanques for some spectacular views of the steep white limestone cliffs and narrow inlets of turquoise waters. Quarries are still visible, and one may well be the source of the limestone on which our Statue of Liberty stands. Market days are every Wednesday and Friday morning from 8:00 a.m. to 1:00 p.m. Hopefully, you already picked up a bottle of Cassis wine—now, pick up some goodies for lunch and take your basket and blanket to the beach!