Provençal Pairings: Wine with Food
Mix and Match
by David Scott Allen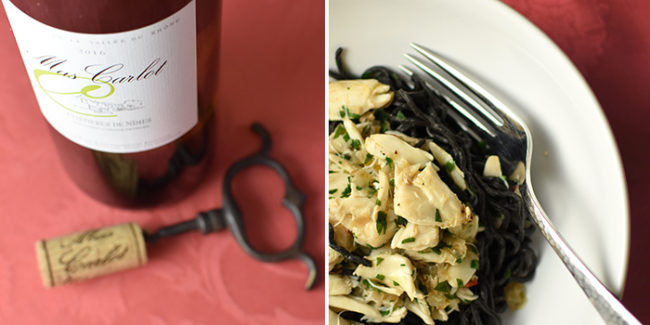 Winery: Mas Carlot – Château Paul Blanc
Cuvée: Mas Carlot Blanc
Appellation: Costières de Nîmes, Vallée du Rhône
Type: White
Vintage: 2016
Grape Varieties: Roussanne 60%, Marsanne 30%, Viognier 10%
Alcohol: 13.5%
Average Retail Price: United States $13.00, Europe €9.00
Generally, when serving a meal, I like to pair the wines with the region from which the food comes. It's not always possible – Asian food, for example – but, when making Italian dishes (even as specific as Sicilian fare) there are so many good local wines available for pairing.
However, if you look slightly northwest out your window in Palermo, Sicily, you might be able to see the coast of France, and – more specifically today – the Costières de Nîmes appellation, from which today's wine comes. (Yes, Sardinia is in the way of your view… but work with me.)
I like to think of this as the neighbor "just across the pond." While culinary preparations might be slightly different, it's the same pond with the same seafood. They should go together beautifully.
And they did. The perfect "mix and match."
We are getting ready for a 3-week stay in Sicily. "Getting ready" for most people means folding clothes, buying toiletries, or checking on reservations. That stuff is for amateurs. Me? I cook. I research the recipes from the region, learning what is most traditional in which city, and then I make them. Whetting the tastebuds, as it were.
This week, I made a Sicilian dish of homemade cuttlefish ink spaghetti and dressed it with a simple, light, and briny crab sauce. For the recipe, head over to Cocoa & Lavender. Don't fret if you can't find the black pasta – regular spaghetti works well, too!
This meal begged for a "regional" wine and the only Sicilian wines I had in the house were red. (Note: this might actually work well with the right red wine…) I looked across the pond (or, to be exact, in my wine rack) and found this 2016 Mas Carlot Blanc. The grape blend was promising.
I first tasted this wine at a local restaurant; the sommelier recommended it to go with my grilled octopus salad. It went beautifully with the smoke from the grill, and the spice in the shishito peppers, so grabbing this to go with my spicy crab pasta was a no-brainer.
It is very floral on the nose – overtones of jasmine, honey, and apricot. This unoaked beauty is dry, and has a round and silky mouthfeel, with a light flintiness and notes of gooseberry, green apple, and peach. It has a very nice mineral finish, as well.
Mas Carlot, at Château Paul Blanc in Bellegarde, is run by Nathalie Blanc-Marès and her husband Cyril Marès, whose family coincidentally owned the vineyard next door. (If only all the boys next door owned a vineyard…) Nathalie is the daughter of Paul-Antoine Blanc, of Au Pied de Cochon fame in Paris. He fell in love with the 70-hectare property in 1986, sold the restaurant, and began winemaking. Nathalie who, at the time was studying enology, followed him soon thereafter. She took over the operations from him in the late 1990s. Several years into her leadership, she planted Roussanne, Marsanne, and Viognier vines, and Mas Carlot is now known for some exquisite whites, along with their rosé and red offerings.
Considering the region's proximity to the sea, it only makes sense that this wine – well-chilled – is an excellent choice for pairing with seafood whether it is grilled, in broth, or sautéed. It can also handle a bit of spice, and goes very nicely with Asian cuisine