How many #RoséDays do we need?
by Susan Manfull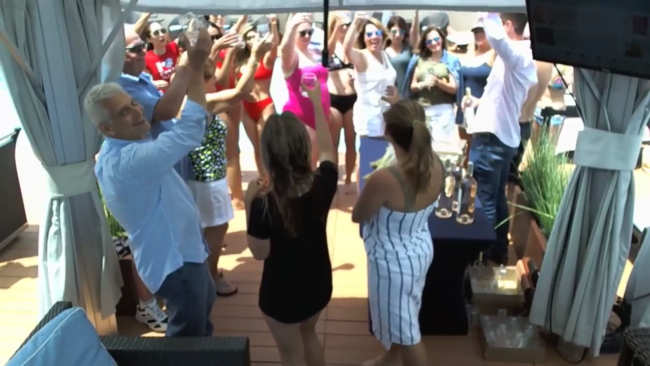 With two #rosédays down and one more to go, you may wonder just how many #pinkwinedays we need to celebrate. Some people question why we need to devote even one day to #celebraterosé. It's summer — isn't everyone already drinking #roséallday? Heck, we've moved way past #roséallsummer to #roséallyear. Isn't every swimsuit-clad millennial toasting #yayrosé on Instagram? Wait! I think it's #roséyay. Or is it #yeswayrosé (whatever that means)? Oh, just raise the damned glass and toast to the once humble rosé!
The year's first Rosé Day, conceived in 2015 by Bodvár House of Rosés, took place on the second Saturday in June. Described as a "U.S. National Rosé Day," it was created to raise awareness about rosé and give rosé fans an opportunity to celebrate with, in their words, "summer's water." I got a lot of "Happy Rosé Day" Instagram photos and saw a few references to events on this day but I don't know if Bodvár House of Rosés organized anything to mark the day. The calendar on their web page began in 2015 and seemed to stop at 2017. I guess one can just designate a day to celebrate something — anything — to drink and be done with it. National Tequila Day, for example, is on the horizon on July 24.
The newest Rosé Day — technically, "International Rosé Day"— premiered last Friday, which was on, as agreed, the fourth Friday in June (which happened to fall on June 22). It aspired to much more than getting listed on one of the many calendars that designated certain days to drink certain alcoholic beverages.
The brain child of Valérie Rousselle, proprietor of Châteaux Roubine and Béatrice, reasoned that Provence should throw its pink party hat in the rosé day ring because, after all, it is the birthplace of rosé, the producer of the gold standard for rosés around the world, and the region that has led the vanguard in the worldwide revival of rosé popularity. Although the day was conceived in the vines of Provence, it was to be a day to celebrate all rosés, regardless of provenance. Being the editor and publisher of a blog dedicated to wines from Provence (and the Southern Rhône), this piqued my interest.
Back in November, the Organisation International du Rosé was created to plan this event. In early January, the first organizational meeting was held at Maison des Vins Côtes de Provence in Les Arcs where details for the ambitious project were laid out. In March, I had the pleasure of catching up with Rousselle at Vinexpo in New York City. There, she stressed the international aspect of Provence's Rosé Day and the many places that would be dressed in pink for the auspicious event.
In April, Rousselle held a press conference in Saint-Tropez at the lovely Château de la Messardière which Cotignac-based PWZ writer Pamela O'Neill attended. There, Rousselle underscored Saint-Tropez's prominent role in this celebration of rosé: there would be an extravaganza at the city's Citadel on the Gulf of Saint-Tropez where all that could be dressed in pink would be, and what couldn't be dressed would be lit pink by Alain Guillot (a.k.a. "The Prince of Light"). Live music would waft through the air, well-known chefs would delight the crowd with their culinary fare, and over 30 estates would be serving their (Provence) rosés. And all would lead the world in a global toast at 7:00 p.m., French time.
[bc_video video_id="5803236010001″ account_id="5699924563001″ player_id="default" embed="in-page" padding_top="56%" autoplay="" min_width="0px" max_width="640px" width="100%" height="100%"]
PWZ was psyched for the June 22 event and began to spread the word and make plans on this side of the pond, in our corner of New England, to be a part of this celebration. In Boston, Provence Wine Imports worked with the Colonnade Hotel Rooftop Pool and Restaurant to mark the occasion with a toast of Provence's Château Barbebelle Fleuri Rosé at 1:00 p.m. to coincide with the mother toast in Saint-Tropez while PWZ live-streamed the poolside action. In Portsmouth, New Hampshire, I convinced a small local wine store, South Street and Vine, to celebrate the occasion with a glass of Languedoc's Château Puech-Haut Prestige Rosé for each patron.
The official site for the day – "Où célébrer l'International Rosé Day?" – begs that exact same question: "Where can you celebrate International Rosé Day?" The answer? If outside of Provence, we had few clues! It seems the website concentrated almost entirely on Provence, and certain châteaux – not much international about that, eh? Alors… here, in New England, we celebrated in high style, and so did a few others… But you'd never know! We'd love to know what was going on in South America, South Africa, Georgia (the country, not the state), or elsewhere in Europe. We'd love to know how to get our celebrations on the list. We hope that next year we are all invited – nay, included – in the sandbox of this rosey celebration of rosé!
All said and done, no luster was lost in our toasts when the clock struck one. We didn't pick up our rosé bottles and save them for the next Rosé Day. Nah, as the French would say, with an exaggerated shrug of the shoulders, "Tant pis." Raising our glasses to the third color was enough. We did, however, consider (albeit briefly) designating a fourth day as "New England Rosé Day." (It seems simple enough to do.)
The next Rosé Day on the calendar is August 14. It was created by writers of a blog called "Wine Geeks" back in 2005. (Was rosé even a "thing" way back then?)
I'm a sucker for themes and a huge supporter of creating reasons to celebrate, but I am beginning to wonder if #noroséday will soon start trending.