I HAD AN APPOINTMENT WITH CHÂTEAU BEAULIEU…AND DISCOVERED VILLA BAULIEU
by Susan Manfull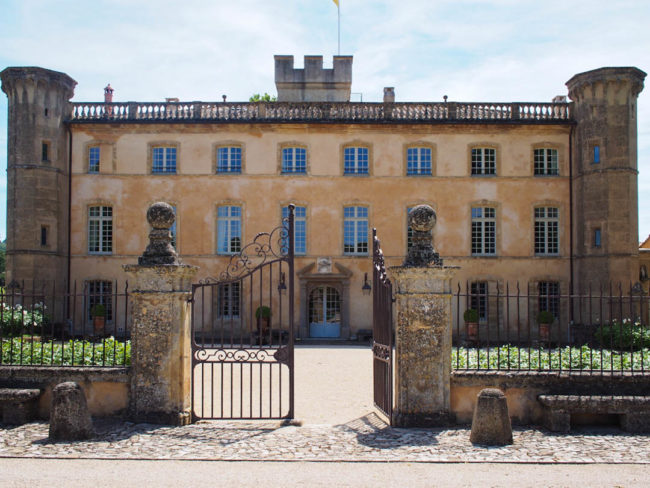 We take the back roads to Lourmarin when we arrive in Provence. Whether we pull into the Aix TGV station or land in the Marseille Airport, we take the D568 a short distance and then head north along the meandering D543 (a favorite of bicyclists, too, making for some ticklish maneuvers occasionally). Between Éguilles and Rognes—on the narrow forested stretch known as the Route de Rognes—we pass by a half-dozen or so wineries in less than 10 kilometers, and signs for even more located slightly off the main road.
I have driven past the sign for Château Beaulieu countless times and have never stopped until this past June. The occasion was an appointment for a tour and interview (and, of course, a tasting) with Bérengère Guénant, Director of the Beaulieu estate and daughter of Nicole and Pierre Guénant who purchased the property in 2002.
Usually my interest in visiting the estates I write about is motivated by my appreciation for their wine. For this particular visit, I have to confess that this was not the case. Château Beaulieu produces what I would call a decent café rosé, a pool pounder. That is, a fruit forward, bright rosé that has a pretty pink color, is inexpensive, and goes down easily without much thought. It is not a rosé I would seek out although should I find it in my glass at a café or by the side of a pool, I would not shrink away from it.
It was a conversation with George Palmieri, of Opici Wines Importers and Distributors, at a "Provence in the City" tasting of rosés in New York last year that prompted me to consider a visit to this vineyard. He was pouring tastes of Château Beaulieu rosé, which I nearly declined since I was familiar with this wine, but his affable manner convinced me to try the latest vintage. It was enjoyable enough so when Palmieri suggested I visit the estate, I decided to do a little research about this property whose sign I had seen for so many years.
Château Beaulieu produces around 1 million bottles, almost all of which is rosé and much of which comes to the United States. It might be a judicious decision, I thought, to write an article about a rosé that is so widely available—and thus more accessible to readers—compared to many of the other rosés that I gush about on this site (that can't be found in this country).
Another reason to devote a post to Château Beaulieu is that the property is the largest estate in the Coteaux d'Aix-en-Provence appellation with about 300 hectares, 132 of which (about 326 acres of which) are devoted to vines that produce grapes used to make Château Beaulieu rosé. About 95% of production is dedicated to rosé, with the remaining production split evenly between red and white.
There is also a gorgeous 17th-century Château that stands in the middle of the property, surrounded by 22 hectares of beautiful grounds and framed by a handsome protective wall. Called a "villa" because the design is Italian and reminiscent of Tuscan-style architecture, it is included in Lanie Goodman's "Romantic French Homes" with photographs by Simon Brown.
A unique draw to Château Beaulieu, I learned, is that the villa and vineyards lie on the dormant crater of the only volcano in Provence. I was particularly intrigued to read this since I could not recall seeing any peaks bearing resemblance to a volcano around the village of Rognes. Nonetheless, about 17.5 million years ago, in the Miocene era, there stood an active volcano that, over the millennia, has gradually sunk and, according to the literature on the Château Beaulieu website, left an oval-shaped crater filled with lava, and, in its vicinity, soil characterized by volcanic basaltic material (that accompanies the clay and limestone soil also found on the property). (In case you are interested, it is called La Trévaresse and covers an area of as much as three kilometers.)
Armed with many reasons to visit—notwithstanding my feeling that the estate's rosé is unremarkable—I scheduled an appointment to visit. Now having spent a glorious afternoon with Mlle Guénant touring this property and tasting wine, I urge everyone to follow the signs to this estate and, in fact, to go out of their way to visit. However, at the risk of getting too far ahead of the story, Château Beaulieu rosé is not the real reason to stop.
Four parcels of vines totaling 8 hectares—surrounded by Château Beaulieu vines—are the reason. From these vines, carefully chosen over the years since the Guénant family purchased the Château Beaulieu, come the Villa Baulieu wines.
Called simply Villa Baulieu, the premium label, and Cuvée Bérengère, named after our hostess (although "Bérengère" is also the name of the daughters of two earlier owners), these are the wines in which the Guénant family is investing their energy and for which they would like to be known. Production is divided evenly between red and white. No rosé is produced under this label.
These premium wines were christened "Villa Baulieu," (and the Château was rechristened "Villa Baulieu"). Mlle Guénant explained that the family wished to clearly distinguish the new, fine wines—made entirely from high quality estate-grown grapes—from the wines that were produced on the property under the label "Château Beaulieu" before they purchased it. That wine, Mlle Guénant said, "was not good," and added, "We did not drink it." Although grapes have been harvested from the vines that cover these grounds for at least 2000 years, Villa Baulieu represents the first premium wines to emerge from this property. ("Baulieu" is the 17th-century equivalent of "beaulieu," which, in both cases, means "beautiful place.")
The Greeks might have cultivated vines (as well as olive trees) on this land, but there is clear evidence that the Romans were here. An altar dedicated to the Goddess of Springs from the Augustan age, among other statues and sarcophagi from the Roman period, have been uncovered on the Beaulieu property. Most interesting is that three significant underground Roman aqueducts have been found, two of which are still in use today to provide water for the grounds, fountains, and ponds. These artifacts suggest the likely existence of a large Roman Villa.
Other evidence suggests that the Visigoths and the Burgondes stayed on this property from the 4th century until the 8th century when the Franks, led by Charles Martel, invaded and pillaged this part of Provence. According to the Château Beaulieu website, the church took possession of this land until 972 when William the Liberator gave the territories of Rognes and Beaulieu to the Counts of Provence.
For the next several hundred years, there was a cacophony of Counts and Feudal Lords who oversaw the property. Continue to read this paragraph only if you are a dyed-in-the-wool historian of French history. Some of the names of owners that might be familiar to those who have studied the history of Provence include the Alamonons, the Oraisons, and the Agoult family (who rebuilt the Château in Lourmarin in the 15th century). Fouquet of Agoult oversaw the Beaulieu property until 1575 when his great-granddaughter married and, through a series of complex exchanges related to marriage and proclamation, the property eventually became a fiefdom in 1576 by acts initiated by Henri III. Eventually the Juliens and the Bessons acquired the property and in the 17th century, constructed the Italian-style Château we know today.
Although modified over the years with the addition of four towers (in 1805) and whatnot, the castle remains basically the same as it was originally. In 1705, Baron Pierre Sarrebourg of Pontleroy, a Marseille ship owner acquired the property from Pierre of Oraison. Pierre Robineau purchased the property in 1754; they, a family of tax collectors and War Commissioners of Marseille, as well as a few painters, poets, and botanists, retained ownership through 1867 when their cousins, the Counts of Candolle, took ownership. The well-known botanist, Augustin Pyramus de Candolle, was part of this family. In 1920, a silk manufacturing family, the Barlets from Lyon, bought the property and in 1939, the Touzets acquired ownership until they sold it to the Guénant family in 2002. (Whew!)
Pierre Guénant, originally from La Roche-sur-Yon in the Vendée department of the Loire region, is a man who seems to have successfully worn many professional hats. He is probably best known for founding and presiding over the PGA Group, which began as a French car dealership and grew to become the market leader in the distribution of automobiles in France, the Netherlands, Poland, and Greece as well as to include (via a Holding company) the distribution of public works equipment and investment funds.
According to daughter Bérengère, her father sold his company to Porsche fifteen years ago and then came here and "fell in love with the castle." Fifty years old at the time he first saw the property—in considerable disrepair—he reportedly said, "This will be a new challenge for me."
"He's quite crazy," his daughter thought, at the time.
Apparently, M. Bérengère initially thought he might dig up the vines but his mother convinced him otherwise. His own grandfather had been a family winemaker in Périgord and his mother admonished her son that his grandfather would not be happy if he did not tend to the vines he just purchased. Thankfully, he heeded her advice.
Mlle Bérengère told us that when she was growing up, living in Poitiers in the Vienne department of the Poitou-Charentes region, her family favored the wines of Bordeaux and Burgundy. Her grandfather owned a house in Provence, which she and her family visited every summer, so she knew rosé well, but it was the whites and especially the reds that the family preferred. That preference seems to have followed the family here.
Once Guénant took on the vineyard as part of his challenge, he applied the same high expectations for that job as did for the renovation of the Château. I am not sure at what point he brought in renowned winemaking consultant Stéphane Derenoncourt and highly respected winemaker Michel Fabre but both men were instrumental in selecting the eight hectares that would become Villa Baulieu and in reaching the high standards set for the wine. Julien Lavenu, Derenoncourt's colleague and partner, also joined this team at some point.
In identifying the parcel(s) that would eventually produce the grapes for the Villa Baulieu wines, Lavenu said, "… [W]e looked for those blocks that would enable us to create a wine with the Provence character but without the excessively sun-drenched character. We chose lean soils and less vigorous rootstocks for wines that are naturally more complex and distinguished."
The soil of the selected area is characterized by both basalt soil and limestone soil on north- and east-facing slopes at relatively high altitudes (benefiting from the Mistral wind). The altitude, as high as 430 meters is one of the highest in Provence, ensuring wide diurnal temperature variation. Plantings were made with the goal of concentration in the grapes, not high yields. The yields are 30 hl/ha on average.
The grape varietals selected or replanted include Rolle (Vermentino), Sauvignon Blanc, Sémillon, Grenache Noir, Syrah, and Cabernet Sauvignon, all of which are grown using organic and sustainable practices (although the wine is not yet certified organic). The grapes are harvested by hand, transported in small 10-kilogram baskets (to prevent the skins of the grapes from being pierced), and diligently sorted before being transferred to the tanks and eventually vinified.
I could hardly wait to taste these wines, but I couldn't help but wonder how I had never heard of the wines of Villa Baulieu. I had done my homework on Château Beaulieu in preparation for the visit but nary a peep about the eight hectares in the middle of the Beaulieu vines. I imagine that efforts to separate these artisanal premium wines from the mass-produced pool pounder I (and as many as a million other people) knew about were behind this stark division.
The first vintage of Villa Baulieu wine was in 2011 and I don't know what the production was at that time but even now, three years later, it is just 12,000 bottles of each color and none is exported to the United States thus limiting the opportunities to cross paths with the wines. The list of restaurants that carry Villa Baulieu wine is growing and includes La Petite Maison de Cucuron, one of my favorite restaurants in the Luberon however I apparently didn't notice the label when last there. It was such a (welcome) surprise to learn about Villa Baulieu. We would go over to the tasting room after our tour of the Château.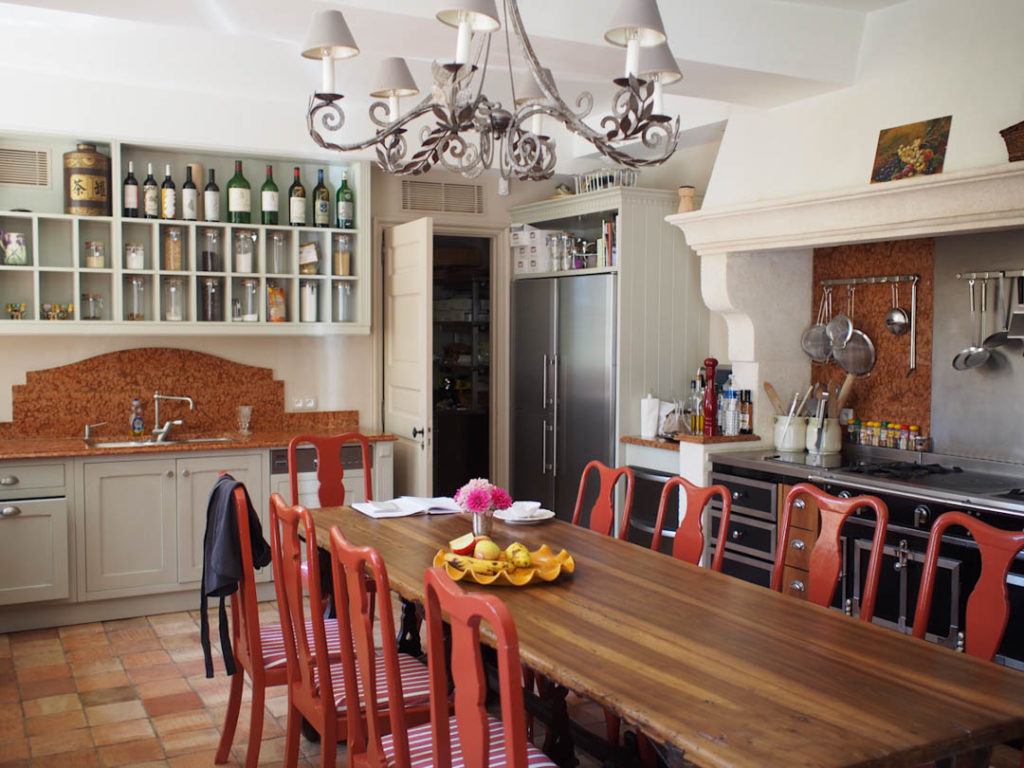 Villa Baulieu, the Château formerly known as Château Beaulieu, is the Guénant family home as well as an 11-room luxurious guest house and a "select member" of the "prestigious family 'Signatures'" of the Châteaux and Hôtels Collection, under the direction of Alain Ducasse. This 17th-century villa, enveloped by a 22-hectare walled park, comprised a boxwood maze, a Temple of Venus, a rosé garden, a 17th-century nymphaeum, as well as a forested area where a leisurely stroll could lead to a stream, a waterfall, and two landscape pools (used for irrigation). The French and English gardens are absolutely stunning. (I immediately told our daughter she should plan to have her wedding here!).
The Château was meticulously restored—a task taking seven years—and beautifully appointed. I was struck by the fascinating combination of contemporary and traditional art work that fills the walls and dots the table tops. (According to Mlle Guénant, Mother loves contemporary and Dad prefers traditional.) Mixed into art are myriad framed photographs of family members, all telling the story of a multifaceted and close family and highlighting the fact that this grand castle is also a family home.
"And everybody who works here, lives here," Mlle Bérengère explained, adding that it is a big group with a fun spirit. Downton Abbey came to mind as she went on to say that "the butler" (the maître d'hôtel or majordome in French) is in the villa and that his wife works with her and will do the tasting with us.
Mlle Bérengère continued, "Everyone loves wine and knows wine." Indeed, if "Butler" David Ripetti is representative. He is the former grand sommelier and maître fromager at La Mirande, renowned luxury boutique hotel in Avignon.
We drove to the tasting room next, a few kilometers from the villa on the highest point of the property. The Villa Baulieu vines are located nearby as are Mlle Bérengère's beloved truffle trees four hectares of truffle oaks. (Did I mention the eight hectares of almonds or th9 e grove of olive trees?) It was very windy that day, as is often the case in this area, at 430 meters high (about 1400 feet high). There, we met winemaker Michel Fabre who talked to us about his wines.

We began the tasting with the Château Beaulieu Cuvée Provençale Rosé (2014) that launched this visit to the estate from New York City back in March 2015. It is a blend of Grenache (40%), Cabernet Sauvignon (25%), Syrah (20%), Cinsault (10%), and Mourvèdre (5%). A very fruit-forward—predominantly strawberry—nose that carries through to the palate, accompanied by adequate acidity, and an unremarkable finish. It is the perfect rosé for the poolside or a simple café lunch although a nice bouillabaisse would be a good companion at a cloth-covered table and would out its best qualities. This rosé (pictured on left) is bottled in a slightly curved bottle reminiscent of the traditional Provençal rosé bottle and is only available in the U.S. It sells for the very appealing price of about $14 a bottle.
Château Beaulieu also produces another rosé, Cuvée Alexandre Rosé, bottled in the classic (high shoulder) bottle shape for the European market. I preferred this (2014) rosé, a blend of Grenache, Syrah, and Cabernet Sauvignon, over the Provençale Cuvée as it is well balanced, less fruit-forward, and distinctly fresher with a nice minerality. Mlle Bérengère, who named this cuvée after her brother Alexandre, aptly summed up the rosé in a single word, "happy." It sells for about €9 a bottle in France.
We moved to the Villa Baulieu wines next. In this line-up of premium organic wines, there are two cuvées: Villa Baulieu and Cuvée Bérengère. Since 2011, about 24,000 to 30,000 bottles of wine have been produced each year, divided evenly between whites and reds. They have already received prestiguous awards and many accolades. We tasted a white and a red wine from each cuvée, two wines they hope to export to the U.S. in the near future. Until they are imported into the States, we will save room in our suitcases as we loved them both.
The Villa Baulieu (2012) white wine is a blend of about two-thirds Rolle (Vermentino) and one-third Sauvignon Blanc. Grown in volcanic soils (dominated by basalt), the soil probably provides excellent drainage for the vines' roots (that hate standing water), retain the day's heat during the cold nights, and undoubtedly contributes to the wine's complexity. The grapes are hand-picked, transported in small (10 kg) boxes, and pressed directly without destemming. After vinification, the wine is aged in large wooden vats for six to eight months. The result is a very fragrant nose of pear and honey. Its substantial body coupled with barely perceptible hints of oak on citrus was pleasing to the palate and through the finish. It was immensely pleasing by itself but would pair beautifully with any seafood dish, the more robust the better. It sells for about €29 a bottle in France.
The red, Villa Baulieu Cuvée Bérengère (2012), is a blend of Syrah and Cabernet Sauvignon grapes from vines grown in volcanic soils. Hand-harvesting, carefully transported in small (10 kg) boxes, and diligently selected, the grapes are vinified and macerated in stainless steel tanks for about 25 days and then aged in barrels for ten to twelve months. I detected a delightful butterscotch bouquet coupled with blackberry on the nose, a silky mouthfeel characterized by spicy dark berries, and a very long luxurious finish. Lovely now although some time in the cellar would allow its full expression of flavors. It sells for about €17 a bottle in France. We liked this one very much.
Villa Baulieu has bucked the trend in Provence of producing predominantly rosé. As I wrote above, no rosés are made from the preeminent eight-hectare parcel reserved for the premium line-up. Instead, recognizing what they have in that parcel–the unique soil, the north- and east-facing slopes at a relatively high altitude, and the specially chosen rootstocks, selected to produce wines that are naturally more complex and distinguished–winemaker Fabre and consultants Derenoncourt and Levenu, in conjunction with the Guénant family, have taken meticulous care from vine to bottle to produce outstanding reds and whites.
You never know what you will discover when you visit a château, but this stop yielded surprises beyond my wildest imagination. From the stunning 17th-century villa and gorgeous surrounding grounds to the exquisite Villa Baulieu wines, and getting to hear first-hand the most recent chapter of the long story of this historic property coming to life again and the people who were responsible for breathing life back into it. I felt like we had spent the afternoon in a fairy tale.
Notes:
To find out about staying in the guest house or visiting the tasting room, please visit: www.villabaulieu.com
Villa Baulieu
13840 Rognes
T. +33 (0)4 42 50 20 19
F. +33 (0)4 42 50 19 53
E. contact@pgadomaines.com
GPS
Latitude: 43.6567227
Longitude: 5.34162549