Provençal Pairings: Wine with Food
Versatility
by David Scott Allen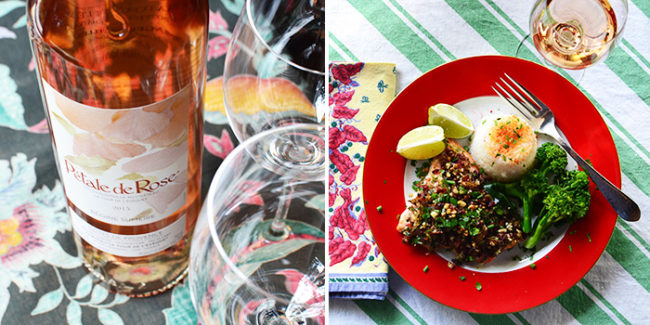 Winery: Château La Tour de l'Evêque
Cuvée: Pétale de Rose
Appellation: Côtes de Provence
Type: Rosé
Vintage: 2015
Grape Varieties: Grenache (39%), Cinsault (32%), Syrah (12%), Mourvèdre (4%), Rolle (4%), Ugni blanc (4%), Sémillon (3%), and Cabernet Sauvignon (2%)
Alcohol content: 13.5%
Average Retail Price: U.S. $17.00, France €14.50, Great Britain £16.00
This month I tried something different. I tested one wine with two very different dishes to learn what affect food really has on the taste. This all started because I had a bottle of 2015 Pétale de Rose from the well-known Château La Tour de l'Evêque, a bottle I can't easily get here in the Southwest where I live. I wanted the pairing to be special, and was looking to the Château for their advice on pairing. Their website states that the wine is "a perfect match with poultry, veal, shrimp, scallops, fish, smoked salmon, cheese soufflés and Asian cooking."
That list gave me a wide berth for food choices, but I wanted to push the envelope a bit. One dish would definitely be salmon, but not simply grilled or traditionally sauced. It would have intense and earthy flavors that, while not Asian, would add a similar complexity (the recipe for Persian Roasted Salmon is on Cocoa & Lavender this week). By choosing a Persian dish, I also wanted to broaden the idea palate for rosé drinkers; not all pairings need to be Provençal, or even French… or European, for that matter. Rosé wines, in general, make extremely good pairings for cuisines far and wide.
Pétale de Rose, a wine produced since 1985, is certified organic, or bio as they say in French, and the price point (if you can find it) is excellent. The color is a salmon pink (perhaps my inspiration for the first pairing?) and the aromatic bouquet is floral, with a bit of red fruit. The opening taste was mostly of strawberry with hints at clementine, and the mouth feel was unctuous; this is a creamy rosé. With the salmon, the red fruit and citrus receded making way for a lovely peach flavor, with herbal notes and a hint of fennel. The wine, by itself is wonderful and, as vintner Régine Sumeire suggests, it is perfect for an apéritif. But it is also a great food wine, and was a terrific pairing with the salmon.
I managed somehow to save half the bottle for a second tasting. For this round, I challenged the wine just a bit by preparing my mother's rack of lamb recipe which, while simpler than the many-ingredient salmon, employs bolder flavors starting with the lamb itself (not on the Château's list) and adding Dijon mustard, rosemary, lemon zest, and shallots. I was pleased at first to taste strawberry once again, and then utterly delighted to find a new flavor – one I have experienced with no wine before. I picked up a distinct note of hazelnut, which went very well with the lamb. The recipe for my mother's lamb – with my updates – will be available on Cocoa & Lavender on May 21. Please check back!
Overall, Pétale de Rose may be one of my favorite rosés, and that is no surprise as I particularly enjoyed all the wines I have tasted from the Sumeire family. If you wish to revisit my other favorite wines from this family, they were paired with Oysters Rockefeller (Château La Tour Sainte-Anne) and the Parfait of Sweetbreads (La Source Gabriel).