Madeleine Herbeau of Château Barbebelle Visits New England
by Susan Manfull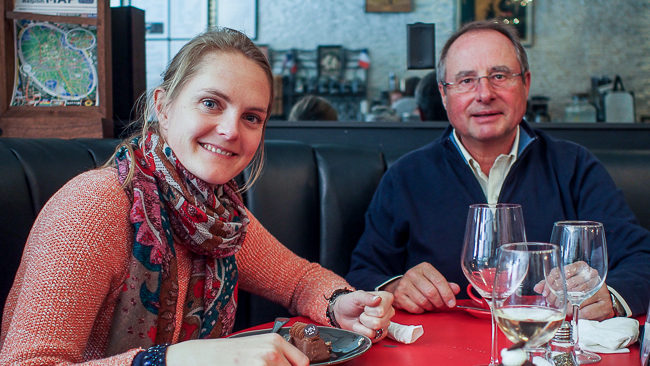 Madeleine Herbeau of Château Barbebelle in Provence dropped by Portsmouth, and PWZ rendezvoused with her and Top Terroir importer, Jacques Navarre, over lunch at La Maison Navarre.
You can catch up with her today, Sunday April 7, at the MN Wine Bar (in La Maison Navarre in downtown Portsmouth, NH) from 3:30 to 5:30 p.m., and taste her award-winning rosés and, perhaps, a little red and white wine as Herbeau and her team excel in those colors, too.
My husband Towny and I had the pleasure of tasting her namesake line of wines (all three colors) and the premium â, Heritage (in all three colors), when we visited Herbeau at her Château in February. At that time, Madeleine told us that the 2018 vintage was the best in quality and production in 15 years. (You might want to note that 2018 was also the year she and Valentin Premmereur were married, an observation not overlooked by Madeleine.)
We concurred that the 2018 cuvée Madeleine rose was exceptional. One first takes in the stunning light pink color, described as luminous in the winery's notes. A fragrant nose precedes just the right balance of fruit and acidity with lovely minerality, each sip prompting the desire for another. The Heritage cuvée, another favorite, has more volume and complexity having spent some time in oak; let it accompany your meal for a real treat. In the recent conversation, Herbeau said that she felt the Heritage has benefited from a couple of months in the bottle; so, I look forward to today's tasting to see how it has evolved.
We garnered a little news from Herbeau during lunch. More Vermentino (aka Rolle) vines were recently added to vineyard which, I hope, portends a continued interest in producing more white wine. I am a huge favorite of both the Madeleine and the Heritage cuvées of white wine.
Very exciting news, although we won't see the fruits of this labor for a decade or so, is that they planted a significant number of "truffle trees" — oak trees inoculated with truffle spores. When we toured the gorgeous property in February, I suspected truffles would be right at home on this land. However, we also saw evidence that sangliers are also very much at home.
If you miss today's tasting, Herbeau will be be in Boston at BRIX Wine Shop (105 Broad Street in the Financial District) on Tuesday, April 9 from 5:00 to 7:00 p.m. You are also welcome to drop by the tasting room at Château Barbebelle in Rognes, Provence. A full-time tasting room manager has joined the staff so they ready for your visit.