Provençal Pairings: Wine with Food

Vin with Versatility
by David Scott Allen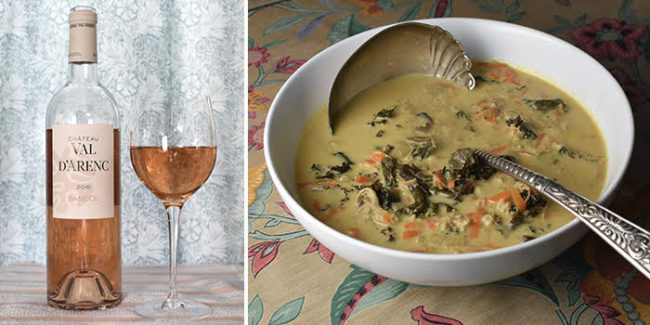 Winery: Château Val d'Arenc
Appellation: Bandol
Region: Provence
Type: Rosé
Vintage: 2016
Grape Varieties: 80% Mourvèdre, 10% Grenache, 10% Cinsault
Alcohol: 13%
Average Retail Price: U.S. $22.00-28.00
You know, from reading my posts, that I truly enjoy when a pairing is so perfect that it brings tears to my eyes. Sometimes, though, I find that there are wines that have no one perfect pairing, but have a versatility to go with many foods.
Today's wine is such a wine. It reminds me of Audrey Hepburn… a knockout in a Givenchy gown, yet stunningly elegant in Capri pants, a cashmere shell and pearls.
Bandols, in general, are wines that can take on the quotidian burger one night, a bouillabaisse another, and then end up with Sole Véronique! They can handle some aging, or can be enjoyed right out of the gate. It's really up to you.
This week, I paired a 2016 Château Val d'Arenc Bandol with a Thai-inspired soup of chicken, coconut, curry, and lime – and I was absolutely fascinated by the results. You can get the recipe at Cocoa & Lavender.
It had a most unusual nose – not unpleasant at all, mind you, but surprising. It smelled of ground mustard seed. Was it my mood? Was there something in the air?
The mouthfeel was velvety and soft; notes of resin and honey predominated. It is wonderfully drinkable on its own, yet I can also see it as the perfect wine to accompany pre-dinner nibbles, or as the star wine with your main course.
When it came to pairing it with the soup, I was really happy. Aside from the ingredients I already mentioned, the soup also included kale – a brassica. And, if you didn't know, mustard is in the brassica family. This, you might think, would accentuate the mustard notes I got at first sniff. But it didn't – the mustard essence actually disappeared. Also, brassicas are generally difficult to pair with wine, but this combination worked beautifully.
I attribute a very interesting tasting note to the coconut milk – it brought out the most beautiful essence of sweet corn with every sip of soup and wine. Other flavors I tasted included candied orange peel and roasted pear.
Bandol wines are not readily available in the Tucson area, so I jumped at the opportunity to taste and enjoy this one. I really like its full body and flavor, and – of course – its versatility. I think you will like it, too.