MERRY CHRISTMAS TO ALL!
by Susan Manfull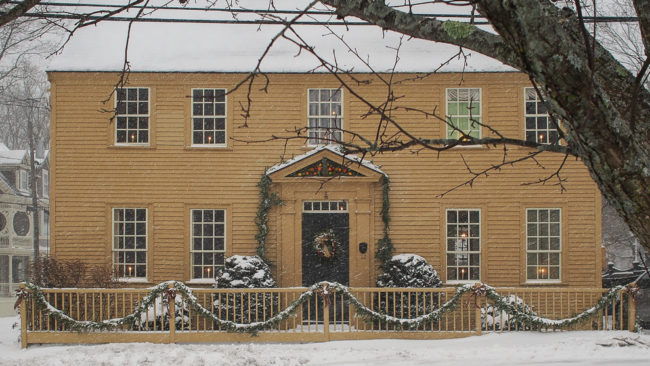 It's Christmas Day — Our house is dressed for this hallowed occasion, the tree is cut and trimmed, gifts are wrapped, and stockings are filled. Phew! It was a race to the finish line this year. I was afraid I would run into Santa when we finally headed up to our beds and waited for sugar-plums to dance in our heads.
When fellow wine blogger Penny Sadler saw a photo I had posted of my husband Towny pulling a sled with our tree, freshly cut late yesterday afternoon, she asked me if it was our family tradition to cut the tree on Christmas Eve. I nearly laughed out loud and thought to myself that our family tradition has devolved into doing seemingly everything at the last minute, this year being the epitome of harriedness. I wish I could have told her otherwise. However, what I can say, unequivocally, is that we do what we can and then take our time to savor every itsy bitsy detail to the fullest extent.
The dough for the Parker House rolls is resting (yes, David, the blasphemous whole wheat ones!), the persimmon pudding is in the oven, and the Cornish Game Hens and roasted veggies will soon have my attention. Later, the table will be set and still later, Towny will shuck the oysters and chill the Domaine du Paternel Blanc de Blancs (2016) wine. For dinner, it was a tough choice but we opted for Domaine Richeaume Grenache (2014) red wine. Our Vin Cuit de Provence from Mas de Cadenet will be a brilliant match with the persimmon pudding and, if I get my way, a wee bit of Roquefort.
To the winemakers, restaurant owners, chefs, artists, gardeners, and the like who have so generously shared their stories with me and to my dear readers, I wish you and yours the merriest Christmas. And to the I am always grateful for your support of Provence WineZine and The Modern Trobadors. Finally, to those writers who contribute to these publications, I am immensely appreciative.
À table, mes amis!