Provençal Pairings: Wine with Food
You Can Tell a Wine by Its Label
by David Scott Allen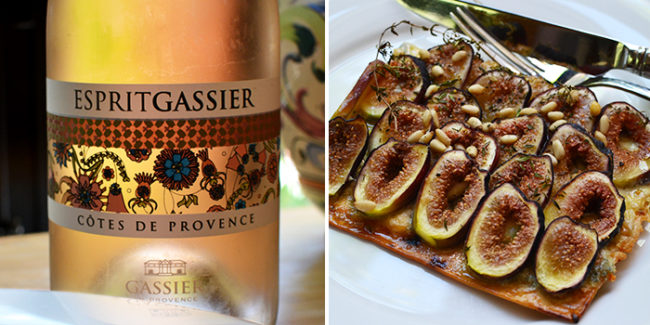 Winery: Château Gassier
Cuvée: Rhône blend
Appellation: Côtes de Provence
Type: Rosé
Vintage: 2015
Grape Varieties: 35% Grenache, 30% Cinsault, 25% Syrah, 10% Rolle
Alcohol content: 13%
Average Retail Price: U.S. $19
When searching for a Provençal rosé to pair with this week's recipe – Cambozola and Fig Flatbread – I have to admit that I chose the wine for its label. I know several wine enthusiasts who swear they never choose a wine this way, but I don't believe them. Not completely, anyway. I think even they would be beguiled by this label.
This label was designed by an artist local to the château, and it is an absolutely beautiful representation of a summer garden. It told me that this wine would be floral and fresh, and that I would feel good when I was drinking it. It also said, "I am a summer's day." (It was a very chatty label.)
Esprit Gassier is the entry level wine for Château Gassier, and I wish their other wines were available to me, if this was their "starter rosé." The château is situated in Puyloubier, in the shadow of Mont Sainte Victoire, known throughout the world by the paintings of Cézanne. The clay, limestone pebbles, and sand caused by the erosion of Mount Sainte Victoire contribute to the terroir for this lovely wine.
The hue is a light pink with a hint of coral, and the nose is floral with hints of red fruit. This wine is definitely one that benefits from 20 minutes out of the refrigerator before serving – too cold, and you miss those incredible aromas. The mouth feel is soft and luscious, with a very pleasant minerality. The first taste is of cherry and raspberry, with notes of jasmine and acacia. Upon further sipping, and when the wine wasn't as chilled, stone fruit came into play – white peach and apricot. It is very well balanced and had just the right acidity I was seeking for my pairing. I really liked this wine, and highly recommend seeking out a bottle or two.
Now, on to the pairing. It was good. The flatbread was slathered with Cambozola cheese, a creamy Italian blue, then topped with fresh figs and thyme. I have to admit that the wine became less engaging with the flatbread, but they didn't fight with one another. That is why I said it was a "good" pairing, not great. I think if the cheese had been raw, this would have been a bad pairing, as I don't recommend it with strong, aged cheeses such as blues and Parmigiano Reggiano. However, cooking the cheese changes its chemistry just enough to pair well with the wine. The recipe for the flatbread can be found on Cocoa & Lavender.
The wine does, however, pair well with young chèvre, and sheep's cheeses. It is also perfect with the fresh figs on their own. Like many rosés, it pairs beautifully with simply grilled meats, poultry, and seafood. And, it drinks beautifully on its own as an apéritif.