Provençal Pairings: Wine with Food
{Good} Accidents Will Happen
by David Scott Allen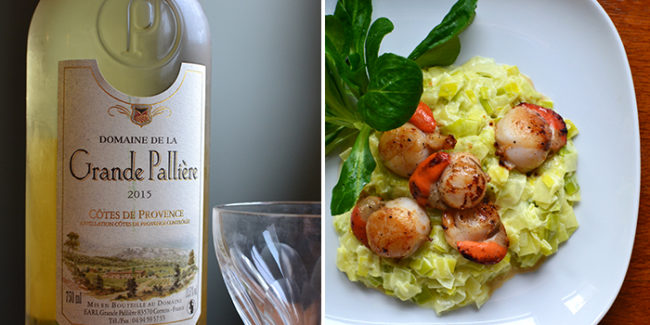 Winery: Domaine de la Grande Pallière
Cuvée: Côtes de Provence
Appellation: Côtes de Provence
Type: White
Vintage: 2015
Grape Varieties: Rolle (80%), Ugni blanc (20%)
Alcohol: 13.5%
Average Retail Price: €12.00
As I mentioned in my post last month, I was in Paris for Christmas and bought a couple of Provence wines for the dinners I was making in our apartment. Both wines were completely unknown to me; I chose based on the regions, labels, and the price point. Of the two whites available, I chose the one from Domaine de la Pallière; the other white sold for €3.00 bottle and, while it might have been perfectly good, it was Christmas and I wanted something a bit more special.
Domaine de la Grande Pallière, located in the village of Correns (just southwest of Cotignac), offers three organic wines: a red, a rosé, and a white. It is owned and managed by brothers Jean-Pierre and Bruno Guibergia. They were on the cutting edge of Bio wine production in Provence. I was chatting the other day with Jeany Cronk of Mirabeau Wine and board member of Wines of Provence, and she mentioned that Provence, by value, is the largest Bio production region in France. No surprise that we are getting wonderful organic wines from the region when so many vintners are on board. Bravo to the Guibergia family for getting in on the ground floor.
This wine ended up being an excellent choice, both in its own right, and also for the pairing. Good accidents will happen, right? I paired it with the most beautiful St. Jacques I have seen – sold in their shell and with their tangerine-colored roe attached. I seared them and served them on a bed of creamy leeks. If you would like the recipe, please visit Cocoa & Lavender.
The nose is delightful – citrus, jasmine and clove. It is very pale golden in color, the paleness belying its full mouth feel and robust flavor. The citrus notes in the mouth – lemon and grapefruit – went perfectly with the St. Jacques on their creamy bed of leeks flavored with curry and clementine zest. The wine has a nice balance of acidity and great mineral mouth feel. I like this wine a lot, and am really enjoying getting to know wines that are 100% or predominantly Rolle (aka Vermentino).
Needless to say, this is a perfect wine for fish and seafood, and it pairs well with spiced foods, as proven with the curry. Considering the region, I think it would do well with any of the local Provençal dishes.