TASTING AGED ROSÉS WITH MATTHIEU NÉGREL OF MAS DE CADENET
by Susan Manfull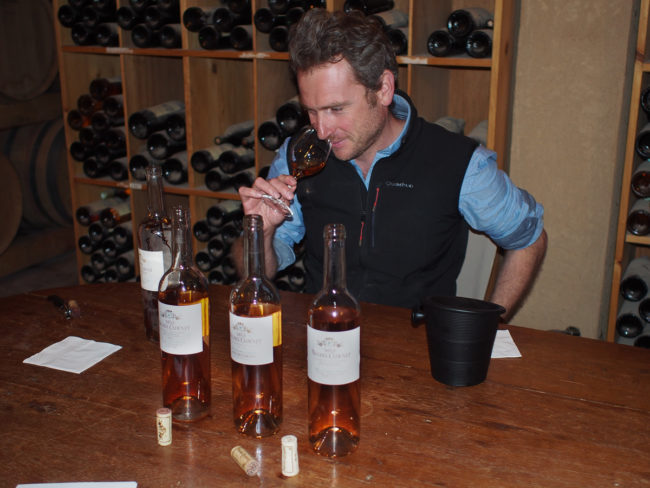 I'm a relatively new convert to the benefits of aging rosé. Readers can easily find evidence in my earlier writing (see archives) of yours truly snickering at the thought of drinking rosés from the previous year's vintage. With few exceptions—rosés from appellations such as Bandol, Palette, and Tavel come to mind—I was, for a long time, under the mistaken assumption that anything other than the current vintage was a candidate for vinegar. While that was generally an accurate assessment (aforementioned exceptions noted) up until, say 15 years ago, and still is true for many of today's rosés, the rosé category is changing, in Provence at least. To be sure, there is unpalatable rosé that, if I can help it, will never cross my lips, even if just bottled; however, today, not only do I find myself drinking rosé long after Labor Day and at haute cuisine tables, I am laying it down to age.
Last summer, my husband and I were the sole guests at an extraordinary vertical tasting of four Mas Negrel Cadenet rosés with Matthieu Négrel, co-proprietor with sister Maude Négrel, of Mas de Cadenet in Trets, just east of Aix-en-Provence. We tasted many other lovely wines that morning, but the aforementioned rosés took center stage. Mas Negrel Cadenet is the cuvée developed about 30 years ago by their father Guy Négrel with the specific goal of being ageable and a convivial partner for food. Called "rosé gastronomique" today, I assure the reader that the rosés we tasted—from 2015, 2014, 2013, and 2002—lived up to this label.
As I prepared to write this article and I listened to the recording of our tasting—filled with ooohs and ahhs preceded by long silences—I was instantly reminded of what a truly remarkable experience we had that warm summer morning at the foot of Mont Saint-Victoire.
Before the Mas de Cadenet tasting, I had only sampled a few aged rosés: notably Château d'Esclans Garrus rosé going back three years from the current vintage at the time and Château Barbeyrolles' Pétale de Rose rosé going back two years from the current vintage at the time. These tastings demonstrated to me the depth and range of possibilities inherent in a bottle of well-made rosé that has aged for even just a couple of years. Such bottles can completely transcend the banal adjectives of "refreshing," "thirst-quenching," and certainly the belittling "quaffable."
It is important to note that until about 15 years ago, nearly all rosés were made to be drunk within the year they were released; so when I started drinking Provence rosé, it was a safe bet to stick to the current vintage. Only within the last decade or so have more than the handful of rosés mentioned above been crafted well enough to last beyond the year in which they were released, let alone the 13 years.
Prior to that time, "[W]ith few exceptions like [the Domaines of] Tempiers and Ott, rosé-making was not very serious," according to Paul Chevalier, National Fine Wine Director of Shaw-Ross International Importers, and importer of Château d'Esclans rosé wines.
"Most rosés were a byproduct of red wine making," added Chevalier. Back then, winemakers produced rosé as a way to bring in some extra money while waiting for the red wine to be ready for market.
Rosé consumers, until recently, wanted an uncomplicated, fresh, lively, and fruity wine to imbibe by the pool on the sweltering days of summer in Provence (and nothing more). So a wine made relatively quickly with very little contact with the skins of red grapes or with oak barrels—that is, a young wine with minimal tannins—worked perfectly for both parties. It was not a wine meant to age or made to age.
Today, more and more consumers are embracing the idea that there is room in the rosé category for other styles of rosé. For example, more rosés that are made with premium grapes from older vines, using more sophisticated harvesting machines (if not hand-harvested) and automatic sorting machines, and vinified using greater temperature and oxidation control, gravity-fed production technology, more modern stainless steel tanks, and other methods heretofore typically reserved for red and white winemaking such as malolactic fermentation and barrel aging, to mention just some of the approaches that have been adopted. The upshot is rosé with greater structure and complexity, otherwise known to the French as rosé gastronomique. They are wines you can take to a linen-covered table and to the cellar.
Reflecting these advances in rosé production, in 2013, the Vins de Provence annual tasting competition, organized by the Conseil Interprofessionnel des Vins de Provence (CIVP), added a category entitled "Les Rosés de Garde." Officially called Concours des Vins de Provence (formerly Concours des Vins de Provence à Saint-Tropez), this competition is open to winemakers who produce wines designated as AOP Côtes de Provence, AOP Coteaux d'Aix-en-Provence, and AOP Coteaux Varois. Mas de Cadenet has taken home a gold medal for their Mas Negrel Cadenet rosé de garde for the past three years (sharing the award with Domaine Camaïssette Amadeus in 2014).
Having long been a fan of the rosés produced by Mas de Cadenet, I was curious. I was not aware that Mas Negrel Cadenet rosés would benefit from aging; actually, more germane, the thought had never occurred to me to consider how these rosés would age. So, when Matthieu proposed we include a rosé de garde tasting when we met this past summer, I was very intrigued.
We began that June tasting with Mas de Cadenet (2015) Arbaude rosé, a Côtes de Provence cuvée of equal parts Syrah, Grenache, and Cinsault from vines in predominantly clay soil. Its intense fruit, mainly red currant and grapefruit, make this light and lively rosé ideal for an apéritif. Its fresh finish encourages another sip. Very nice
The second rosé was Mas de Cadenet (2015) rosé, a blend of Grenache (50%), Cinsault (40%), and Syrah (10%), from Côtes de Provence Sainte Victoire. With vines as old as 15 to 30 years, they are deeply rooted in the predominantly limestone soil of Sainte-Victoire so it is not surprising a great deal of lovely minerality is expressed. In contrast to the fruit forward flavors of the Arbaude rosé, the fruits of this more complex wine are more delicately expressed. There is an easy flow from the nose to the long, very pleasant finish. I loved the creamy mouth and refreshing nature. Perfect solo or paired with food.
We were looking for the fruit in the young wines I just described. Fruitiness is part of the "rosé profile," Négrel explained. Not so with a rosé de garde.
"You don't drink a rosé de garde as you would a young rosé," Négrel continued. "This is part of what is seducing…When you are drinking an old red wine, you are not looking for young black currants," Negrel said, chuckling a little.
So, what are we looking for in a rosé de garde? A rosé de garde should still be fresh, Négrel said, but the freshness is not based on the fruit. The wine will evolve into a "larger, deeper" wine. In sum, and a little facetiously, he said, "A rosé de garde improves with age."
As I wrote above, it was Mathieu's father Guy Négrel who developed this cuvée about 30 years ago. Matthieu said that his father wanted to show that rosé could be more than an appetizer wine, that it could be a food pairing wine. According to Matthieu, his father said, "I want to make a grand vin because I am passionate with what I am doing and want to make a real wine." Matthieu and his father are part of a long line of Négrels—seventh and sixth generation, respectively—who have made wine on this property. Mas de Cadenet celebrated its 200th anniversary in 2010.
Guy Négrel is one of the visionaries in the world of Provence rosé. He is one of a handful of winemakers who thought way beyond the confines of making some quick cash by 'bleeding" off some pink wine from the macerating red wine. When Guy asked himself what would make grand rosé, Matthieu said that he knew that aging potential was key. He turned toward the best white wines in France for inspiration and it was from Burgundy that he adapted the vinification process for making a gastronomic rosé.
Probably the biggest challenge in making a rosé de garde is the minimal tannins inherent in a wine that is supposed to be first and foremost, fresh. Provence rosé, in particular, is renowned for its pale color which is achieved by the littlest amount of time that the skins (and seeds and stems) of the grapes are in contact with the juice. Since a major source of tannins lies in the skins, seeds, and stems of the grape, rosé by its very nature has minimal tannins to help it age. Aging in oak will add some age-friendly tannins but most rosés don't see the inside of a barrel.
Certain grapes are more ageable. Mouvèdre, the main grape in Bandol (one of the appellations known for its age-worthy rosé) is highly ageable (but Mathieu told me that it is not a good match in Sainte-Victoire). Syrah and Grenache (in that order), two of the primary grapes in Mas de Cadenet rosés, also lend themselves to successful aging. Interestingly, Cinsault, the third grape often used in this estate's rosés, does not age well in barrels. Other important factors in determining the ageability of one's rosé, according to Négrel, relate to sufficient acidity (very important), sufficient body and structure, and the capacity not to oxidize too quickly.
"The older the vines, the more richness, texture, and body the wine will have so we select the oldest vines on the property to achieve [a high level] of intensity, body, and structure," Negrel said. "This is especially important because we are going to boost the potential of the wine with specific fermentation in barrels."
"You need a strict quality of grapes to have the potential to answer to the barrels and not be dominated. The objective is not to hide the wine but to find a good balance," Négrel further explained.
To that end, French oak barrels of different ages (new to 5 years old) and size are used for the fermentation each of the grape varieties. For Grenache, a more oxidative grape, a larger barrel is used, allowing less air contact. For Syrah, younger and smaller barrels are used as this grape can handle the additional tannins and air. Aging is about 8 months in the oak barrels with lees stirring.
Mas Negrel Cadenet rosés are a blend of Grenache (70%) and Syrah (30%) from the oldest vines on the property. The yield is about 35 hl/ha. Although Cinsault is generally used in Mas de Cadenet's rosés (for lightness and freshness), it is not used in this cuvée.
We began our tasting with the 2015 vintage of Mas Negrel Cadenet, not yet released (so there was no date on the label). This rosé has an incredibly alluring nose; very fragrant whiffs of grapefruit and peach filled the air. Lots of body and a wonderful sense of freshness with notes of spiciness filled my mouth. Great complexity.
"This is fabulous," my husband said, "I love this wine." And I wholeheartedly agreed.
The 2014 vintage, currently on sale, was our second wine. Overall, we noted greater smoothness, depth, density, and harmony. The nose seemed even more intense with notes of blood orange, currants, and more mature fruits flavored with nutmeg and cinnamon. Structure clearly apparent but more mellow. The mouth is round and creamy. What a difference a year makes! One of the qualities to look for in a rosé de garde is how well its various parts have integrated; in this 2014, this process had clearly started.
"You will not have the fruitiness of young wine [nor the] refreshing acidity but you will have a more voluminous and established wine," Negrel pointed out. "One is not better than the other, it is a question of profile…everybody can do a crispy, fruity wine but wine that will improve with time cannot be done with any kind of grape."
Digging deeper into the cellar, we proceeded to a 2013 Mas Negrel Cadenet rosé, the one that was awarded gold in the Vins de Provence annual tasting competition that took place in March 2016 . Initially, this wine did not speak to me as much as the 2014 but, in the end, it would turn out to be the most interesting. At first blush, there was a lot of freshness and a powerful structure but less volume. My notes remind me that I noted a floral nose, quince jelly on the palate, and a long finish. Very nice but, overall, initially, it seemed to have much less going on and was less smooth than the 2014. Negrel told us that 2013 was a tough vintage and that it might not have the same potential as 2014 but that a little more aging, perhaps two years, might lead to more mellowness, balance, and integration.
The last bottle was a bit dusty which was not surprising when we saw the 2002 on the label. The nose was completely different than the first three; other than whiffs of quince which we noted in the earlier bottles, we detected melon, crème brulée, and even caramelized pear. Négrel detected some vanilla, not due to the wood, he said, but more like cassonade (brown sugar). The descriptives were flying as we were sipping. On the palate, the freshness retained was remarkable. We noted melon, cooked peach, and even caramelized pear. It was fascinating to experience the rich, smooth texture and mature fruit flavor as well as a distinct freshness.
The subject of what to serve with this wine was lengthy. We settled on Négrel's suggestion of serrano ham although perhaps roasted chicken with prunes, or turkey or salmon might work well, too. As we discussed food, we looped back to the earlier rosés.
I was absolutely bowled over by the changes that occurred in the 2013. Within 30 minutes, the 2013 had gone from a pretty wallflower to a prima ballerina executing perfectly formed pirouettes. I never expected such a metamorphosis in a rosé.
"What is fantastic is to see that the wine is alive. It is opening, waiting…the volume is not there yet…and then, thirty minutes after, boom! It is ready now, fully expressed!" Négrel said, clearly as excited as I was.
"What is great with all wine is the evolution—that is really what is most interesting—and that is the pleasure we have with old rosé," Négrel said.
I was a total convert at the end of this tasting, as was my husband. We spent the drive to lunch discussing how to convince others the value of laying down a rosé. Given that many people still do not consider rosé to be a "real" wine, getting them to age their rosé is a challenge. "When they try it, they understand but they are reluctant to try it," Négrel told us. Perhaps they will try it by accident.
The subject of rosé de garde came up in an interview a few weeks later with Tom Bove As the former owner of Miraval and current owner of several Provence estates including Château La Mascaronne, Château Bomont de Cormeil, Château Mira Luna, and Domaine le Bernarde, Bove has tasted a lot of rosé. However, it wasn't until very recently that he had tasted an older vintage of his own rosé.
Bove shared a story about being at a dinner party with about 12 other people somewhere along the Cote d'Azur just a month earlier. The host offered champagne or rosé and the guests opted for rosé so he went down to the cave and surfaced with a magnum of Château La Mascaronne Quat 'Saisons from 2011. Bove said it was left over from the hosts' wedding.
"I said I really wish you would get some new rosé and he says 'no, no, this is really good,'" Bove laughed. "So, I took some and it was bloody good!"
"This is what's going to happen," Bove exclaimed. "People are going to forget it in their cellars and the good ones are going to be good."
Check your cellar. Perhaps there's an old bottle tucked away. If you are lucky enough to find one, don't serve it too cold. Négrel recommended 12° C (about 54° F). If it's too cold, you will miss the fine characteristics of your rosé de garde. And you don't want to do that!