Provençal Pairings: Wine with Food

I'm No Fool!
by David Scott Allen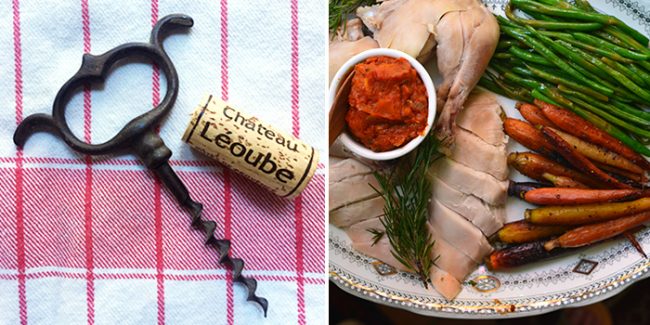 Winery: Château Léoube
Cuvée: Rosé de Léoube
Appellation: Côtes de Provence
Type: Rosé
Vintage: 2015
Grape Varieties: Grenache 40%, Cinsault 40%, Syrah 10%, Mourvèdre 10%
Alcohol: 12.5%
Average Retail Price: U.S. $21.00, FR €16.50
When I saw a bottle of Château Léoube's "Rosé de Léoube" on sale, I bought it. I'm no fool. Yes, it's a little more expensive than our usual wine purchases, but I have heard from many people how good it is, and I wanted to know firsthand. Let me start by saying that I wish I had bought out their inventory! (So maybe I was a fool after all…?)
The first thing I did after getting the bottle was send a quick note to my Instagram friend Jérôme Pernot – a.k.a. Mr. Léoube – and asked him what he recommended serving with his wine. His suggestion? Roasted chicken.
It always amazes me how things come together – as if the Universe really does have our fates in mind. You see, I had been planning to make a very unique roasted chicken for a future post and, without any effort on my part, I now had the perfect wine pairing all set. Kismet. The recipe is for a salt-crusted roast chicken – a very simple and flavorful preparation. You can get the recipe over at Cocoa & Lavender.
The color of the Rosé de Léoube is a pale and delicate pink – it looks simply refreshing. I removed the bottle from the refrigerator about 20 minutes before serving, and was glad I did. I think serving it at about 60°F (16°C) brings out the aromas and flavors of this elegant wine. Whiffs of grapefruit and jasmine on the nose made for a tantalizing bouquet and, on the palate, I tasted dried apricot and a touch of banana. With food, the complexities of the wine were evident, and the mineral mouth feel was quite pleasant.
The thing I liked most about the pairing was the flexibility of this wine. With the roasted chicken, I served a tomato, caper, and shallot sauce, along with sautéed lemony haricots verts and carrots braised with a touch of Madeira. Each component of the meal went so well with the wine, bringing out different dimensions of the rosé with each new flavor.
To say that I liked this wine is an understatement. It is up there with my favorites. According to the Château Léoube website, head winemaker Romain Ott is "adamant" that this is a year-round wine – not just for summer. I am in complete agreement and, as I said, I wish I had purchased every bottle on the shelf!