Provençal Pairings: Wine with Food

A Comfortable Pour
by David Scott Allen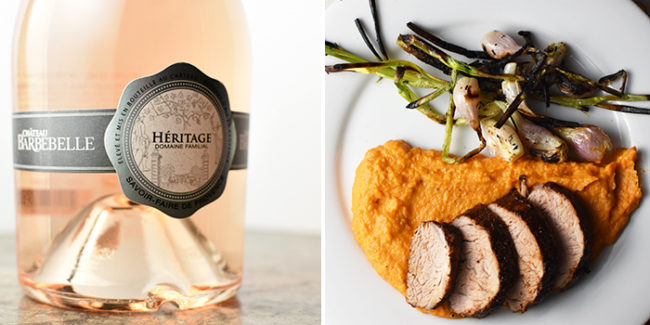 Winery: Château Barbebelle
Cuvée: Héritage
Appellation: Coteaux d'Aix en Provence
Type: Rosé
Vintage: 2018
Grape Varieties: 40% Grenache, 40% Syrah, 20% Cabernet Sauvignon
Alcohol: 13.5%
Average Retail Price: U.S. $25-$30
I live in the deep Southwest of the United States. Just minutes from the Mexican border, we are so fortunate enjoy the cultural and culinary celebrations of our beloved neighbors. For those of you who see the news that this is the Wild, Wild West, rife with vigilantes and gun-toting grannies, think again. Sometimes, the wildest thing we do is add chipotle chile to our mashed potatoes! Tucson is a welcoming city with amazing cross-cultural celebrations.
Like today's food and wine pairing… we have a beautiful, blushing bottle from Château Barbebelle – their Héritage Rosé, 2018. The Château recommends this wine for l'apéro, or to accompany your dinner – perhaps beef carpaccio, ceviche, or pork tenderloin. From that, you can see that the wine is versatile, but I wanted to push the limits a bit.
I opted to celebrate our flavors of the Southwest and México, and serve our guests a chile, chocolate, and cinnamon-rubbed pork tenderloin with chipotle-mashed sweet potatoes and grilled spring onions. For the recipes, head over to Cocoa & Lavender.
It's always fun to have wine- and food-loving guests to the table, and that evening was no exception. Neighbors Ursula and Bob joined us, and were game to participate in the wine and food pairing of the month. They had seen the pork recipe on my blog (it originally posted in 2012) and Ursula was keen to try it; Bob a little less than keen. (Chocolate, chiles and cinnamon on pork?) I let them know we'd be enjoying a special Rosé with the meal; like a shiny object, all attention shifted from the unusual pork to the wine.
The color of the Barbebelle Héritage Rosé is light and clear. It brings to mind a peach chiffon pie that I dream of creating. (I hope that my pie will end up this color!)
The nose is fruity and floral – kiwi, banana, and azalea. Let's discuss the azalea. It's not your usual reference. I think it was Bob who said "floral" – and we all agreed – but then which flower? Not jasmine. Not honeysuckle, but that was getting closer. And that is what made me think azalea. Lightly sweet, and a little green. Have you ever tasted azalea nectar? It's one of the joys from growing up in southeastern Pennsylvania surrounded by the bushes. Pluck a blossom, then pull the pistil through the narrow end of the trumpet; a small, miraculous bead of azalea nectar will appear. Pop it onto your tongue for a special treat. Exquisite… at least in the memory of this 10-year old boy.
Our tasting notes indicated white peach and fraises des bois. Ursula (or was it Bob?) said it best when she (he?) said, "It's a comfortable wine." It's clean, fresh, and bright. And we all said it was silky on the palate, not velvety.
It was perfect to pair with the pork – strong enough to hold up to the chiles and cinnamon, and smooth enough to manage the chocolate. And it also paired well with the side dish of chipotle-laced mashed sweet potatoes. We all loved it.
As we enter what many consider "rosé season," this is a good one to find and try.