Provençal Pairings: Wine with Food

Baby, It's Cold Outside
by David Scott Allen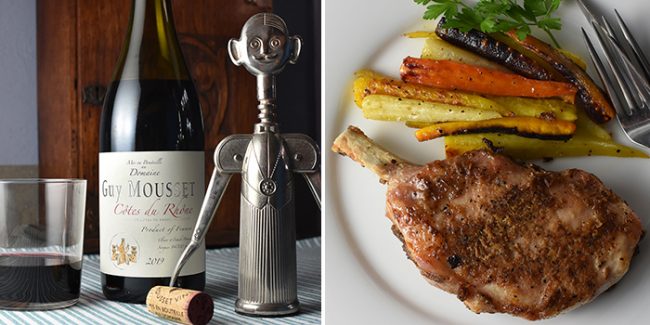 Winery: Domaine Guy Mousset
Appellation: Côtes-du-Rhône
Type: Red
Vintage: 2019
Grape Varieties: 80% Grenache, 20% Syrah
Alcohol: 14.5%
Average Retail Price: U.S. $15
As you know from Susan's recent articles ("A Perfect Storm Hits the Southern Rhône Valley" and "Fear and Angst in the Vines in Provence"), the South of France — and the entire country of France — was really hit hard by recent frosts. In these two regions, one night of sub-freezing temperatures severely affected the vines, which will affect this year's harvest. Today, to show support of vintners from the Southern Rhône Valley, I am pairing my meal with a Côtes du Rhône from Domaine Guy Mousset.
Considering the high percentage of Grenache in this particular wine, I opted to go for a bit of sweet spice with my food pairing. I find that cumin goes really well with Grenache and, as I have been playing with a recipe for Cumin-Roasted Pork Chops, I decide to put them to the test. For the recipe, please visit Cocoa & Lavender.
The wine has a deep ruby color, and earthy aromas of leather and moss with lots of black cherry, blackberry, and grapefruit. The grapefruit surprised me a bit, as I don't recall encountering that with a red wine before. I found the palate to mirror the nose — with the addition of some nice peppery notes. When first opened, it was a bit rough but, within an hour or so, it mellowed nicely. The wine is very drinkable now, but I think would benefit from some time in the cellar.
Overall this pairing was good — but I wouldn't say great. While cumin is, to me, a sweet spice, there is a hefty dose of it in the recipe and it may have longed for a bit more of the Syrah. A "good" pairing is fine with me — not every pairing can be perfect. After all, this is how we learn how to pair food with wine.
I liked the wine very much — it was much more complex than I expected, and I think a simpler preparation of the pork on my part would have brought out a bit more of the flavors in the wine. And what is nice about this wine is that it is readily available here in the U.S.. I definitely recommend the wine.
In addition to this wine, I recommend finding some other good Rhône wines and doing your part to support our friends in the Southern Rhône Valley.