"A PERFECT STORM" HITS THE SOUTHERN RHÔNE VALLEY VINEYARDS
by Susan Manfull and W.T. Manfull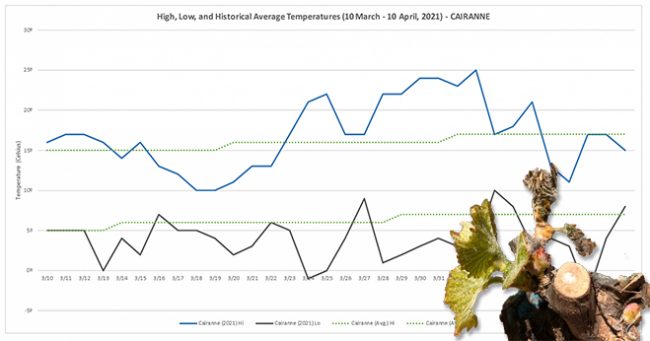 The French language is usually where we turn for precise (and typically ingenious) expressions to describe almost any situation. In the case of the historic April frosts that severely impacted vineyards from Champagne to Provence, the French might borrow one from the English language. A perfect storm.
Defined as an unusual convergence of events or circumstances that, together, leads to a particularly bad or catastrophic situation, "a perfect storm" is the most fitting descriptive that can be used in polite company. Most readers will recall the phrase from a 1997 non-fiction book with the same title, written by Sebastian Junger, about a tragedy met by the crew of a fishing boat from Gloucester, Massachusetts in October 1991. The best-selling book was turned into a popular movie, and the phrase was quickly adopted into our lexicon.
It does not translate well in French. The direct translation, "une tempête parfait," according to French friends, simply does not resonate in the same way that "a perfect storm" does in English. When the movie opened in France, the title chosen was "En Pleine Tempête," meaning "at the height of a storm," clearly not applicable for the April 7-8 frosts that befell vineyards across the country, and will be recorded as historic, long past the height of this frost.
"Une conjunction d'événements naturels" is close – merci mes amis, Pierre et Valérie — but does not capture the immense severity of the frosts. According to France's largest agricultural union, Fédération Nationale des Syndicats d'Exploitants Agricoles, damages are estimated to total around €2 billion.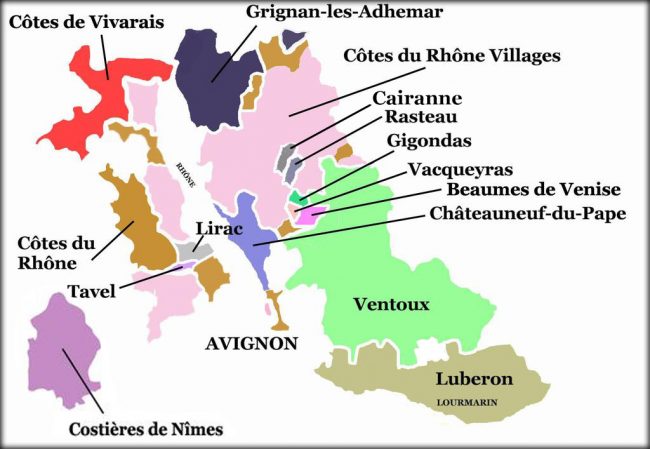 If ever a situation was an unusual confluence of circumstances that, together, led to a catastrophic situation, this is it, especially in the Rhône Valley. In that region, it was the perfect storm: 1) temperatures had been unseasonably warm which hastened the growing cycle; 2) the mercury suddenly plummeted to sub-zero temperatures; 3) the mistral, which (paradoxically) mitigates the damage of a spring frost, reportedly stopped blowing; 4) the south of France is not equipped to deal with such frigid temperatures; and 5) early-budding Grenache, a grape variety integral to Southern Rhône wines, was devastated.
According to Serge Zaka, PhD in agroclimatology, the early April frost was indeed unprecedented. In a recent telephone conversation, he said that based on records as early as 1947 (when such weather events were first recorded), 2021 was the worst.
"Why?" he asks. "Because," he said," The Rhône Valley was hit." Zaka went on to say that a notorious storm in 1991 had been considered the worst in France, but the Rhône Valley and Provence were spared. Typically, those two regions have the benefit of the mistral which can attenuate the temperature by one or two degrees.
According to Zaka, in the Rhône, during a two- to three-hour period, the wind dropped and that was when the frost really set in. Apparently, a great deal of damage can occur in just a few hours. This observation was echoed by others with whom we spoke in the last two weeks.

Even before the frost wreaked its havoc in the vineyards, there were concerns expressed about the unseasonably warm temperatures and, interestingly, about the importance of the mistral sticking around to protect the vines from any rogue frosts.
Jean-René de Fleurieu, owner of Château de Montfrin, located at the intersection of the Southern Rhône Valley, the Languedoc, and Provence, wrote on his Instagram account on April 6th, what turned out to be a prescient post. Loosely translated from French, it reads: "The weather of irises, [and] yet the swallows are not here, and it's worrying. We hope the mistral will hold; paradoxically, it is a cold wind that protects from frost…. Think of viticulturists and arboriculturists who can see the work of one year annihilated in a single hour: heroic viticulture…."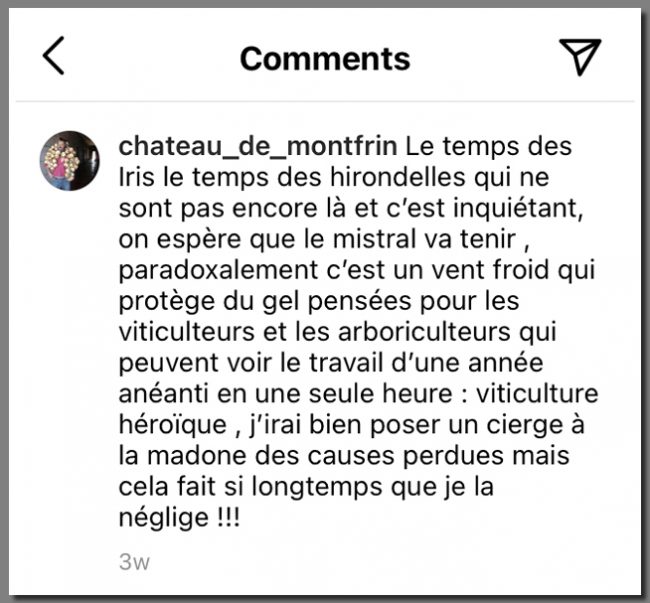 I've not had the pleasure of meeting Jean-René de Fleurieu, but I have met his daughter, Aurore de Fleurieu, who is the Sales Manager of the family property. My husband and I had previously discovered "à la reverie," a very pleasing Côtes du Rhône red wine from Château Montfrin so, while attending Wine Paris in 2020, we wanted to meet the producer and learn more about their portfolio. We thoroughly enjoyed other wines (all organic) from his portfolio (in all three colors) under Côtes du Rhône, Costières de Nîmes, Coteaux du Pont du Gard (IGP), and Vin de France.

Knowing that Château Montfrin had sustained some frost damage, a year ago in the March 2020 frigid spell, just a month after we met, I called Aurore, again, after this year's April 7-8 frost, and she responded:
Thank you for your call. Somehow history is repeating itself, unfortunately even worst this year…On the plateau behind the cellar, we've lost about 60/70% on 35 hectares, the weather is still very cold.
Apparently, the swallows knew something was amiss, but the irises and vines had already taken their cues from the earlier (unseasonably) warm weather.
Aurore de Fleurieu included a general evaluation from their oenologist, dated 12 April, four days after the frost. Prefaced with the reminder that it was still too early to assess the real impact of the frost, an excerpt from the report, loosely translated from French, reads:
The losses suffered during this episode are immense. The buds that will restart will bear fewer clusters, if any. However, those young shoots that will emerge in the days and weeks to come will be vines to prune for next year; it will therefore still be necessary to take great care of them.
He also noted that Grenache seems to have suffered the most.
According to Philippe Pellaton, President of Inter-Rhône, the professional association of wine-growers and wine merchants in the Rhône Valley, in a press release dated 8 April 2021,
The frosts spared no one and all the AOCs of the Rhône Valley are affected without exception. Negative temperatures were recorded throughout the territory: from -2֯ to -5֯ C degrees on average over the vast majority of the vineyards and down to -9֯ C degrees in the vineyards of Diois and Ventoux.
We spoke with winemakers, estate owners, and other people in the wine business across the Southern Rhône Valley. As revealed in the interviews presented below, all but one estate reported some damage due to the April 7-8 frost, in a few cases, quite severe damage. Of those whose properties sustained some damage, there was some amount of incredulity voiced but, also a healthy dose of resignation – expressed with various words — that "weather" comes with the territory of winemaking.
LUBERON

In the Luberon, the southernmost appellation of the Rhône Valley that borders the Coteaux d'Aix appellation of the Provence Wine Region, we spoke with three vignerons.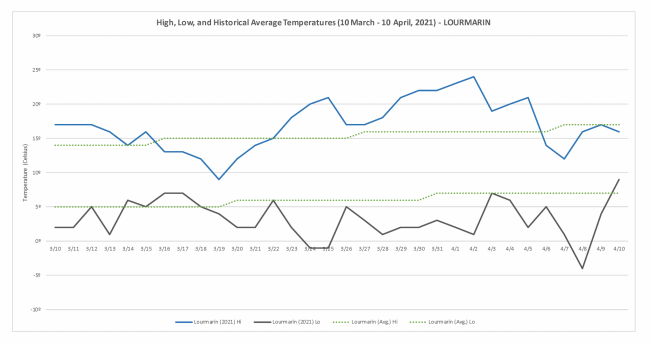 Julien Besson, winemaker for Domaine de la Cavalière, in Lourmarin, told me that he went to sleep with his fingers crossed on Wednesday, April 7th. It was cold and he had just spoken to the gardener at the estate who told him that "the wind had stopped, and the fog was coming in."
"I said – everyone said – no, not in the south. Impossible, here," Besson told me.
But, the next day, Besson said that the leaves that had been vibrant green on the old vine Grenache Blanc were totally brown."
At Domaine de la Cavalière, Besson said that it appears that there was some 40% to 45% overall loss. While some vines were completely unaffected, 80% of the old vine Grenache Blanc; 70% of the old vine Grenache Noir; and 1% of the young Grenache Blanc.
Moisture, he said, seemed to be the differentiating factor. The frost damage was most severe near sources of water (e.g., where the fig and almond trees grow), near the forest areas, or where greenery grew between the rows of vines (normally, an effective strategy to combat the dry summers of Provence).
"This is nature. Sometimes it is beautiful. Sometimes it is terrible…and dramatic," Besson reflected.
Drawing on his earlier profession as a personal chef, Besson said, "When we make wine, we must know new recipes." As a Vin de France wine producer, he said he can easily change the blend. "Maybe, the frost cuvée!" he laughed. He will regroup in June, he explained, and decide if he will keep some wine in barrels or amphorae a little longer, change the cépage of some wines, add or drop a cuvée.
"It will be a good experience for me…it will be interesting," he said, rather philosophically. "We can come back and we fight again."
Not far from Domaine de la Cavalière, on the Route de Lourmarin en route to Cucuron, lies the Domaine La Cavale, the very modern, large and luxurious wine center. Thierry Mueth, Directeur Général, said that La Cavale escaped any kind of impact. Mueth seemed to be as relieved as he was perplexed but, certainly welcomed the good news.
Heading north from Lourmarin, on the Route de Bonnieux en route to Apt, sits Château de Mille, the oldest wine estate in the Luberon. It was also a summer residence of the Avignon Popes, dating back to the early 13th century. A little over two years ago, it was purchased by Constance and Lawrence Slaughter who were busy renovating the Château and converting to organic viticulture when COVID-19 struck and now, a severe frost in the vineyard. I spoke with Constance who acknowledged that with temperatures dipping to -7֯ C, the vines had been impacted but that it was not yet possible to assess the damage. They had had "a little bud break" but, as others have reported, it is difficult to fully evaluate what is inside. The Grenache had been affected the most.
"I've been walking between the vines, talking to them, thanking them, encouraging them," Constance said. I thought of other vignerons I have interviewed who speak of their vines as their children. Clearly, it is not uncommon to cultivate such a relationship with the plants you nurture all year long, waiting for fruition. "The whole process is magical," Constance added.
I asked Constance how she and her husband, who became new owners of a vineyard during such a challenging time, were doing. (I refrained from asking how well they were coping.) Constance mentioned several times how fortunate they are to have a great team that has worked diligently toward realizing the Slaughters' goals in the Château, the winery, the garden and, of course, the vineyard.
"It was an act of God…. What can you do?" Constance reflected. "It comes with the territory."
VENTOUX
Further north and to the west, adjacent to the Luberon, is the appellation of Ventoux. In the shadow of Mount Ventoux and surrounded by forest is Château Unang, owned by Joanna and James King. I first became acquainted with Château Unang by sipping their white wine – especially Adeline 2018 — at Wine Paris in 2019.
"It is very unusual to have a frost so late," Joanna told me in a recent telephone conversation. "We were very lucky." A major wildfire began on April 7th in nearby Monieux, just 30 kilometers away from Château Unang in Malemort-du-Comtat, and Joanna wondered if the heat and smoke might have mitigated the effects of the frost.
Two parcels were severely touched, she said. Echoing the words of other vignerons, she said that the Grenache appear to have borne the brunt of the damage, as 90% had buds out.
"Yes, for sure the cuvées will be affected," Joanna said. "We will produce a lot less rosé or make it with Syrah and Cinsault."
"The weather, the weather, the weather," Joanna sighed. "Our wines have such nice acidity," she added and, of course, thinking about their lovely white wines, I immediately agreed. "With that, comes the danger of frost."
CHÂTEAUNEUF-DU-PAPE
Due west in the renowned Châteauneuf-du-Pape appellation, the frost hit hard. We checked in with Amélie Barrot, co-owner of Vignobles Mousset-Barrot, the company that holds Château Fines Roches and Château du Jas de Bressy in Châteauneuf-du-Pape and Château du Bois de la Garde in Côtes du Rhône.
"There is a lot of damage in the Châteauneuf-du-Pape parcels," Barrot began. "There are 15 hectares that were badly hit with up to 80% damage."
"In Côtes du Rhône, 10 hectares of the Bois de la Garde were affected, and we are not sure of the extent," Barrot continued. "Grenache took the biggest hit…. [that variety] is very sensitive to the cold."
Barrot, who seemed quite shaken, by the effects of the severe frost, said that they have had problems in past years, but only in the exposed areas (where budding would occur earlier). "But nothing like this," she quickly added.
Like other people in the wine business, Barrot expressed her concerns about the future, wondering if this weather pattern will continue to be a problem.
TAVEL
Due west, on the other side of the Rhône River from Châteauneuf-du-Pape, lies Tavel, the only appellation devoted entirely to rosé. We spoke with Gäel Petit, vigneron in Tavel and past president of the Syndicat Viticole de l'Appellation Tavel, who voiced his sincere sympathy and support for fellow winemakers in France but said, "Personally, I wasn't touched at all, and Tavel, in general, was not affected."
Echoing Petit, Sandra Gay-Moulines, Director of the Syndicat Viticole de l'Appellation Tavel, concurred that, in Tavel, there was very little damage. "Around 20% of the area has been impacted," she wrote. "Only the south of the appellation has been touched."
When asked why only the southern parts were affected, Gay-Moulines explained that those parts "are situated on the lowest parts of the appellation and the frost usually sets in this place. Furthermore, this area is a more humid environment and [that exacerbates the impact of] the frost. The soils are located in the former Rhône river area, which explains the wet climate."
CAIRANNE
Northwest of the Tavel and Châteauneuf-du-Pape appellations is the tiny appellation of Cairanne.
"Beaucoup de problèmes," was Denis Alary's first response to the question of how Domaine Alary fared in the April 6-7 frost. "This frost behaved differently than any other frosts in years past."
The Alary family has been farming this land – including grape vines – since 1692. While Alary could not say for sure whether such a severe frost had impacted the crops back then, he could say unequivocally that "There hasn't been anything like this in 80 years."
"I am almost 60 years old, and I have never seen this," Alary said, adding that he is sure his late father never experienced anything like this either.
"Everything that was in the plain was wiped out," Alary reported. "Mostly Grenache… the Clairette was not touched."
Alary said that they set up fires (burning wood) in the vines but that the temperature dropped too low. "If it were one or two degree less cold, it would have made a difference," he said, adding that the full extent of the damage will not be known for a few more weeks.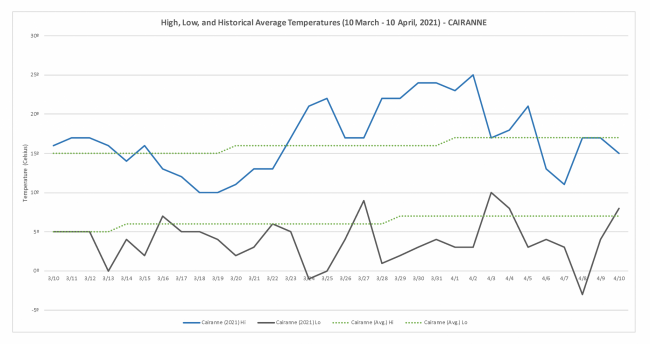 Alary brought up the protective nature of the mistral, explaining that the wind can raise the ambient temperature one to two degrees. He explained that the mistral stopped between 2:00 and 3:00 in the morning and between 5:00 and 8:00 in the morning, the temperature dropped to -4֯ to -5֯ C.
Like others interviewed, Alary said that they will try to do the usual cuvées but the cépage may be different and volume will surely be down.
Alary reported they will do some things differently in the vineyard in the future. "I remember my dad, pruning later and leaving longer stalks," he said, wondering if people have forgotten older viticultural techniques. "Maybe, we will also rethink where we plant new vines."
Such changes require a reorganization of labor, Alary pointed out. Besson also raised this issue. With a large property, fruit trees, and animals, the logistics are challenging they both stated.
Pascal de Poyen Bellisle, founder of Grenache Valley Excellence, an agency representing primarily young wine producers with small, organic vineyards, confirmed that smaller producers do, in general, have more flexibility. For example, those winemakers can much more easily choose to prune later than larger producers who must weigh many factors, including labor. The producers he represents have 15- to 20- hectare plots and have not reported any grave impacts (even though their vines are skewed toward Grenache).
Postscript
Zaka warns that France is still experiencing freezing conditions north of Paris. In his most recent tweet (27 April 2021), loosely translated from French, he reports, "This morning, with -0.3 C, Beauvais registered its 13th day of frost this month (a record for the month of April)." Beauvais is 75 kilometers north of Paris, on the same latitude as Reims, the (unofficial) capital of Champagne.
"People are talking about the frost, but they should also be talking about the extreme heat in the summer," Zaka cautions the winegrower and winemaker. He adds that the South of France will have to reconsider irrigation, grape varieties, and being better prepared for both extremes in temperature, including more closely monitoring the mistral.
"In twenty years, things in the vines will be quite different," Zaka warns. We got the distinct impression that he thinks his country is not heeding this message.