PROVENCE:  TOP FRENCH WINE REGION IN EXPORT MARKET GROWTH IN 2020
by Susan Manfull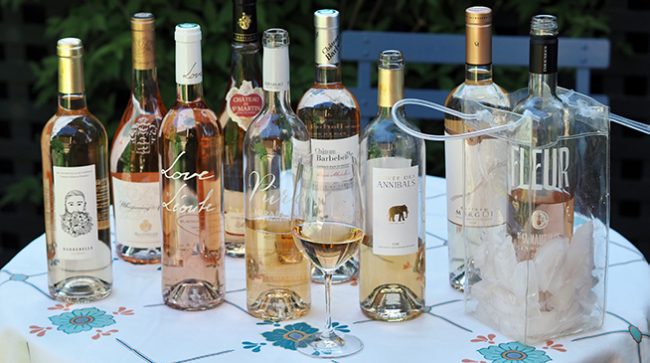 In a year marked by turbulence and an overall decrease in exports of French wine by as much as 5% in volume, Provence witnessed exports increase by nearly 6% in volume, making it the wine region posting the greatest growth abroad. By comparison, Burgundy posted 1.4% growth in the export market and the Loire Valley showed 1% growth.¹
In terms of value, Provence was the singular wine region in France to experience growth with a 1% increase.
Need I point out that this growth was driven by rosé, the wine that accounts for close to 90% of total wine production in this region? As much as I tout the exceptional whites and reds that can be found in all nine appellations in Provence, this region is renowned for its rosés – justifiably so – and has long been considered the global gold standard for rosé.
It was the major European markets that primarily led this growth: the United Kingdom, the Netherlands, Germany and Belgium. These markets, coupled with increased wine sales once pandemic restrictions began to be lifted in the summer and at the end of the year, made up for the depressed American market. The December 2020 export sales showed a remarkable 75% spike over December 2019.
The United States remains the number one export destination for Provence rosé, typically comprising 45% in volume of exports of Provence rosé. But the U.S. did not contribute to this growth in 2020, a year which, of course, is viewed in every industry as an anomaly due to the pandemic. Regarding the U.S. market, the French wine industry was already reeling from the 25% tariffs on still wines, whiskey, cheese, and olives (as well as aircraft) that the Trump administration imposed in October 2019 over Airbus-Boeing disputes.² Then, the COVID-19 pandemic surfaced, effectively shutting down the hospitality industry for a significant part of the year.
The large rosé producers with strong brand recognition did not experience the negative effects of the past year like the smaller, more boutique brands. As I pointed out in an earlier article, Paul Chevalier, Vice President, Château d'Esclans at Moët Hennessy, explained that Whispering Angel, the top selling Provence rosé in the US, actually grew 9% during this period. What Whispering Angel lost in the on-premise market in the US, it made up in the e-commerce sector (i.e., etailing).
During the shutdown around the world, the Conseil Interprofessionnel des Vins de Provence (CIVP), which is known as Wines of Provence in the U.S., was busy online, increasing awareness and educating trades people and consumers about its signature rosé: dry, crisp, aromatic and pale pink. (Echoing Master of Wine and international rosé expert Elizabeth Gabay's MW admonition, the color of Provence rosés is not always pale pink!) CIVP, founded in 2004 is the trade association that works on behalf of and promotes the wines of the three appellations that make up the organization: Côtes de Provence, Coteaux d'Aix-en-Provence, and Coteaux Varois en Provence. Over 647 wineries and trade companies comprise the association.
Terroir designations, also referred to as denominations géographiques, are areas within the Côtes de Provence appellation that have specific natural features, mesoclimates, and viticultural practices that warrant official recognition. Wine that is produced under these designations must follow more specific requirements such as using grapes from identified demarcated plots of vines, specific varieties, lower yields, and strict rules for production and assemblage.
An excellent example of this education was a Masterclass taught by Gabay in February 2021. Entitled "Rosé Any Way: A Look at Provence Diversity," Gabay, who is the author of Rosé: Understanding the Pink Revolution," took us through a tasting of 2020 rosés and a discussion of the five AOC terroir designations of Côtes de Provence.³
CIVP Director Brice Eymard, in a telephone call earlier this year, said that terroir designations will continue to be a focus in education and marketing of Provence rosé. In an appellation as large as Côtes de Provence, emphasizing more specific areas enables winemakers to best express the typicity of their terroir in their wines, and consumers to home in on what they like. Perhaps it is also a good strategy to combat other regions (and even countries) from labeling their wines "Provençal Style."
Meanwhile, problems in the shipping industry surfaced and continue to affect producers of every size. With a critical shortage of ships and containers, producers are faced with unprecedented wait times to have their pallets picked up and astronomical prices for containers. Further delays continue to plague state-side importers because ships must wait to get into port and then wait to have the containers unloaded. To make matters worse, as I reported in an earlier article, there is a shortage of truck drivers in the U.S.
In early April, the French wine industry suffered another blow to recovery when vineyards from Champagne to Provence were severely impacted by a significant frost. It has been widely reported that losses may total between 1.5 and 2 billion euros and about 15 million hectolitres (about 1.951 billion bottles) of wine. Provence may have sustained crop losses as great as 30%.
But, on the bright side, the 2020 vintage is gradually rolling out. The few that we have tasted are very fresh and aromatic, with lovely accents of minerality. The 2019 rosés remain an excellent alternative. And, CIVP online activity will continue this Thursday, May 27, 2021, with a webinar, co-hosted with Wine Enthusiast and entitled "Wines of Provence: The Rosé Leader Today, and Tomorrow?" A panel discussion that will include CIVP Director Eymard will follow the presentation. It is open to the trades and consumers. To read more and register, click HERE.
Gabay MW and her son Ben Bernheim have been busy — and keeping the mail carrier busy — up in Saint-Martin-Vésubie, just north of Nice. They tasted upwards of 1000 rosés and took notes on each one, all of which will be compiled and, along with maps and photos, will available in their publication, "The Buyer's Guide to Southern French Rosé," available June 1 on Pink.wine. This was an impressive undertaking!
Now, as the number of fully vaccinated people continues to rise and the number of COVID-19 cases begins to significantly fall, optimism is in the air — just in time for rosé season! Cafés and restaurants in France opened their doors last week and I'm told people rushed to fill the seats. I am confident that rosé was flowing in this country where 34% of the world's rosé was consumed in 2018. At least 30% of that rosé is typically consumed in Provence. Come July, I will be contributing to that region's consumption of rosé!
_________________
¹Based on figures provided by CIVP, May 2021
²These tariffs were temporarily suspended for an initial period of four months in an agreement reached by the Biden Administration the European Union on March 5, 2021.
³The five terroir designations are Fréjus, La Londe, Notre-Dame des Anges, Pierrefeu, and Sainte-Victoire.