Provençal Pairings: Wine with Food

Smooth Operator
by David Scott Allen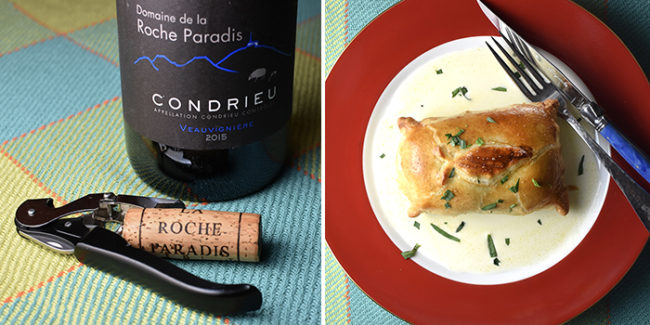 Winery: Domaine de la Roche Paradis
Cuvée: Veauvignere
Appellation: Condrieu (Rhône)
Type: White
Vintage: 2015
Grape Varieties: 100% Viognier
Alcohol: 13.5%
Average Retail Price: U.S. $49.00
When I started writing this column – can you believe it has been four years? – I had never had a French Viognier. I was used to the sweet, strongly spiced American vintages which, I believe, have their place at the table. They are well-liked and, as soon as anyone here says, "Lobster with drawn butter," someone else in the rooms puts a Viognier on ice. All that is fine.
But there are exquisite and refined versions out there that don't slap you in the face. Subtlety and elegance are their calling cards, and they come from France. For today's pairing, we opened a well-chilled 2015 Domaine de la Roche Paradis Condrieu to accompany my Salmon Wellington, an extremely rich and complex dish I make in homage to Bœuf Wellington. For the recipe, visit Cocoa & Lavender.
For a recipe with so much complexity, it's flavor profile isn't overbearing. Scallops, shrimp, and sole are made into a mousse with cream and tarragon, then this is placed on salmon and baked en croûte. The Condrieu was truly the perfect match for the deep, almost dark, flavors of the Wellington, and even held up well to the citrus cream sauce.
The nose of the Condrieu was light and floral – like walking through an apple orchard in full blossom. It opened up a bit as it took on the warmth of the room, and the essences of stone fruits and lemon zest arose. The mouthfeel is creamy, soft, and oh-so-smooth. Odd that a chilled wine can make one's mouth feel warm and cozy! Primarily I tasted apricot, with side notes of peach and plum. With the Wellington, I even had a few moments of roasted pear and honey. I find it forever intriguing how food and wine play together.
This is a beautifully balanced wine, and I look forward to more Viognier from France to give me a greater perspective.